Soot can be deposited on walls from smoke or even a poorly trimmed candle wick. This is a guide about removing soot from walls.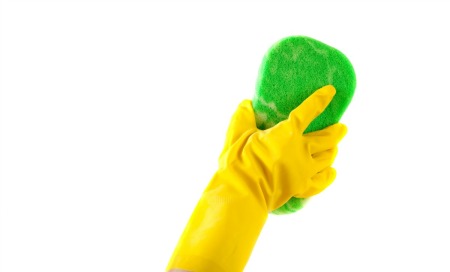 I have just painted my rooms in my house and over the winter I burn candles. Now I have black soot like material on my walls. Anyone have any easy idea on how to get this off? I work 65 hours or more a week at the hospital as a registered nurse and I don't have too much spare time

Thanks everyone,
AJ FAN
---
Best Answers
February 26, 2005
Rubbing alcohol on a clean rag. If you put it in a spray bottle you will get drips.
cj
---
By guest (Guest Post) Flag
November 8, 2008
Had the same problem--burned candles and got this awful black soot all over the walls and ceiling and carpet edging of my newly constructed house. Was able to easily remove the soot by first vacuuming and then wiping the surfaces down with a dry cleaning sponge--the great part about it is that no water is involved so you don't get streaking on painted walls! :) The sponges get rid of the oily film the soot is made of. I found them online at parish-supply.com--very economical, as one sponge will go a long way---and it doesn't take long to clean. Since then, I the routinely clean the whole house annually with the sponges. Good Luck!:)
---
We had a chimney fire 6 years ago, and a crack appeared in the chimney. We could see it on the outside. We got it fixed just a 1 year ago, but obviously left it too long. The chimney has a bedroom on either side of it, and we can smell soot when the fire is on. The builders could only go so far in the chimney. Soot must of fallen outside the flues. I'm worried about this odour. If I put my nose to the walls I can smell it.
Do you think putting plaster board on the walls in the bedrooms will help, and skim over it?
By Teresa
---
Most Recent Answer
By Louise B. 6 2,509 Flag
January 14, 2015
I agree with the other posters. It is time to get this repaired properly. You should not be smelling soot/smoke in the bedrooms though the walls. I do not think this is a problem that can be fixed with plasterboard. I lived in many different houses in my youth with wood and oil burning stoves and brick chimneys. Never at any time could one smell anything from around the chimney. I would also be worried about carbon monoxide, although maybe that is a non-issue. I don't know.
---
We have soot smoke on the walls and on the ceiling. How can we remove it?
By Gr from Wisconsin
---
Most Recent Answer
January 28, 2015
Try magic eraser! It was the only thing that worked for me. But I also used it on the wood, smooth mantle. So I'm not sure for walls or ceilings.
---
How do I get the smoke damage (black) off my painted walls from the winter use of the woodstove? Any suggestions please?
By Becky R.
---
Most Recent Answer
By Ann macC 6 23 Flag
May 16, 2011
I would try "20 Mule Borax" - I know it works on cigarette smoke. Dilute in water according to instructions and also pour some dry into a small container. Once you've wet your cloth/sponge and squeezed it almost dry dip it into the "dry" borax and start washing. Hope this helps.
---
By blake 2
I would like to know how to clean soot off of the walls.
By Blake from Flowood, MS
---
Most Recent Answer
By robert s notaro 1 Flag
January 18, 2011
Use TSP made by savagram. You can get from hardware store. Follow directions.
---
What is the best cleaner to remove soot off painted walls?
By Ed
---
Most Recent Answer
By shinemathew516 4 Flag
February 8, 2014
Look for a product at the dollar store called totally awesome. I have used it for everything from washing mechanic greasy clothes to hard water stains. It's named as it works.
The ceiling (white) and painted walls beneath the edge of the ceiling are marked with the blackish soot from burning scented candles. What is the best way to remove the soot without making it a blackish sooty mess?
---
Most Recent Answer
By happy.now 2 50 Flag
May 14, 2015
My mom had a fire and I had a fire. I also helped my daughter buy a house from an older lady who smoked for 35 years, 24 hours a day. Her house was gross as I am allergic to smoke and throw up. So for my daughter the first thing I did was hire a professional to clean the duct work and the vents. It is worth it. Then not having a lot of money or help I knew a retired, nice, man who helped people all the time and had helped me with an older camp. He had used my alum boat a few times. So I offered him my boat and he thought about it overnight and told me yes the next day. He was an oil man and I bought tools as we needed them. I am kind of creative and I can scrub, hold things up , measure and paint. For the smoke, yucky soot stuff Run to the store and buy Krudcleaner. It is a spray at the lumber yards and the stuff melts and runs on the walls. She had paneling and sheetrock. They do not make sheetrock or paneling the way they use to... Never use water on your walls unless you put all kinds of fans in the room. I used rags and threw them away. Do not save your rags after cleaning soot as it will hurt your washing machine. You could also have reactions with your cleaning supplies. I also used a yellow liquid that was great called Awesome in a spray. The stuff is great. You will use elbow grease. I used many cheap sponge mops and just sprayed the stuff on the sponge and used my painters ladder. All I use was a quality paint from Better Homes and Gardens. I think Wal-Mart use to sell it. I bought the primer and paint in one. On the sheetrock in the bedrooms and one bathroom it just took one coat. I have to tell you that I pray often, ask many questions and read. Now for the paneling I bought the same brand paint but had the primer tinted to the paint color. I used one coat of the primer and then the paint. On the ceilings after cleaning some of the rooms I was not happy so I used a tinted, whited ceiling paint. It took one coat and I bought the least expensive brand. This house had been empty for 3 years and no ac was on. Then they let me turn it on before we closed. Everynight when I left fans of all sizes were running of every size along wit h the ac. You can be so creative if you just stop and listen to yourself. Save pics and write notes about everything. Now comes the sad part after a fire. Everything can not be saved. You have to experiment with things as far as cleaning and always wear gloves. The firemen told me to use All liq detergent and vinegar as soon as possible so I had 3 friends washing for me. My aluminum windows pitted as it got so hot. So many things have reactions to soot. They had to change all my windows. If you have a very shiny finish on ceramics and things like that it will wash easily. But do it as soon as possible. Plastics and woods are another thing. You just have to try different things. The air outside for airing out things after you wash them is a must. If you have any questions feel free to contact me. God bless
How do you get the black soot off the wall and ceilings when the furnace blows up and blows it out the vents?
By Susan
---
Most Recent Answer
By infogurl6 1 1 Flag
May 8, 2012
Get some arm and hammer eraser sponges, they have something of the same product in dollar stores.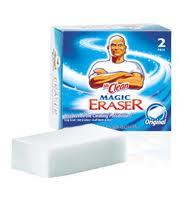 By Brass 1
How do you clean black soot from a grease fire off textured walls?
By Brass from IA
---
Most Recent Answer
The walls are concrete block and have a lot of soot from a water heater that started on fire; there are no pictures. It is in a utility room.
By Cindy from Pompano Beach, FL