If seems like there are always crafts for girls, but when it comes to boys crafts are a little hard to come by. School will soon be out and they will be needing something to do besides computers and electronic games. Here are a few I came up with.
Approximate Time:
Supplies:
craft sticks
chenille stems
buttons
glue
empty cardboard tube
jute string
masking tape or painters tape
spray paint
scissors
duct tape
Instructions:
The supplies are for all three crafts. The first four are for the insects, the cardboard tube, jute string, masking tape or painters tape, and spray paint are for the walkie talkies, and the other cardboard tube and the duct tape is for the binoculars.
Insects
The insects, as you see, are pretty simple. Just wrap the chenille stem around the craft stick. Shape wings and antennae, choose a button and glue all on as the kids want. No rules, just fun.
Walkie Talkies:
The walkie talkies are tubes 5 inches long.
Spray paint the tubes. Use painters tape and wrap on each end. Poke a hole at one end and put the jute through and wrap the tape around the jute and it is done.
Binoculars:
The binoculars are 5 inch tubes also. I happened to have a 3 inch heavy cardboard tube such as carpet comes rolled on, but you could use toilet paper or paper towel rolls, also.
As in the photo, start wrapping duct tape at a very slight angle in order to get all the tube covered. Wrap the whole thing then trim the ends to 1/2 inch. Fold the ends inside.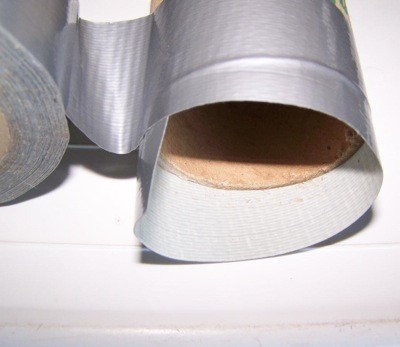 Now cut strips 1/4 inch shorter than your tubes, slip them inside your tube and smooth them to cover the inside, the bigger the tube the easier this will be. If you are using TP rolls instead of paper towel rolls, you can staple them together. I had to tape my rolls together. I split the duct tape lengthwise and ran it through the tubes around the other and back through twice.
Poke holes for you cord, wrap the ends and you have binoculars.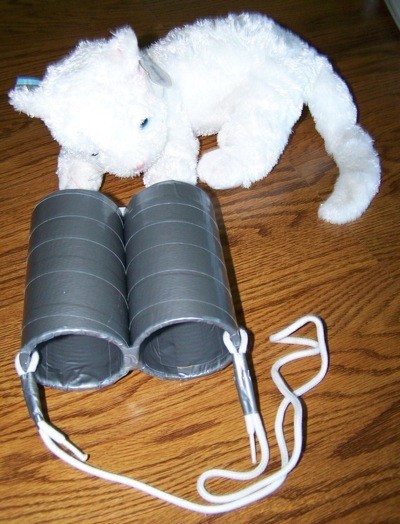 Remember the idea is to let the kids make the craft and it doesn't matter how they look if they are happy.
By Ann from Loup City, NE
What crafts would a 12 year old girl like?
By Leahh
June 25, 2009
0

found this helpful
There is a site that tells how to make Chocolate Lip Balm that is very easy to do. Google this and you'll be surprised at the various sites. At Craft Stores, there are kits with materials and instructions for making those friendship bracelets that are still so popular. Also small kits ( for $1) that have the beads, instructions, and findings for making key rings in many different animal shapes. Both boys and girls like to put these on their back packs.
If they enjoy working with the beads, you can invest in packages of pony-beads and the elastic to string them on at Walmart. They can make their own necklaces and bracelets in school colors or favorite colors. I purchased a multi-color pkg, separated the colors, and put the colors in small food-storage containers with lids (This was good for rainy days too). Also there are kits to make bar soaps with all the ingredients needed. Find an old coffee perculator at a flea market to melt the soap in. Can be used over and over.
Oh! and don't forget the old elmer's glue and craft sticks! Kids like to make things from them. Add some paint, and brushes. Keeps both boys and girls busy. Hope these ideas are helpful. You can also Google crafts for Vacation Bible School. Lots of ideas there, and by various ages too.
June 25, 2009
0

found this helpful
Hi Leah,
Many girls her age are using the knitting frames to make scarves, bags, etc. I meet moms and daughters all the time when I purchase yarn. If you knit or crochet it is a good age to teach her. If you don't and she is interested, yarn shops or friends or family that do would probably love to teach her.
Other ideas:
Yarn dog on this web site. or send me an email and I will send you the site for it also for a cat that are out of yarn, but not knit or crocheted but wound "puffs" or pompoms. harrietschipper AT hotmail.com
Pom pom animals: many sites on line showing numerous variations you can make. Tie dying her own T-shirt (have a friend come and do it with the two of them).
Cooking: making fancy yeast breads, cookies or desserts...teach her to measure etc if she doesn't know. Bread dough or that plastic baking dough that comes in all colors to make little people, animals, etc.
Bead work. Go to Michaels and Joanns for ideas:) Brainstorm who she gives Christmas presents to and have her work on making some of those this summer:) Have lots of fun. Doing things with them makes them closer to you.
Harriet
Read More Answers...
I am looking for some easy crafts for my 9 year old grandaughter. Her school is having a craft / bazar day next Saturday (Nov. 11th) which the kids can make things to sell at. I want to help her do this but am having a senior moment with this. We are allowed to help the kids make things to sell. I can't afford to spend a lot on supplies though we do have a lot already. Any help you can give for things she can make that'll sell would be greatly appreciated. The name of her little shop is going to be called "Stacy's Gift & Things Shop," with a Christmas theme. We are hoping for ideas for easy Christmas gifts & decorations / ornaments. Thanks in advance from both of us for any help you can give.

Betty from VA
November 6, 2006
0

found this helpful
A couple years ago I made Borax Snowflakes!
You'll need White Pipe Cleaners, Borax (20 Mule Team), Mason Jar, Pencil, Hot water and a string. I made mine into Star Shapes & Spirals
(twist around the end of a ladle or wooden spoon)
These are so PRETTY and really EASY to make.
Here is what you do. 1. Cut a pipe cleaner into three equal parts. 2. Twist the sections together at their centers to form a six-sided snowflake shape. This will be your scaffold or template. If an end isn't even, just trim to get the desired shape. The snowflake scaffold should fit inside the jar. 3. Tie the string to the end of one of the snowflake arms. Tie the other end of the string to the pencil. You want the length to be such that the pencil hangs the snowflake scaffold freely into the jar (not touching the bottom of the jar). 4. Take the snowflake scaffold out of the jar & fill it with boiling water. 5. Add borax powder, one tablespoon at a time, to the boiling water. Stir to dissolve after each addition. Use 3 tablespoons of borax per cup of water (1 pint = 2 cups). It is okay if some undissolved borax settles to the bottom of the jar. 6. If desired, you may tint the mixture with food color. 7. Hang the pipe cleaner snowflake into the jar so that the pencil rests on top of the jar and the snowflake is completely covered with liquid. 8. Let the jar sit in an undisturbed location overnight. 9. The next day, look at your pretty crystals! Remove the snowflake, dispose of the liquid down the drain, and re-hang the snowflake until it is dry. Then you can hang your snowflake as a decoration or in a window to catch the sunlight.
Read More Answers...
Does anyone have any thrifty craft ideas for kids ages 5-8?

Annette from Marlboro, MA
March 14, 2007
0

found this helpful
Ever heard of a craft magazine for kids called Pack-O-Fun? It is great and if you have access to a used book or magazine store perhaps you can get some used issues. Magazine stores carry it and although you might consider it expensive, it is worth the money I feel because the ideas are so good. They have a website as well. You do not say if we are talking about boys or girls or mixed young crafters? Your local library should have all kinds of ideas too. Don't just stick to the adult section though, hit the kids section too.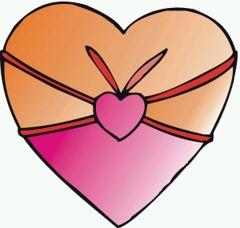 By guest (Guest Post)
Flag
March 15, 2007
0

found this helpful
I list of kids craft websites I have put together
www.makingfriends.com
www.freekidscrafts.com
www.craftsforkids.com
www.acmoore.com
www.michaels.com
www.theideabox.com
www.kitchenlink.com
www.family.go.com
www.family.com
www.activitiesforkids.com
www.makestuff.com
www.about.com
www.fibrecraft.com
www.craftideas.com
www.kidsdomain.com
www.familyfun.com
www.verybestkids.com
www.families-first.com
www.pbskids. org (go to Zoom and then Zoomdos
for
good ideas sent to the show by kids)
www.orientaltrading.com (they are selling the
craft
>kits but you can make your own from the pictures,
either trace the idea or if you want a different
ize
>use a copier)
>www.puzzlemaker.com You can create word searches
>using any theme
Two good magazines for kid activies and crafts
>Family Fun
Pack O Fun (can be found in craft stores)
Read More Answers...
I'm in need of some easy summertime crafts to keep the kids occupied for the last part of the summer. I have two boys (8 and 11) that are always "bored" unless they are playing video games or watching TV. As we limit the television time, I hear about the boredom often. I would like to have some easy projects for them to work on when they don't know what else to do. In the past, the projects I have tried have been too messy, too complicated, or too dangerous for the boys to work on without constant supervision. As I work from home, there are times that just isn't possible.
Thanks for any ideas!
By Jessica from Hillsboro, OR
July 28, 2011
0

found this helpful
Give them a challenge. Can they build a bridge from popsicle sticks (or toothpicks), Elmers glue, and duct tape, that will hold whatever weight? Easier to do with the popsicle sticks and tape, just because they are bigger. If you tell them that the bridge has to rise at least (pick a number of inches) and span (pick another number), they can go to town on it. If you put down cardboard on the floor or table that will protect the surface from any spills, drops, etc.
Alternate fun thing, pretzel sticks and mini marshmallows. Fun sculptures, low cost, edible, and fun.
July 28, 2011
0

found this helpful
Your boys are at the right age to introduce them to paracord and what they can do with it. Since you're posting online, help them if they need it, to do a search of paracord and what it's used for, what it is, and what they can make from it. Here's a pdf link for making paracord bracelets, if they like doing those, then they can make some keyring fobs, bracelets, pet collars etc. for gifts. These can even be 'take alongs' which they can take with them when they have to wait in the car for someone (after cutting the cord, so no scissors in the car). This can become a learning tool even while they are having fun and what an accomplishment when done. O btw, to get the materials, go to your local outdoors store or buy online, either way take the boys and let them choose the colors. Happy knot tying!
http://www.survival-training.info/a ... celet-with-a-side-release-buckle.pdf
I would appreciate any ideas for simple crafts for 5-11 year old boys and girls. I tutor them and thought during the summer I would try to read to them and also, do some craft projects with them. They are in a battered women's/unwed pregnant home.
By Har'iet from Lakewood, CA
May 10, 2009
0

found this helpful
My 5 year old granddaughter likes to cut out flowers or vegetables from old magazines. Then we glue them to popsicle sticks and stick them in a flowerpot full of dirt. Instant garden!
May 15, 2009
0

found this helpful
Give these children an empty soda bottle and asked them to figure out what to do with it. Just the container and cap itself has many possibilities. Tell them they are the inventor. I would bet you they will come up with many ways to reuse that bottle and cap.
Ok I will give you 5
Fiil the clear plastic bottle up with coloured waste paper for an art project. That same bottle after it iis dom=ne can become a safe Lawn Dart.
Stand your bottle on the cap. Surprise it stands steady that way. Ok, then figure out what you want to put into that bottle that will always rise when turned over. much like those winter snow scene shakers only you add food colouring to the water.
The bottle caps can be decorated and turned into game pieces like marbles or checkers. Take a pour nozzle of any dishwashing detergent bottle and it will screw on the soda bottle any size presto you have a watering can for flowers or a squirt gun for summer fun by squeezing the bottle.
You can make crafts out of most trash with just a little thought. Have Fun, Mr. Thrifty