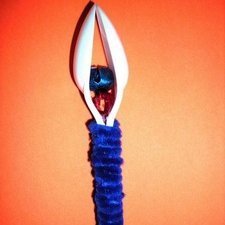 Kids love to craft, so keeping up with new ideas can be difficult. This is a guide about easy kids craft ideas.
Solutions: Easy Kids Craft Ideas
Read and rate the best solutions below by giving them a "thumbs up".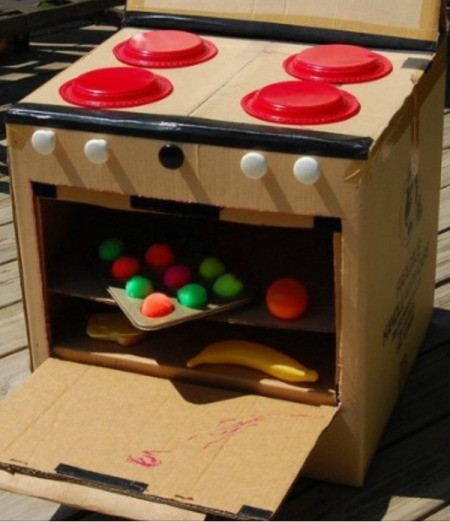 Easy and fun kitchen appliances made using cardboard. Get a good sturdy box. Use a glue gun, Sharpies, plastic plates for burners, muffin tins and play food. Get bottle caps for knobs. Cut out pictures of a clock or print one. Just be creative. Children can use play dough to make their own food using cookie cutters.
You can make a refrigerator using a tall sturdy box. For a handle, cut box about 4 inches in on the tall side. For the door, glue gun a shelf cut from cardboard.
Cardboard has many child related activities. Make airplane small hole on top for head. Larger on bottom to shape of body, add wings. Or make doll houses or toy cars. Have fun!
Source: Found this on Pintrest. Made for my granddaughter!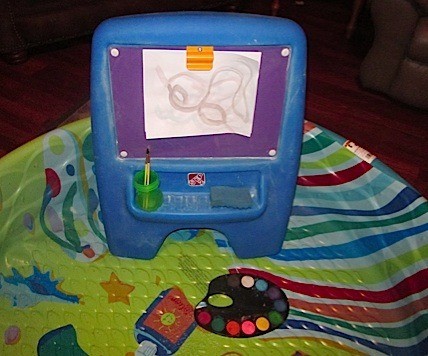 To keep really artistic moments with your grandkids contained, use a plastic swimming pool in your front room. The kids can create without worrying about making a mess on my carpet or furniture.
If seems like there are always crafts for girls, but when it comes to boys crafts are a little hard to come by. School will soon be out and they will be needing something to do besides computers and electronic games. Here are a few I came up with.
Approximate Time:
Supplies:
craft sticks
chenille stems
buttons
glue
empty cardboard tube
jute string
masking tape or painters tape
spray paint
scissors
duct tape
Instructions:
The supplies are for all three crafts. The first four are for the insects, the cardboard tube, jute string, masking tape or painters tape, and spray paint are for the walkie talkies, and the other cardboard tube and the duct tape is for the binoculars.
Insects
The insects, as you see, are pretty simple. Just wrap the chenille stem around the craft stick. Shape wings and antennae, choose a button and glue all on as the kids want. No rules, just fun.
Walkie Talkies:
The walkie talkies are tubes 5 inches long.
Spray paint the tubes. Use painters tape and wrap on each end. Poke a hole at one end and put the jute through and wrap the tape around the jute and it is done.
Binoculars:
The binoculars are 5 inch tubes also. I happened to have a 3 inch heavy cardboard tube such as carpet comes rolled on, but you could use toilet paper or paper towel rolls, also.
As in the photo, start wrapping duct tape at a very slight angle in order to get all the tube covered. Wrap the whole thing then trim the ends to 1/2 inch. Fold the ends inside.
Now cut strips 1/4 inch shorter than your tubes, slip them inside your tube and smooth them to cover the inside, the bigger the tube the easier this will be. If you are using TP rolls instead of paper towel rolls, you can staple them together. I had to tape my rolls together. I split the duct tape lengthwise and ran it through the tubes around the other and back through twice.
Poke holes for you cord, wrap the ends and you have binoculars.
Remember the idea is to let the kids make the craft and it doesn't matter how they look if they are happy.
By Ann from Loup City, NE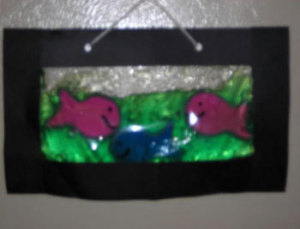 These pets never have to be fed and no aquarium to clean!
Crafting Time: 30 - 45 minutes
What You Need:
craft foam scraps
permanent marker
scissors
plastic self-seal bag - snack or sandwich size
hair gel in blue or green
black construction paper or poster board
cellophane tape
paper punch
yarn
Directions:
Draw and cut a couple of small fish shapes from craft foam. Add an eye and mouth to one side of each fish with permanent maker. Set the fish aside for the moment.
HAVE AN ADULT HELP to put some gel into the plastic self-seal bag. You do not need to fill the bag to the top. When enough gel has been added, slide your fish into the bag. Seal the bag tightly and use your fingers to gently move the gel around so the fish are covered on both sides with the gel.
Cut one inch strips of black construction paper or poster board.
Cut small pieces of tape, roll each into a cylinder, and use these to attach the paper strips to the bag, creating a frame. Double-sided tape will also work, should you have some on hand. You will frame both the front and back.
Punch one or two holes in the top of your mini-aquarium. Thread and knot a piece of yarn through the hole(s) to make a hanger. Find a place to hang your aquarium.

By Marie from West Dundee, IL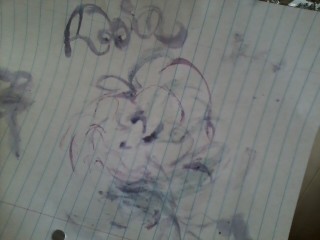 I am doing a lesson plan this week to encourage the children to eat blueberries, which they don't like right now. Blueberries are so good for the brain.
Blueberries are among the fruits that can be used to make dye and color things such as clothing, art, etc. I painted this picture with a whole blueberry. When it got to where it ran out of juice, I would just squeeze it more and then use it as a paintbrush.
I would say, unless you want blue fingers, use a piece of plastic wrap to pick up the blueberry.
By Robyn [361]
Sometimes a paint by number looks fun and easy until you open up the box and see the picture. One of the best way to get kids started with paint by number crafts is to buy them a set of markers and let them go to town. Sometimes you have to go over it twice with a marker, depending how dark it is.
By Robyn from Tri-Cities, TN
My daughters are purse fanatics, and I wanted to find a way to keep them entertained while my younger daycare kids had nap time. So, I went to a local craft store and bought some denim purses in varying sizes, along with iron ons, craft glue, glitter, beads, fabric puffy paint, ribbon, and colorful pom poms. The girls spend hours designing their own purses, and have made some also as gifts.

By Jennifer
Roman Warrior Shield For Kids
This fun cardboard shield is created to look like a soldier's shield from ancient Rome. It stays on the simple side, to really look authentic.
It has brass brads to give the "metal stud" look of old wooden shields. It also uses bright but simple colors to help keep the shield truly looking like it's from ancient Rome.
This craft is a great way to get kids into history. While the children are making the shields, use the time to tell them about ancient warriors and ancient Rome.
Explain that metal studs (the brass brads) were used to help strengthen the wooden (cardboard) shields.
Approximate Time: 25 minutes
Supplies:
Large Cardboard
Red craft paint
Yellow craft paint
paintbrush
brass brads
safety pin
yarn or twine
glue
scissors
Instructions:
Depending on the child's age, either have them cut out a large oval from the cardboard, or have an adult cut it out for them. The cardboard oval should be about 2 and 1/2 feet tall and 1 and 1/2 feet wide.
Have the child paint the entire "shield" in red paint. Let paint dry.
Decorate the red "shield" with simple yellow lines. Let dry. Let the child choose their own design, just try to keep it simple.
Use a safety pin to poke holes in the cardboard. Push brass brads into the holes to create a few "studs", like ancient shields used. Brads should be used in the middle and top ends of the shield.
Cut a short piece of yarn or twine and glue it to the back of the shield to create a handle. Let dry.
By Aysha from Boise, Idaho
Give a "thumbs up" to the solution that worked the best! Do you have a better solution? Click here to share it!
Questions
Here are questions related to Easy Kids Craft Ideas.
Where is the best place to find some simple homemade crafts?
By ECR from MN
---
Most Recent Answer

By Patricia Eldridge04/26/2012
Try this site: http://www.craftideas.info/
I'm in need of some easy summertime crafts to keep the kids occupied for the last part of the summer. I have two boys (8 and 11) that are always "bored" unless they are playing video games or watching TV. As we limit the television time, I hear about the boredom often. I would like to have some easy projects for them to work on when they don't know what else to do. In the past, the projects I have tried have been too messy, too complicated, or too dangerous for the boys to work on without constant supervision. As I work from home, there are times that just isn't possible.
Thanks for any ideas!
By Jessica from Hillsboro, OR
---
Most Recent Answer

By Dee T. [2]07/28/2011
Your boys are at the right age to introduce them to paracord and what they can do with it. Since you're posting online, help them if they need it, to do a search of paracord and what it's used for, what it is, and what they can make from it. Here's a pdf link for making paracord bracelets, if they like doing those, then they can make some keyring fobs, bracelets, pet collars etc. for gifts. These can even be 'take alongs' which they can take with them when they have to wait in the car for someone (after cutting the cord, so no scissors in the car). This can become a learning tool even while they are having fun and what an accomplishment when done. O btw, to get the materials, go to your local outdoors store or buy online, either way take the boys and let them choose the colors. Happy knot tying!

http://www.survival-training.info/a ... celet-with-a-side-release-buckle.pdf
I would appreciate any ideas for simple crafts for 5-11 year old boys and girls. I tutor them and thought during the summer I would try to read to them and also, do some craft projects with them. They are in a battered women's/unwed pregnant home.
By Har'iet from Lakewood, CA
---
Most Recent Answer

By Michael Ruger [19]05/15/2009
Give these children an empty soda bottle and asked them to figure out what to do with it. Just the container and cap itself has many possibilities. Tell them they are the inventor. I would bet you they will come up with many ways to reuse that bottle and cap.
Ok I will give you 5

Fiil the clear plastic bottle up with coloured waste paper for an art project. That same bottle after it iis dom=ne can become a safe Lawn Dart.

Stand your bottle on the cap. Surprise it stands steady that way. Ok, then figure out what you want to put into that bottle that will always rise when turned over. much like those winter snow scene shakers only you add food colouring to the water.
The bottle caps can be decorated and turned into game pieces like marbles or checkers. Take a pour nozzle of any dishwashing detergent bottle and it will screw on the soda bottle any size presto you have a watering can for flowers or a squirt gun for summer fun by squeezing the bottle.

You can make crafts out of most trash with just a little thought. Have Fun, Mr. Thrifty
Does anyone have any thrifty craft ideas for kids ages 5-8?

Annette from Marlboro, MA
---
Most Recent Answer

By (Guest Post)03/15/2007
I list of kids craft websites I have put together

www.makingfriends.com
www.freekidscrafts.com
www.craftsforkids.com
www.acmoore.com
www.michaels.com
www.theideabox.com
www.kitchenlink.com
www.family.go.com
www.family.com
www.activitiesforkids.com
www.makestuff.com
www.about.com
www.fibrecraft.com
www.craftideas.com
www.kidsdomain.com
www.familyfun.com
www.verybestkids.com
www.families-first.com
www.pbskids. org (go to Zoom and then Zoomdos
for

good ideas sent to the show by kids)
www.orientaltrading.com (they are selling the
craft
>kits but you can make your own from the pictures,
either trace the idea or if you want a different
size
>use a copier)
>www.puzzlemaker.com You can create word searches
>using any theme
Two good magazines for kid activies and crafts
>Family Fun
Pack O Fun (can be found in craft stores)


I am looking for some easy crafts for my 9 year old grandaughter. Her school is having a craft / bazar day next Saturday (Nov. 11th) which the kids can make things to sell at. I want to help her do this but am having a senior moment with this. We are allowed to help the kids make things to sell. I can't afford to spend a lot on supplies though we do have a lot already. Any help you can give for things she can make that'll sell would be greatly appreciated. The name of her little shop is going to be called "Stacy's Gift & Things Shop," with a Christmas theme. We are hoping for ideas for easy Christmas gifts & decorations / ornaments. Thanks in advance from both of us for any help you can give.

Betty from VA
---
Most Recent Answer

By Sheila Saey [8]11/07/2006
These are the cutest little Button Snowman Pins I've ever seen...and they look soooooooo easy!

http://jas.familyfun.go.com/arts-an ... ?page=CraftDisplay&craftid=10461
Archives
Thrifty Fun has been around so long that many of our pages have been reset several times. Archives are older versions of the page and the feedback that was provided then.
The best craft material is gathered on a hike in the woods or a trip to the beach by the children themselves. Provide glue, wool pieces, paper cups and plates, craft sticks (Popsicle sticks), bottle caps, cloves, and whatever you find in your cupboards that you are not using: acrylic paints and brushes, wax paper to put small amounts of paint on, plain newsprint paper for easy cleanup of the craft table and to paint pictures on (perhaps using a pine cone brush).
Sit down with the children and find your inner child by creating a mythical person or animal or whatever your heart desires. The children will amaze you with what they create. Together you can make up a crazy play about all your newly created friends and perform the play for family and friends. With all these supplies on the craft shelf, the kids will return time and time again to CREATE.
By Christine from Dartmouth, Nova Scotia