Solutions: Making Moon Sand
Read and rate the best solutions below by giving them a "thumbs up".
For "moon sand", mix 9 cups play sand (really fine sand you can find at Wal-Mart). Add 3 cups cornstarch and 2 1/4 to 2 1/2 cups water. Start with 2 1/4 cup and continue adding water until you have the desired consistency. Mix well. Cover and store in an airtight container. You may need to add a few tablespoons of water if it needs to be moistened.
By duckie-do from Cortez, CO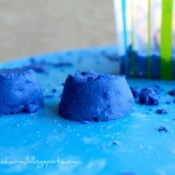 Make your own moon sand for the kids with 3 simple ingredients!
Approximate Time: 5 minutes
Supplies:
4 cups sand
2 cups corn starch
1 cup water
Instructions:
Mix all of the ingredients together and you've got moon sand! I used the blue play sand that I found at Walmart and mixed it all up in a plastic bin.
You can add more water as it dries out, just be careful not to add too much or it will become soupy. However, the kids will like playing with it when it was really wet too; it just won't stick together and stay together.
You could also get out some old cake pans or muffin tins to play with. It is also a good idea to lay down a splat mat or an old vinyl tablecloth underneath the play area to make for an easy clean up.
Share Your Feedback:
Once you try any of the above solutions, be sure to come back and give a "thumbs up" to the solution that worked the best for you. Do you have a better solution? Click "Share a Solution" above!
Questions
Here are questions related to Making Moon Sand.
Moon Sand
What is moon sand?
By Roberta S.
---
Most Recent Answer

By Lewissan
12/04/2011
Moon sand is something you can buy at toy stores that kids can play with. It's kind of a cross between Playdough and sand.
Uses for Moon Sand
The moon sand recipe sounds great, but I wish to know what to do with it!
Thanks.
By Lin P from Atascadero, CA
---
Most Recent Answer

By Lewissan
12/04/2011
It's something that kids can play with. Kind of like playing with sand it a sandbox but you can sculpt with it a bit as well. They sell it at toy stores.