Making your own curtains allows you to choose from a myriad of fabrics, colors, and styles. It also can save you money. This is a guide about sewing your own curtains.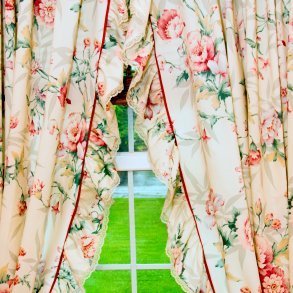 Filter

: All Articles
Sort

: Relevance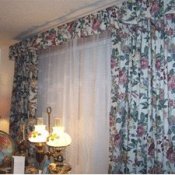 It will be 9 years next month since we moved into our house. There were absolutely no drapes in the house. So I had to find a frugal way of either buying drapes or making them myself. My husband and I first started shopping for drapes at several stores. I looked at the price tags and was astonished and knew right away that it would have cost us a lot of money to do the entire house. We price shopped at a number of stores, and still the same thing, just too expensive. Then we tried some thrift shops such as the Salvation Army and the Goodwill, and didn't find anything to our liking. The drapes were either too long, too short or too narrow for our windows and I would have had to alter them so they would fit the windows anyway.
I either read this frugal tip in a magazine or heard it on TV about making drapes out of flat bed sheets. I thought to myself, "Why not give it a try". I purchased two flat queen sized sheets from Sears because I fell in love with the large flower pattern. The flat twin size sheets were either purchased from K-Mart or Walmart. I also had to purchase some drapery rods for the kitchen, bathroom and three bedrooms.
I didn't use a sewing pattern, just plan old ingenuity and the many years of sewing experience helped me out tremendously. I wanted to make floor length drapes for my living room windows. So I ran the curtain rod through the top casing on the sheet and hung it up to my window. Then stepped back and took a long hard look at what needed to be done. The sheet was extremely long so I measured as to how much I should cut off at the bottom. I cut both sheets the same length and sewed the bottom hems on my sewing machine. With the fabric that was left over, I made a separate valance. There was absolutely no material wasted. I did pretty much the same for the bedroom drapes, but sewed a valance at the top and still had enough fabric left over and made two tie backs and sewed plastic "0" rings on each tie back. I made a pair of drapes and a matching shower curtain for my bathroom, and for the master bedroom made the drapes and a matching duvet cover for our comforter.
I'm so frugal, that I didn't want to spend the extra money for another flat sheet so I made a pair of drapes out of the left over fabric that I used on the kitchen window.
They are so very easy to launder, and never need dry cleaning. Just wash, dry and press with your iron. I even bought four pairs of sheer drapes in a few garage sales that I used for my living room and bedroom windows.
Now you're probably wondering what it cost me to do the entire house. Would you believe if I told you about $109.00 - $115.00.
By Marge W. from Sanborn, NY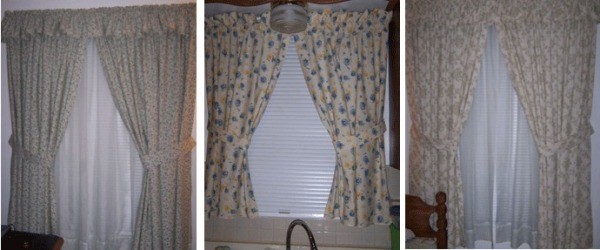 We use my old homestead (the house in which I was born - it is well over 100 years old), as our summer home. I found it very easy and inexpensive to make curtains for my old home by using pillow cases.
Method #1: Using two matching pillow cases, make/cut two small "rod" openings in the seams at the closed end of the pillow case, insert a curtain rod through the openings and hang. This makes a "heavy" curtain.
Method #2: Open the seams of the pillow cases along one long side and the closed end of the pillow cases (or use a scissors to cut same). You will now have a piece of material, with ready-made hem (the wide-band that finishes the opening of each pillow case becomes a great bottom hem of your curtains.)

Make/sew a 1 - 2 inch "rod-pocket" at the top of the pillow case. Insert curtain rod and hang the curtain. This method, of course, makes a much lighter and fuller curtain and requires a bit more sewing.
By Doris from Halifax, Nova Scotia, Canada
I have bookcase from ceiling to floor. I want to make a curtain that covers this using two panels. The problem is my 3 year old gets up in middle of night and plays with the toys that are on these shelves. So I need the curtains to meet in the center of shelving that can open and close easily, but that a child cannot. I know how to do the sides permanently and also the top. But the center area has me stumped.
By Juia B
Answer
Was this helpful?
Helpful?
Yes
Have you thought about instead of using 2 panels that open in the middle using one of the window treatments (not mini blinds). Sorry, I don't know what they called, but the one where you pull the cord and they accordion up toward the top toward the top kind of in pleats. Put a valance at the top of you bookcase and it will look like a very pretty window treatment. Of course you would need to make sure to make the cord short enough so that your little one couldn't reach it
Reply
Was this helpful?
Helpful?
Yes
Read More Answers...
Most of my curtains I've made from sheets. I simply measure the length then fold the top down and stitch two lines across leaving enough room at the top for the ruffle, and enough between each line for the rod to go through.
Comment
Was this helpful?
Helpful?
Yes
Sewing curtains for your home is only as complicated as you want to make the project, and luckily there are several good books available in libraries all over the world to help you. You can also take a class on the subject. I teach all of my sewing students how to make a simple kitchen curtain with a nice casing using recycled fabrics from home or charity shops, jumble sales, etc.
I also offer further classes aimed at the more elaborate (yet really still simple once you know the 'secrets') curtains and draperies like swags and pinch pleats. Making your own window coverings is simply a matter of being willing to go slowly, and learn the basics.
Not long after I learned how to sew a straight line on a sewing machine, I learned to make simple curtain panels for my bedroom (I was about seven. Seriously, that's how easy it is to make your own curtains!). I used a twin flat sheet, following the instructions in a 1950s era sewing book from the local library and my gran's. I cut the sheet in half then hemmed the raw edges down with a straight stitch by:
Steps
Folding the raw edge over 1/2 inch and pressing that fold down, then slowly stitching (for better control and a nice straight line) the fold in place.
I then folded and pressed the edge of the sheet with the hemmed bit over and down to a depth of three inches.
I stitched the three inches folded part near the bottom of the fold and along the top of the fold to form a casing that would fit the curtain rod.
LOL, the first time I did it I forgot to make sure the stitching was done to the inside. My first efforts looked inside out up there on the curtain rods and my gran made me pick it all apart and start over. (First rule of sewing? Keep your seam ripper handy:).
If you can sew a straight line on a sewing machine, you can make your own simple curtains. And once you've treasured the taste of that success you will be inspired forward to learning the tricks to making even simple curtains look very elegant. From there you'll be interested in progressing into the more complicated types of curtains like pinch pleated formal draperies.
Here's a great website with lots of good tips and free 'patterns' to make curtains for your home:
Sew Your Own Curtains And Window Treatments
By FrugalSunnie from Scotland
Comment
Was this helpful?
Helpful?
Yes
You can make nice pinch pleated drapes from sheets. I used king sized sheets and made them floor to ceiling for a 22 foot opening.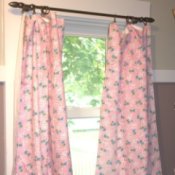 This is a nice project for sewing simple curtains. The author includes helpful tips and step by step photos. It's a simple project and making your own curtains gives you tons of options to match your curtains to your decor.

View This Page
This page is not on ThriftyFun, but we had to share it. Be sure to come back and rate it.
Comment
Was this helpful?
Helpful?
Yes
Right now, Christmas colors are on sale, including pine green and burgundy red, so please keep this in mind as I relate to you how to make a pair of curtains for less than $10.
Comment
Was this helpful?
Helpful?
Yes