Coffee filters are versatile for a variety of craft projects. This guide is about crafts using coffee filters.
By Enza Frank 10 10
Coffee filter flowers colored with bingo dabblers.
Approximate Time: 15 minutes per flower
Supplies:
assorted bingo dabbers
spray bottle of water
1 pipecleaner or wire
tooth pick or skewer
green type of electrical tape
6 round coffee filters
plastic table cover
Instructions:
Lay out some plastic table cover (drop cloth or old shower curtain). Lay out 6 round coffee filters. Dab filters with a couple of bingo dabber colors. Take spray bottle with water in it and gentle spritz the filters.
Let the colors run into each other, you can always dab more color if you want. Let dry - this dries fast.
Once dry, gather up the 6 filters and pile together. Take a bamboo skewer or toothpick and make a hole in the centre through all the filers. Push a pipecleaner or wire through the hole and try to create a ball so it doesn't slip out. The bottom of the pipecleaner will be the stem. Now by folding and gathering the filters, make the bottom portion as small as possible so you can wrap the tape around. Do not put the tape too low or it will slip out and not hold secure enough.
Once you have secure the filters on the stem, start separating the filters in different direction creating a flower effect. It is OK to twist the paper to create shape.
This is a very easy craft which also looks beautiful if you leave the filters just white. For leaves, you can make your own or use leaves for other artificial arrangements and add on with green wire. Filler flower are inexpensive, great for a shower party, picnic, even wedding.
By Enza from Toronto, Ontario
What can you do with coffee filters sizes 4 and 6? Is there any type of craft that they can be used for? I have all these left over filters and I have no use for them anymore, but I really don't want to throw them away.
By mimma from Lindsay, Ontario
Most Recent Answer
By Heather Krucker 10 282 Flag
April 17, 2012
Cut shapes from white poster board such as a cross, flower, heart. Hole punch the top of the shape.
Color the coffee filters with markers.
Use a water bottle and gently spray the filter.
Glue to the cardboard shape and gently tear off the excess filter.
Poke the hole with a pencil and use ribbon or yarn to be able to hang a really cool piece of "tye-dye" art.
By Enza Frank 10 10
I have made flowers out of the coffee filters, but now due to me adding color the paper is limp. Does anyone know how I can stiffen the paper again? Thank you in advance for any advise you may have.

Enza from Toronto, Ontario
Most Recent Answer
January 14, 2013
You don't mention what you used to dye the filters. I have made many, many coffee filter roses and never had a problem. I use powdered drink mix to dye the filters. I have used the mix with sugar and it seems to make the filter a bit stiffer but normally I just use the unsweetened powder since I don't want to attract critters. I have soaked the filters overnight in a particular color and the paper was still o.k. not limp at all. What did you use to dye the papers with?
Rebecca Lanham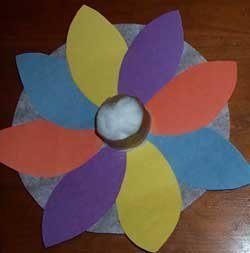 You and children of any age can make these simple flowers with just a coffee filter, construction paper, cotton balls, a small ring from a toilet paper roll, and some glue.
Items Needed:
a coffee filter
construction paper petals
cotton balls
a 1/2 inch ring cut from a toilet paper roll
a glue stick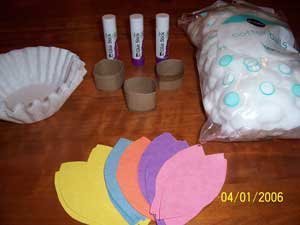 Instructions:
Flatten coffee filter.
Glue as many petals around the coffee filter as needed.
Put a large circle of glue in the center of the filter still showing.
Stick toilet paper ring filled with cotton balls on the circle of glue.
Children can use as few or as many flower petals as they like. You can make the petals all one color or a rainbow of hues. Put them on your wall or bulletin board for a whole garden!
A very simple craft for even the youngest child.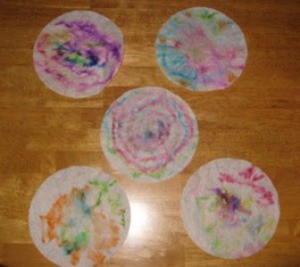 Easy and inexpensive, children of all ages can enjoy this craft. Use everyday household supplies to make lovely kid designs. This craft can also be used to teach colors and color blending.
Supplies:
Plain White Coffee Filters
Washable Markers
Water
Spray Bottle (optional)
Newspaper or Table cover
Instructions:
Cover a table with newspaper or some other protective cover. Lay out several plain white coffee filters. If you have time, flatten the filters under a heavy book or object. It's best to do this the night before, but I did it shortly before and it still worked well. Let the kids design the coffee filters with markers. When they are finished, let them use their fingers to dab water on the filters. They can even use a paint brush or baster. Another option is to use a spray bottle to mist the filters. Watch the colors spread and blend. Let dry and hang. These look nice in a window like a sun catcher.
By Jayme from Harrisonburg, VA
Paper angels for kids.
Approximate Time 20 minutes
Supplies:
white round coffee filters
colored paper
wire
or silver chenille stick
or scrap of foil
glue or glue stick
string yarn or ribbon
tape
Instructions:
Take each coffee filter individually and fold in half, then fold in half again forming triangles (careful not to straighten the pleats). Place a dab of glue on the inside corner of the second fold. Squish shut. Repeat on all three filters.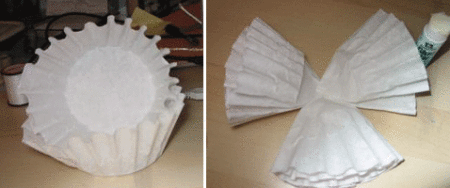 Overlap the three tips and glue together to form your body and wings as shown. Trace the bottom of either your glue stick or a roll of thread onto your construction paper for a head. Draw eyelids and a mouth. Glue your head to your coffee filter body. If you like, you can color in the pleats to make your angel multi colored.
Twist your wire, foil or chenille stick into a halo and tape to the back of your angel. Tie a loop of your string, ribbon or yarn and hook onto the wire in the back so you can hang your angel Tada, your angel is finished!
By Mara from Seattle, WA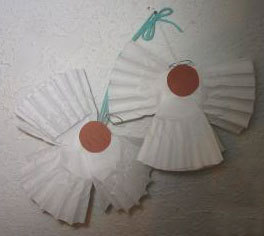 These are cute little magnets that are a blast for the kids to make. They love spraying their artwork with water and watching the colors soften and blend.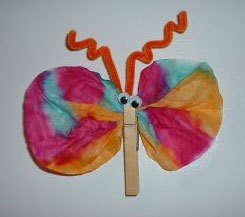 Recycled Flower Pot with Coffee Filter Flowers
This bright, pretty flower pot is easy enough for kids to make and perfect for holding coffee filter flowers. Or, you could plant a real flower in the pot by adding some potting soil and some seeds.
Approximate Time 30 minutes
Supplies:
16 oz. styrofoam cup
small piece of floral foam
colorful buttons
craft glue
yellow acrylic paint
paintbrush
scissors
coffee filters
water color paints
water
chenille stems, one for each flower
Instructions:
To make the flower pot, paint cup yellow using acrylic paint, and allow to dry completely. Glue buttons around the rim of the cup and let dry. Place small piece of floral foam inside the cup to insert the flowers. To make flowers, place newspaper on your work surface to protect it. Flatter each coffee filter, and paint with watercolors. Use whatever combination of colors you like. I used two colors for each flower. Allow filters to dry completely or use a hair dryer to speed up the drying time.
Cut about 2 inches off the end of each chenille and set both pieces aside. There are several different ways to make your flowers. You can fringe the ends by cutting thin strips around the filter edge. You can cut thicker strips to make larger petals, or don't cut the filter at all to make it resemble a rose. Insert the large piece of chenille stem into the center of the coffee filter about 1 1/2 inches.
Hold onto the small end and turn the flower upside down so that the long end of the chenille is sticking up. Grasp the center of the coffee filter and gather it around the small end of the chenille stem. Twist the smaller piece of chenille around the gathered filter to secure the flower in place. Turn the flower back over and fluff the petals out, as desired. Insert the stems into the floral foam. You could cover the foam with moss or shredded green paper to resemble grass.
By Mom of 1 from Wilkesboro, NC