Scrap wood can be used in a wide variety of crafts; let your imagination go and get creative. This is a guide about craft ideas using scrap wood.
By vickie guy 42 101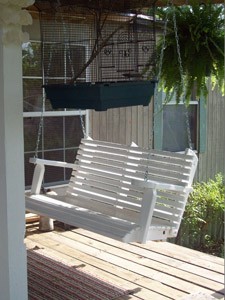 Nothing makes your home look better, than a new porch swing. My husband made mine out of scrap lumber and paint. What a nice place to relax!
By vguy from Earle, AR
I've got a ton of scrap lumber, and I'm looking for some creative uses for it.
By decksbydave from Milton, Ontario
---
Most Recent Answer
October 15, 2009
My Husband one year at Christmas used scrap 2x4s he had at work to make the word "JOY." We put it out in the front yard and everyone complimented it. We left it natural because it fit the environment better. But you can paint it, stencil it, or even wrap it in twinkle lights.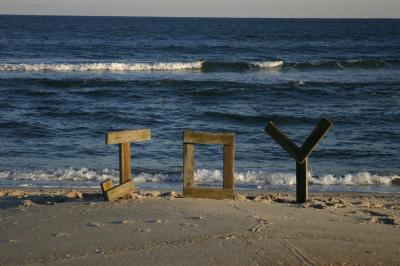 ---
I am a senior, with few woodworking skills, but had some work done on my house and have some leftover wood scraps, tongue and groove especially, also some 2x4s and 2x6s. Any ideas for projects? I own some small hand tools ( drill, jigsaw, stapler, etc.)
Also any tips for taming sawdust would be helpful. I can only work outside, can't figure out how to saw inside.
Thank you.
By DeVonn B.
---
Most Recent Answer
July 7, 2011
I suggest doing some wood burning/pyrogrpahy to whatever wood crafts you choose to create. Without actually seeing your wood pile its hard for me to suggest a craft any different then the others posted minus hot pads, not sure what they mean by that. You could search in Google: wood crafts. Some that I found are rather wood consuming projects or really basic and even generic for me.
I love wood and hey if you still want more creative ideas, please feel free to contact me. If you can take pictures of your wood pieces & send them to me, I'd be very happy to look them over and share with you any further creative ideas. But, let me just say: wood burning is an amazing embellishment to any and all wood projects. That's what I typically play with when working with wood. I always add some type of burning free hand design to my pieces. I am serious about helping you further so please feel free to drop me a line.
Hugs, Mista
PS: Wood burning is not hard. It's actually fun and I'm not some hot shot free hand artist. No, I am more free hand with things like the picture listed, cartoons, things with mostly simple lines, plus I create more abstract stuff as well, blending things you don't often see together. I could also help with suggestions for adding to your creation, helping it "POP" more :) and just remember: "There are no mistakes", so you really cannot go wrong. Enjoy! & Have fun!
---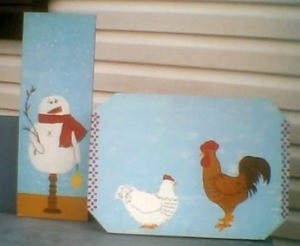 Here is a great way to recycle old boards into great home decor. You can paint anything any theme you want. Either stand it up or you can hang it on wall.
Materials Needed:
boards
patterns or stencils
spray paint
acrylic paint
sealer
Directions:
Spray paint your board and let it dry.
When it is dry, paint on your design using a pattern or stencil.
Let dry completely, then seal.

By Sandy from Bluff City, TN
What can I craft from tree branch slices?
By Shirley from LA
---
Most Recent Answer
By Mary Lou 14 765 Flag
March 19, 2012
Depends how big around the slices are what u can make with them. If they are small , drill holes for peg legs and make doll furniture like stools, chairs, tables. If larger, make human sized footstools or side tables using the same idea but studier legs. If they are thickish, glue a pretty ceramic tile to one for a trivet.
Note: you may want to router or have someone do it for you around the center in square the size of the tile so it will be recessed in the slice. Seal wood with some sealer before putting in the tile for a neater look.
---
If you're into crafts such as tole painting. You might want to become buddies with someone who works at a lumber yard. We know a couple. The husband worked at a lumber yard and was able to take home all the scrap lumber, since it was going to be thrown away, anyway. His wife did tole painting and other crafts. She was able to use all the scrap lumber he brought home. She'd have yard sales, along with craft sales and selling items on Ebay. They do real well doing this. By not having to pay for the wood for projects, she could charge cheaper prices, if she chose to.

By Terri
What can you make out of small pieces of scrap wood? (not tiny pieces - just small pieces.)
By Carol from CO
---
Most Recent Answer
March 5, 2012
1. Wooden clip boards - Rockler, a wood craft supply chain, has the clips.
2. Book ends.
3. Book stands - they look sort of like a chair with slanted seat.
4. Wooden hot pats for hot dishes.
5. If you have a table saw, cut the wood very, very thin for wooden book marks.
6. Tall, small containers for kitchen utensils.
7. Hexagon boxes for cooks oils and vinegars.
8. Spice rack for frequently used cooking spices - mine looks like a miniature book case.
9. Small open faced clocks - most craft stores have the numbers, hands, etc.
How can I make birdhouses out of scrap wood?
By Joyce from Monroe, LA
---
Most Recent Answer
August 4, 2010
My ex made and sold birdhouses out of old picket fencing. He just cut it, didn't do anything else to it (didn't paint, etc). He would use old (other kind)wood and make a box frame and then add the pickets on top of that (like paneling to a wall). Since they were rustic looking and we lived in Texas, he made them "western". Painted "Saloon" "Country Church", etc. on them. He added bits of metal, etc. to make windows, etc. He picked up the wood free in alleys, etc and most of the supplies also. They sold well, he got $50 to $100 each for them and even had a bit of a following for a while (word of mouth).
I have collected 15 boxes of lovely wood such as knotty pine or oak and will use many of them to make birdhouses and craft items like Christmas ornaments or frames. They cost nothing for me. A carpenter wants to get rid of them and what is useless for crafts will be great for fire starters in our fireplace.

By Bev
My son gave me a lot of used laminate wood planks that he thought I may want for either putting down in a small room or to make some craft project out of. They are a blond wood color. I have 147 pieces that are approximately 3 inches x 4 feet and 66 pieces that are approximately 3 inches x 20 inches. I would like to use them for some kind of craft project for my home, not as flooring, but I can't think of anything. Anyone have suggestions?
By Irene