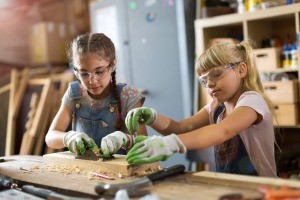 Does any one have a craft ideal for scrap wood for Bible School? We are building a new church and have lots of wood. Thanks

Cynthia from Lewisport, KY

Answers

Marjorie
Silver Feedback Medal for All Time! 290 Feedbacks
June 22, 2008
0

found this helpful
Best Answer
Make bible scripture wood plaques using a wood burning tool. Stain wood if desired, attach a hanger on the back to hang on wall or door.

Julie
Bronze Feedback Medal for All Time! 149 Feedbacks
June 22, 2008
0

found this helpful
Best Answer
Numeric or alphabetic blocks. Use stencils and fill in with markers. Great from the smaller kids, but sand the corners good.

Judi
Bronze Feedback Medal for All Time! 239 Feedbacks
June 22, 2008
0

found this helpful
Best Answer
Docoupage pictures, poems, or writings by the kids. One day they stain, the next they select/do their "art work", the next they glue and clear coat, the last they are ready to go home.

Cyinda
Bronze Post Medal for All Time! 213 Posts
June 22, 2008
0

found this helpful
Best Answer
One idea I came up with off the top of my head is a Town... Each child could choose whether he or she wants to make a Car or Truck or a House, Church or School out of a block or scrap of wood... Then the child can prime the wood with white Gesso, then use markers or paints to decorate it with... If you use water-based markers (& not permanent which could stain their clothes) then you'd need to spray them with a finishing coat of clear spray paint or varathine. If you want to get REALLY fancy, you can buy round wooden discs (at the craft or dollar store) & nail them into the sides of their cars & trucks with braids, this way they'd have wheels, but the child can always paint their own pretend tires & wheels on the block of wood themselves!
---> Do the kids a favor & paint a sample of a house & a car FIRST so you can show them a sample & this way they can visualize just what you want them to do.
I think it would be a good idea if the kids could make 2 different items, one to take home with them & one to leave at the church for other kids to play with & build a "Town"... You could then take an old rug or the back of vinyl flooring or snap-together rug tiles & paint black roads on it. If you don't want to hassle with this, simply buy an inexpensive piece of green "Astroturf" or short outdoor "turf" or a section of green indoor/outdoor rug. This in sold in all Home Depots & hardware stores. For the blacktop roads, use a huge black permanent marker or black Acrylic paint from the craft store, or you could mask off certain parts & use spray paint in your back yard. You'll have to decide on the correct size of roads for the buildings & trucks to go on, so they sort of match up.
* To keep the kids clean while painting, buy a box of kitchen bags from the dollar store & cut a hole in the center of the bottom seam with a 3 or 4 inch slit down the back & 2 arm holes, one on each side, then slip this bag quickly over their heads. If you don't feel right slipping a bag quickly over a child's head, then simply cut the slit ALL the way down to the bottom of the bag & use a bag of clothes pins from the dollar store to fasten the apron together behind their neck. If a child is to big for this apron, you can simply cut slits in the sides or buy a second box of larger bags for the larger children.
*** Of course, there's ALWAYS the old standby of a decorated cross. Us moms ALWAYS love to hang these up in our house! & we'll save them FOREVER!
By Amy (Guest Post)
June 22, 2008
0

found this helpful
Best Answer
In reminding the children about Jesus being a carpenter and His work in helping other in need (through love) you should look at your local community needs. Then build things out of that wood that would help.
Would it be newspaper recycling bins? Small boxes for nursing home patients to keep things organized? Would it be "tokens" your group could decorate to pass out to their friends with sayings?...or better yet ...to bring to church at a later date to trade in for games and prizes at a back to school fair! Good luck!

June 22, 2008
0

found this helpful
Best Answer
Using plywood or other wood cut out crosses and you may cover with glue to add shells, jewels. pearls, etc. or use to make Christmas Creche stables and figures, other Christmas centerpieces, candle holders, ornaments,etc. With wood burning tool put designs on hot plates,etc. Make book ends, bird houses and feeders, door stops, boards to screw on house numbers to hang or put in the ground with a metal flat rod. These can be cut out in various shapes or cut out the ends in angles. A little sanding, staining, sealing or painting would go a long way.
By madge Powis (Guest Post)
June 22, 2008
0

found this helpful
Best Answer
We made napkin holders from wood. We took a piece 1" thick wood and cut it to a size that would fit a paper napkin. We drilled two holes at the end and had the kids glue dowels into them. we then took a narrow piece of wood with matching drilled holes and this piece would slip over the dowels standing up. The kids glued a pretty picture with a bible verse and covered over them with water downed glue. I hope this helps.
We also made key holders from strips of wood. The kids glued pictures with bible verses on the upper half and at the botter we had them screw in hooks to hang keys on.
You can also make house number signs. Hammer a stake to the back of a piece of wood. Get pretty tacks and have the kids hammer them into the wood following the outline of their house number. If you need more info let me know
By jean (Guest Post)
June 22, 2008
0

found this helpful
Best Answer
You could make key racks. Sand the pices of wood til smooth. Paint or stain pieces of wood about 4"x6" These can also be decorated with markers. Screw cup hooks (1 for each person in the household who has keys)into decorated block for keys. Put one hook on top of block to hang from the wall, or glue ribbon/yarn/cord loop to back for hanging. I did this with Cub Scouts, and they were able to do all the steps necessary to complete the project. The pieces of wood were precut by me.
By Carol Saylor (Guest Post)
June 22, 2008
0

found this helpful
Along the same line, inscribe with passage numbers, use to border a garden area.
By (Guest Post)
June 25, 2008
0

found this helpful
You could have various sizes of these scrap pieces of wood for the younger children to have blocks to build with.
Answer

this Question