Here's an easy craft for Vacation Bible School.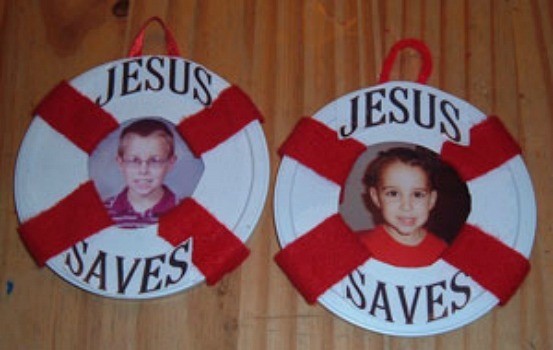 Materials
Cottage cheese container lid
Sandpaper
White paint
Sponge or paintbrush
Scraps of felt
Box cutter
Scrap of yarn or ribbon (hanger)
Hot glue and glue gun
Wallet size picture
Tape
First trace a circle around the middle of the lid. I used a small cup to make my circle. Cut it out with a box cutter on a scrap piece of wood so you don't ruin your table. Then sand the cottage cheese lid and wipe off the dust with a wet rag. Paint the lid white. A sponge works well for painting. Then hot glue on the felt. Make sure it's long enough to attach on the back of your frame. Hot glue the hanger on the back.
To make the "Jesus Saves" I printed it up on the computer on sticker paper and let the kids stick on their own stickers. If you are making this for older kids, they could write the words with a black sharpie. Tape the picture on the back and you have a life preserver picture frame.
By luv2craft from Normalville, PA
Comments
By LYNDA (Guest Post)
June 20, 2007
0

found this helpful
WHAT AN ADORABLE CRAFT, ESPECIALLY AT THIS DANGEROUS BUT EXCITING TIME OF THE WORLD
AFFAIRS AND REVIVAL. I'm forwarding it to my daughter-in-law who is the Administrator of one of the largest Church's Private Schools in this city. She is going to LOVE IT BECAUSE IT TELLS THE TRUTH AND BECAUSE IT IS EASY TO MAKE, EVEN FROM A PAPER PLATE! God bless you, dear heart. : )
By Linda in Alabama (Guest Post)
June 21, 2007
0

found this helpful
What a cute and easy craft! I'm in charge of our VBS this year, and I'm gathering whatever information for crafts, etc. that I can! I'll definitely be using this one!