Simple, easy and adorable Baby Jesus pin to celebrate and remind of the Savior's birth!
Approximate Time: 20 minutes (includes paint drying time)
Supplies:
1 wooden craft stick with grooves (see photo)
gold spray paint
2-3 inches of a green pipe cleaner
1 medium white pom pom
1 large blue pom pom
hot glue
pin back
Instructions:
Break craft stick at pre-made grooves.
Spray paint the stick gold, covering all sides of the wooden craft stick. Let dry.
Hot glue the two short ends of the now-gold craft stick together, as pictured, with rounded ends in opposite directions. Let dry.
Hot glue the longer, straight middle of the gold craft stick over the top the "x" made in step 3; this makes the manger. Let dry.
Hot glue a two or one inch piece of green pipe cleaner in a slight curve [see picture] onto the straight gold craft stick part, on the side opposite the "x" of course; this makes the grass lining the manger. Let dry.
Hot glue the big glue pom pom above the green pipe cleaner, like in the picture. Let dry.
Hot glue the smaller white pom pom as the head of Baby Jesus. Let dry.
Glue the pin back to the back of the pin, as pictured. Let dry.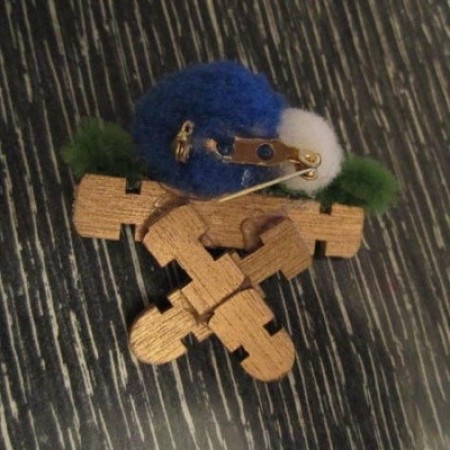 Wear or give this sweet pin as a gift to a loved one and rejoice that Jesus was born in love for us!
By Erin R. from Seffner, FL