May 7, 2010
0

found this helpful
Hello,
We did a western theme (pioneer's for God) for Bible school 2 years ago. I did the crafts with the children and I ordered craft kits from Oriental Trading, they have a large selection of western theme crafts. We made laced change purses, necklaces and color your own picture frame magnets. We also made fringed placemats from foam craft sheets. I used a hole punch to put holes on each side and fake leather lacing for the fringe.
A lady from church loaned us a wood donkey and we took pictures of all the kids the last night and I put them on a "wanted by God" poster that I also got from oriental trading. You can see it in the picture... they were so cute. For the teens you can do a tin can luminary with a cross if you have access to a fridge at church. You would fill tin cans with water and freeze them and then using a nail punch holes in the side and add a candle.
I hope this helps you out some.
God Bless,
Beverly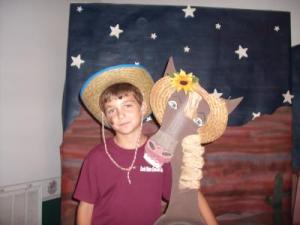 May 13, 2010
0

found this helpful
This is what we are doing :)
1. Horseshoe hanger. I got a free template of a horseshoe online and enlarged it on my printer...made a pattern and used posterboard in various colors...hole punched the tops so the kids can use brown yarn (looks like rope) to hang it and then they will decorate with markers and foam western stickers.
2. Purchased foam hats at the Dollar Tree and have a flat pattern of a horse they will glue on to the hat.
3. Bracelets with beads.
4. White t-shirts that the kids will use Western stamps or paint. A prior year...the kids sponged painted in brown a vest and I think a sheriff badge on it.
5. Small Western wall hanger: red/white beads hung on white yarn, make four strands alternate the colors however long you like * I think ours will be about 3 or 4 inches or so (we have the beads already individually bagged.) Foam (rectangle shape with cardboard glued to the back for stability (old cereal boxes...) and then hole punched four times on the bottom to hang the beads and the center will have them put a cowboy hat with the wording "Hats off to Jesus." Use yarn to hang it.
6. One extra thing for toddlers (not doing the wall bead hanging)
Take their handprint in brown paint turn it upside down and then add a yarn tail and add ears/mouth when dry.