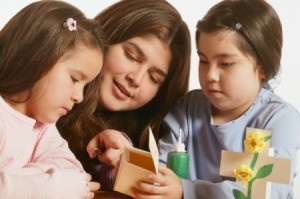 I am looking for an interesting craft for a youth Bible Study class. The class includes boys and girls of all ages and several are in the same family. That said, I'd like something that they could all work on together making a group project, instead of multiple individual ones.
Any help would be appreciated.
By Michelle from Woodstock, GA
Answers

Cyinda
Bronze Post Medal for All Time! 213 Posts
January 2, 2010
0

found this helpful
Best Answer
I recently saw a TV show called Sewing with Nancy (on public TV channel 9) that talked about a school project. It was a large quilt. First they glued the characters on with a glue stick then later on when the quilt was finished, they had someone else sew the pieces down & since it was a quilt made for decoration only & it won't be washed the edges won't unravel (you might also use felt or fleece because they don't unravel when washed). The school made the quilt using all kinds of fabric scraps which you could have women of the church donate. This "quilt" can be large or small, any size at all. (I'm a poet & don't know it!)
If I were you, I'd contact Sewing with Nancy & have them send you a DVD or a video tape of that episode. Here is her Video Streaming site:
www.sewingwithnancytv.com/

January 5, 2010
0

found this helpful
Best Answer
If there is a home for the elderly, or even a nursing home, the kids can make small items to put on the dinner tray, or even cute wreaths or flowers to put on the door to their rooms. For instance, those small clear plastic cups used for communion can be made into a small favor or by adding a magnet to the back, it can stick to a window frame, or a small 'fridge.
Purchase small pompoms in various colors, place them in the cup, cut a flat coffee-stirrer in 3rds and glue it to the inside; so it looks like a straw and the pom-poms look like ice cream.
In the spring, they can make small arrangements of "silk" flowers such as tulips, dogwood blossoms, jonquils ( from the dollar store) tie with ribbons, and place these on the door to the rooms. In the fall, cut leaves from construction paper and decorate the doors.
Choose someone that rarely has a visitor, and make this person your group's favorite person. Purchase a bird feeder and a "crook" to hang it from. Place it where it can be seen from their window. And each day, have a child fill the feeder. They can put peanut butter on pine cones, make all sorts of goodies that the birds will come to eat. This is always a source of enjoyment for someone who must stay indoors. And the special visit from a child each afternoon will be another treat!
Ask for wallpaper sample books that are discontinued. Use the scissors that make fancy edges, and make bookmarks for each person. Add a Bible verse, glue a 3inch piece of ribbon to the top, and you are done. Most everybody reads.
Hope this helps you.

January 6, 2010
1

found this helpful
I recommend either Pack-o-fun magazines (I'm sure you could get them used or the Pack-O-Fun website. They feature bible study crafts all the time, both in the magazines and on the website.

January 6, 2010
0

found this helpful
I like the idea of doing something for others that another person has posted. Have you done a web search? I searched the internet for my daughter who teaches a Sunday School Class and found a lot of help for her there.
Best of luck!

January 10, 2010
0

found this helpful
An excellent web site for craft ideas for all ages is www.familyfun.com. You will enjoy this web site.

February 1, 2017
0

found this helpful
one thing we did as a service project for VBS.. is to creat baskets for people that come to food pantries... cheap baskets can be found in thrift stores and then filled with bars of soap etc... the congregation helped by bringingt things in .... add a bow,, a few notes, . they can also be sent to nursing homes and mean SO MUCH to those that recieve them
Answer

this Question