Crafts Using Jigsaw Puzzles
You can reuse puzzle pieces to create many fun crafts. This is a guide about crafts using jigsaw puzzles.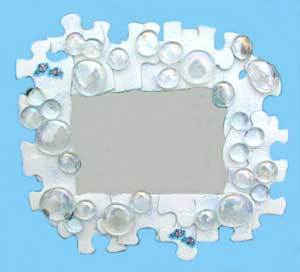 Filter

: All Articles
Sort

: Relevance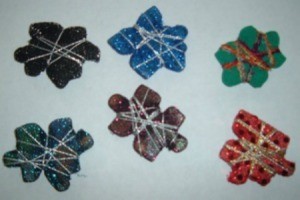 A ways back, someone asked what she could do with puzzle pieces. I tried to describe these, but until I found them, could not do a good job. So, here they are!
Materials
puzzle pieces
I suggest larger ones from a kids puzzle.
scrap fabric (something that glitters, satin, rayon, or anything that has some stretch to it)
silver, gold, or colored thread
hot glue on cool heat
pin back
Directions:
With the puzzle piece on the fabric, cut around the piece with enough room to fold over the fabric.
Making darts to allow for no bunching up, wrap and glue the fabric around the outer edge and leaving the inside with some slack or some "give room" but not much.
With the glue gun, start by attaching the thread to the back, then turn over and start winding it around the outer and inner pieces, as shown.
Do not glue each time you go around the back. When the desired effect is done, glue the thread and the pin back at the same time, cutting the end once it's glued. This keeps your fingers away from the glue.
If you test the pin back and it comes off the item, don't despair. Cut off any built up glue and use the "hot" setting.
NOTE: Be careful! Never touch the hot glue with your fingertips. 2nd degree burns can and do occur!
Special Effects: Glitter glue little dots, hearts, or stars on the front.
By Sandra from Salem, OR
This is a magnetic photo frame my son made for me years ago at school for Mother's Day. They cut out a frame from a piece of cardboard, glued puzzle pieces to it, spray painted the whole thing, and applied some glitter before it dried. Then they taped a photo to the back and glued on some magnets.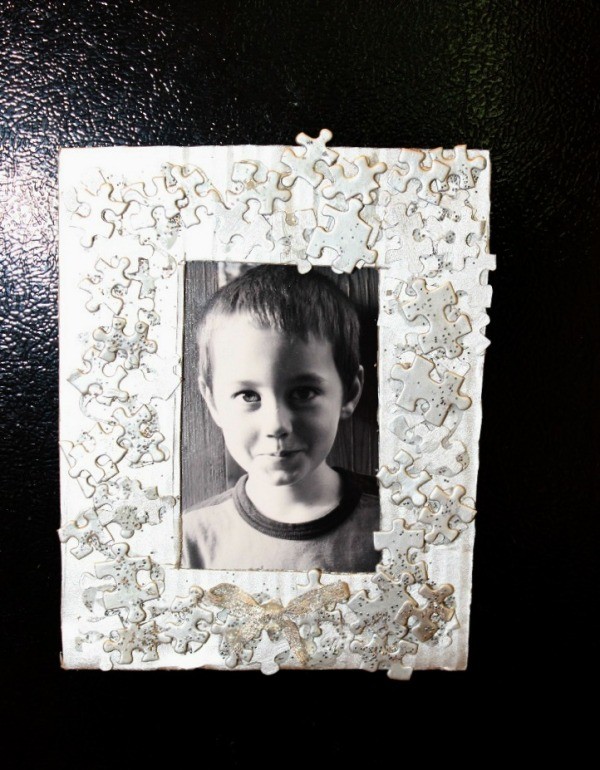 My girls love to do jigsaw puzzles and hate to break them apart after doing them. What to do with all those puzzles? I decided to cover the puzzle with clear contact paper. I can then use it as a beautiful placemat, furniture protector under plants, dog dishes mat, and I'm sure there are other uses I will find later! Very simple to do. After completing puzzle, simply measure the contact paper, adding 1 inch on all sides. Take off paper backing and cover finished puzzle. Carefully bend the 1 inch excess to the back of the puzzle. Then turn the puzzle over, cut a piece to fit and attach contact paper. Washable and beautiful. Hint: I found out with my dog mat that I needed to put an extra 2 inch strip around the edges to provide a better seal for waterproofing!

By Cynthia from Ava, IL
Strapped for cash, but wanting to hang pictures on your walls? Buy attractive puzzles at your local dollar store or thrift store. Put together & decoupage them. Attach a wall hanger or place in a picture frame. Also, look for pretty pictures in magazines & books, frame them as well.

By Terri
Buy an old puzzle from a garage sale or from the dollar store (you can get them cheap there) and find two pieces that you like. Punch a small hole on one side of the puzzle piece and insert a jump ring. Repeat with other puzzle piece. Put each on a chain necklace and give one puzzle piece to your BFF.
You can put protective plastic on the puzzle pieces if you want to help them last longer and you can paint them and add derorations if you want. If you want you can make more than 2 necklaces from a puzzle if you have a group of good friends.
Source: I got this idea from About.com
By TheMDames from Proctor, TX
How do I turn a jigsaw puzzle into a placemat that water rings will not harm?
By G.F.R.
April 12, 2012
0

found this helpful
If you can buy clear contact paper (brand name of shelf/drawer liner with adhesive), you can cut a piece about 1" bigger all around than the finished puzzle, take the backing off the contact paper, and put the puzzle together on the adhesive side. Then cover the puzzle with another piece of similar size adhesive side down. Press together firmly, sealing the edges well. One water resistant placemat.
April 14, 2012
0

found this helpful
Try getting it laminated.
April 23, 2012
0

found this helpful
I was going to suggest clear contact paper too but I think it would be difficult to place the puzzle together on it because of the stickiness and how would you know how to place it on the sticky paper 'just so' while building?
I suggest using the paper after the puzzle is together. Slide back just one edge of the paper protecting the tacky side and slowly 'press and smooth' sticky side onto one edge of the puzzle then slowly peel back more of the protective paper and continue pressing and smoothing until the top part of the puzzle is covered. Carefully turn puzzle over and do the same on the back side.
Do indeed leave at least a one or two inch overlap of contact paper on all edges so that once front and back sides are covered you can press well right along the edge of the puzzle (the smooth side of a butter knife blade works well to do this just do it gently) and then you can cut the overlap edges off.
What can I make with jigsaw puzzle pieces?
By Sue
August 11, 2010
0

found this helpful
I saw a pin wreath made from puzzle pieces. They painted them white, glued them in a circle, added a pin on the back and a bow on the front. Have fun.
August 11, 2010
0

found this helpful
Glue them onto a picture or mirror frame and paint all one color. When dry, lightly brush a second color over the first to bring out the shapes. Copper with a little light green brushed over it makes it look like an antique.
August 11, 2010
0

found this helpful
http://www.thriftyfun.com/tf82922557.tip.html
This one is tooooo much fun!!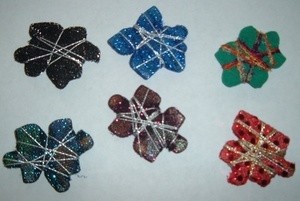 August 20, 2010
0

found this helpful
You can make pins to wear, picture frames, use them to decorate cards. Just let your mind wonder on all the ideas!
With a little work, you can make a unique pin that looks like a mini puzzle.
Approximate Time: 1 hour to 1.5 hours
Supplies:
four puzzle pieces already together
fancy fabric
"scribblers" iridescent gold (or your choice) paint
pin back
hot glue gun
felt scraps
scrap thin cardboard
white glue and foam brush
Instructions:
Choose your fabric, and put a thin layer of glue on it making sure it covers more than the size of the pin. Let dry.
Put the four pieces of puzzle together. I used the 25 piece ones you get four for 1.00 at the Dollar Tree, to keep the time it took me to find the pieces that fit to a minimum.
Make a cardboard trace of the whole four pieces and then take each one apart, place it on the board and trace around it.
This gives you the guide to make the inner lines right.
When your fabric is stiff, trace around the cardboard onto the fabric, and cut around the outside. Make sure you draw on the fabric the inner lines, as they will be important as well.
Use that same cardboard template to cut an identical one in the felt, but when you cut the felt, cut it just a "smidgen" larger so your front fabric can have some wiggle room with the paint.
Glue the fabric to the felt, and press down with something flat to let dry.
Once they are done, use your paint to trace around the inner lines and the edging. This little bit of leeway on the felt will give you room to cover the edges of the fabric and have something to paint onto.
I used gold so as to match the fabric. You can use any colors you want, even black.
Once the paint is dry, hot glue on the pin back.
The pins I submit are best worn where they are not exposed to the elements. N-JOY!
By Sandi from Yorktown, VA
There were two toys that kept being ignored for the last year or so, and I finally put them together.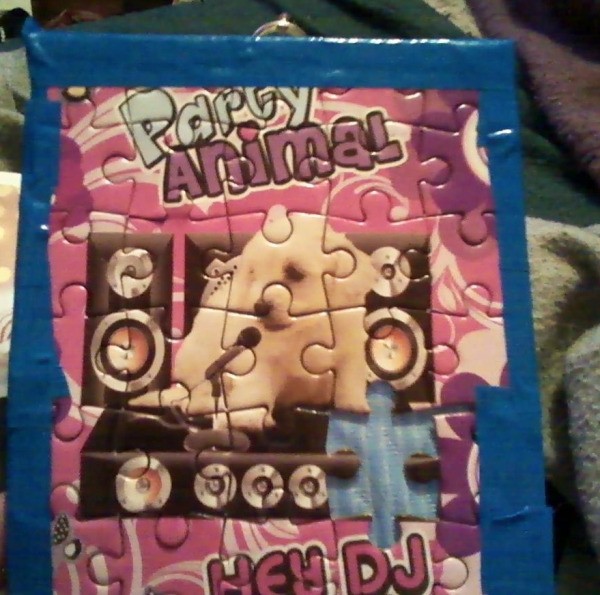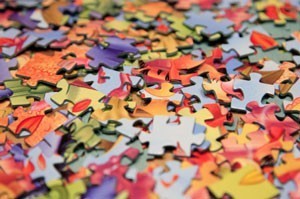 Does anyone have any idea what to do with puzzle pieces, other than a wreath?

Deb from Chippewa Falls, WI
Answers:
Uses for Jigsaw Puzzle Pieces
I saw a show on HGTV (perhaps on "Look What I Did") where they used jigsaw puzzle pieces for a wall covering in a powder room. It looked pretty cool. Depending on how many you have, it could be used as an accent wall. (08/23/2008)

By ab19978
Uses for Jigsaw Puzzle Pieces
They are really cute if you buy picture frames that are plain, and decorate them with the puzzles. (08/24/2008)

By Sheila
Uses for Jigsaw Puzzle Pieces
I have made really neat pins out of them, but I can't find them right now to photograph. You put shiny fabric on the piece (and the larger, kid's pieces are better), and glue the darted (you know you cut out excess) pieces to the back with hot glue. Then, you take spangly crochet thread and start at the back, and wrap it around in different directions between the lower pieces of the puzzle, drawing it in slightly. Hot glue the end, then using E6000 glue, you glue on a pin back. Watch for my submission of this with a photo in the next week or so under crafts from Poor But Proud. (08/25/2008)

Uses for Jigsaw Puzzle Pieces
If you pick out the brightly colored ones and coat them with a high-gloss sealant then drill a hole at the top, they'd make wonderful and unusual earrings. You can also drill 2 or 4 holes (1 or 2 at each side) and use beads in between the pieces to make a bracelet or even a funky necklace. If you really want them to have pop, try coating them with a marbleizing compound or melted embossing powder. Or decoupage tiny pictures or flowers from napkins on the pieces before coating with the sealant.

I bet if you really coated them well, then used snap off backs, they would make cute buttons for kids clothing, too. Or even glue some to hat bands for funky hats. How about putting several together to make a 4 inch sort of round thing, then coating these with sealer to make coasters. They would have jagged edges, but that's the neat thing about these abstract coasters. You could do a whole bathroom with them: Just glue them to the waste basket, Kleenex holder and around the mirror then seal with many coats of glossy sealant. What a conversation starter! (08/27/2008)

By Cyinda
Uses for Jigsaw Puzzle Pieces
I have seen them put around a picture frame or inside a picture frame. Once someone put them on an old coffee table that was stained up pretty badly and arranged them, glued them a bit, and put a piece of glass over them. Good luck! (08/27/2008)

By Dorene from IL
Uses for Jigsaw Puzzle Pieces
I have a Christmas pin that is made out of puzzles pieces. It is a reindeer, make in shape of deer head, use the little craft eyes and put pipe cleaners for antlers and a tiny red chenille ball for the nose. Oh, yes before you start spray paint the pieces brown. (08/27/2008)

By leedabeeda
Uses for Jigsaw Puzzle Pieces
I have used the old puzzles to make new puzzles. By gluing a picture of the kids on it or a picture the kids have colored. With an X-acto knife I cut around the pieces. I mail them to the kids and they have to put them together to see what they are. I've even written notes on them. They have to put them together to find out the message, too. (08/27/2008)

By Cariboo Lady
Uses for Jigsaw Puzzle Pieces
Paint to match outfits and hot glue an earring post on back. Gluing 2 or 3 pieces together looks fancy, too. You can also make a brooch with 6 pieces. Adding glitter on top of the paint looks fancy, too. (08/28/2008)

By Sandi
Click to read more ideas from older posts on ThriftyFun.
Read More...
Related