You can reuse puzzle pieces to create many fun crafts. This is a guide about crafts using jigsaw puzzles.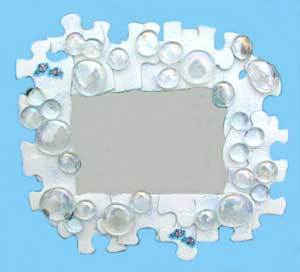 Filter

: All Articles
Sort

: Relevance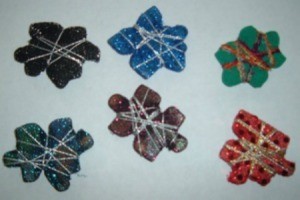 A ways back, someone asked what she could do with puzzle pieces. I tried to describe these, but until I found them, could not do a good job. So, here they are!
Materials
puzzle pieces
I suggest larger ones from a kids puzzle.
scrap fabric (something that glitters, satin, rayon, or anything that has some stretch to it)
silver, gold, or colored thread
hot glue on cool heat
pin back
Directions:
With the puzzle piece on the fabric, cut around the piece with enough room to fold over the fabric.
Making darts to allow for no bunching up, wrap and glue the fabric around the outer edge and leaving the inside with some slack or some "give room" but not much.
With the glue gun, start by attaching the thread to the back, then turn over and start winding it around the outer and inner pieces, as shown.
Do not glue each time you go around the back. When the desired effect is done, glue the thread and the pin back at the same time, cutting the end once it's glued. This keeps your fingers away from the glue.
If you test the pin back and it comes off the item, don't despair. Cut off any built up glue and use the "hot" setting.
NOTE: Be careful! Never touch the hot glue with your fingertips. 2nd degree burns can and do occur!
Special Effects: Glitter glue little dots, hearts, or stars on the front.
By Sandra from Salem, OR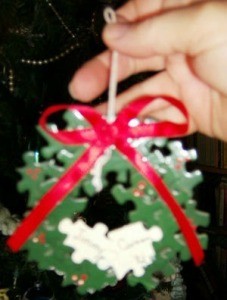 I made these ornaments in 1992, and they still look new except for a bit of wear on the bows. They were so much fun, I gave them to business associates as well as friends.
1. Put together an old jigsaw puzzle that's missing a piece or two.

2. Spray paint the puzzle a solid color. I used dark green because it seemed natural, but if I did it again, it would be something brighter. This color kind of fades into the tree.

3. Draw a 4-inch circle on white paper. Put a piece of wax paper over that, so you can see the circle through the wax paper.

4. Lay some puzzle pieces around the circle, just barely touching.

5. Use white glue to add a second layer. Angle the second layer out a bit so the circle gets larger.

6. While that's drying (give it overnight) tie a string or ribbon loop and a bright bow and glue them at the top.

7. The next day use a pencil eraser -- the little round ones that come on top of the pencil -- to dip in red paint. Make little clusters of holly berries this way. Let them dry.

8. With a small brush such as an eyeliner brush, make little white dots on the holly berries. When they dry, you're done!
By Coreen from Rupert, ID
Teri Clark
2

found this helpful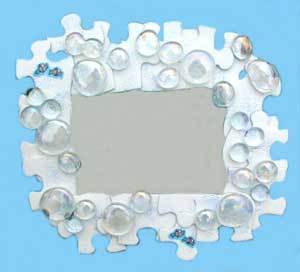 Jigsaw puzzles are a lot of fun, but in a house with children, they are not likely to last very long. Before you know it, several pieces are lost. Don't throw away that old puzzle - use it to create a wonderful frame!
Supplies:
Thin cardboard
Puzzle pieces
Photo
Paint
Magnet strip
Scissors
Glue gun
Paintbrush
Directions:
Cut out 2 5x7 rectangles from the thin, smooth cardboard.
Cut out a 4x6 rectangle in the middle of one of the 5x7 rectangles. This piece will be the front of your frame. The solid rectangle is the back of your frame
Glue the front of the frame to the back of the frame on three sides. Do not glue the fourth side or you will not be able to get a photo in the frame!
Paint the entire frame a solid color.
Optional Step: Paint the puzzle pieces different colors. You can choose to keep the puzzle pieces their original color if you like.
Glue the puzzle pieces to the cardboard frame.
Place a photo into the frame.
Glue a magnet strip on the back of the frame for hanging.
Do this for Valentine's Day using pink, red, and purple. You can also create a Christmas theme using green and red. Or make one like the photo to make a "bubble" frame using clear stones and white puzzle pieces.
Additional Ideas:
Add glitter or other embellishments to the frame. You might also consider doing the same frame by using buttons instead of puzzle pieces.
This is a magnetic photo frame my son made for me years ago at school for Mother's Day. They cut out a frame from a piece of cardboard, glued puzzle pieces to it, spray painted the whole thing, and applied some glitter before it dried. Then they taped a photo to the back and glued on some magnets.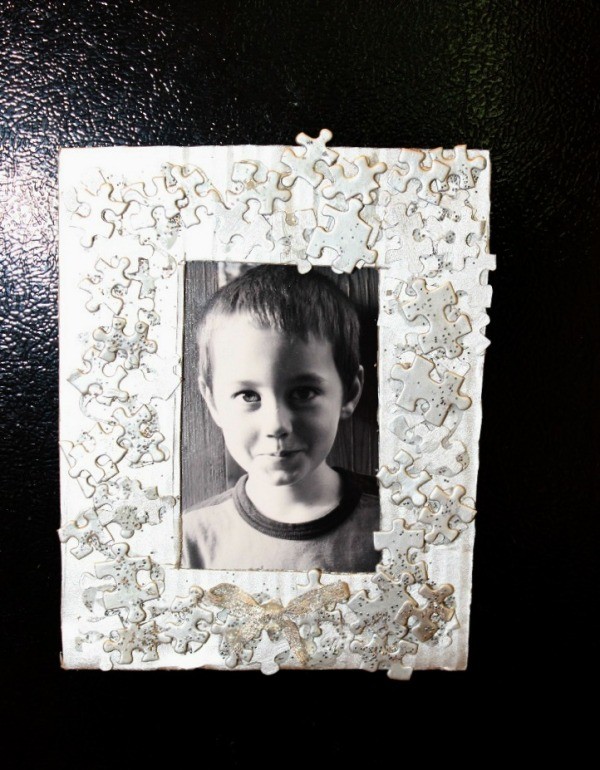 How do I turn a jigsaw puzzle into a placemat that water rings will not harm?
By G.F.R.
April 12, 2012
0

found this helpful
If you can buy clear contact paper (brand name of shelf/drawer liner with adhesive), you can cut a piece about 1" bigger all around than the finished puzzle, take the backing off the contact paper, and put the puzzle together on the adhesive side. Then cover the puzzle with another piece of similar size adhesive side down. Press together firmly, sealing the edges well. One water resistant placemat.
April 14, 2012
0

found this helpful
Try getting it laminated.
April 23, 2012
0

found this helpful
I was going to suggest clear contact paper too but I think it would be difficult to place the puzzle together on it because of the stickiness and how would you know how to place it on the sticky paper 'just so' while building?
I suggest using the paper after the puzzle is together. Slide back just one edge of the paper protecting the tacky side and slowly 'press and smooth' sticky side onto one edge of the puzzle then slowly peel back more of the protective paper and continue pressing and smoothing until the top part of the puzzle is covered. Carefully turn puzzle over and do the same on the back side.
Do indeed leave at least a one or two inch overlap of contact paper on all edges so that once front and back sides are covered you can press well right along the edge of the puzzle (the smooth side of a butter knife blade works well to do this just do it gently) and then you can cut the overlap edges off.
My girls love to do jigsaw puzzles and hate to break them apart after doing them. What to do with all those puzzles? I decided to cover the puzzle with clear contact paper. I can then use it as a beautiful placemat, furniture protector under plants, dog dishes mat, and I'm sure there are other uses I will find later! Very simple to do. After completing puzzle, simply measure the contact paper, adding 1 inch on all sides. Take off paper backing and cover finished puzzle. Carefully bend the 1 inch excess to the back of the puzzle. Then turn the puzzle over, cut a piece to fit and attach contact paper. Washable and beautiful. Hint: I found out with my dog mat that I needed to put an extra 2 inch strip around the edges to provide a better seal for waterproofing!

By Cynthia from Ava, IL
Strapped for cash, but wanting to hang pictures on your walls? Buy attractive puzzles at your local dollar store or thrift store. Put together & decoupage them. Attach a wall hanger or place in a picture frame. Also, look for pretty pictures in magazines & books, frame them as well.

By Terri
Buy an old puzzle from a garage sale or from the dollar store (you can get them cheap there) and find two pieces that you like. Punch a small hole on one side of the puzzle piece and insert a jump ring. Repeat with other puzzle piece. Put each on a chain necklace and give one puzzle piece to your BFF.
You can put protective plastic on the puzzle pieces if you want to help them last longer and you can paint them and add derorations if you want. If you want you can make more than 2 necklaces from a puzzle if you have a group of good friends.
Source: I got this idea from About.com
By TheMDames from Proctor, TX
With a little work, you can make a unique pin that looks like a mini puzzle. Choose your fabric, and put a thin layer of glue on it making sure it covers more than the size of the pin. Let dry.
There were two toys that kept being ignored for the last year or so, and I finally put them together.