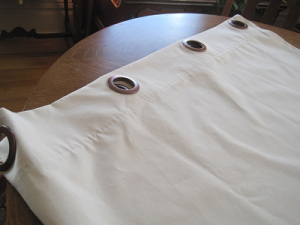 Making curtains with grommets is an easy way to create beautiful up to date curtains for you home. This is a guide about making curtains with grommets.
Ad
---
Solutions: Making Curtains With Grommets
Read and rate the best solutions below by giving them a "thumbs up".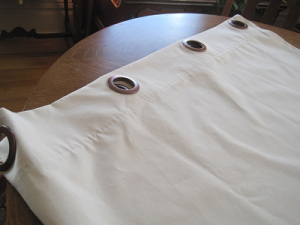 If you need new long drapes for your living room and want the trendy curtains with the grommets at the top, this is a very thrifty way of doing it. This photo only shows one of the panels. I bought two drop cloths for $10 each, using one for each panel.
They measure 6 feet by 9 feet. They are a nice heavy canvas type fabric and are hemmed, but I would measure them anyway because sometimes they are irregular. I made mine 84 inches in length and they are 69 inches wide after hemming the side. You could leave the sides as they come out of the package, but I chose to put a hem in mine.
If you don't sew, you can use fabric glue or you can use the iron on tape for your hems. The grommets I bought at Walmart and they were $7.00 for each package and you need 1 package for each panel. They are easy to insert and the instructions to do them are clear. They come with a template and you draw around it to know how large to cut the circle for the grommet. You just have to space them evenly at the top.
I made these for my daughter so she would have a panel on either side of her sliding doors. She is using bamboo shades if she wants privacy at night. One suggestion if you want a shade a little deeper, Home Depot has the drop cloths too, but they are a darker beige, actually very pretty, but cost more. I made these for a total of $34 and they are much nicer and larger than if I would have bought them.
Approximate Time: 5 hours.
Supplies:
2 canvas drop cloths
2 packages grommets from Walmart
thread if sewing
glue or iron tape if not sewing
tape measure
washable marker
Instructions:
Lay out your canvas drop cloth. Decide if you want to hem the sides and do that first if you do. Do not make a very deep side hem so that you can easily attach the grommets.
Then turn the top header down 4 inches as instructed on the directions. Decide how far down you want to put the grommets in from the top of the header. I put mine in about 3/4 of an inch from the top of the grommet. Insert grommets per instructions.
Then measure down from the top of the hole to the length you want your curtain to be. Allow at least 3 inches and make a double hem. If you can make the hem deeper, I would do that. So in other words, if you need an 84 inch curtain, add at least 3 inches to the length and make a 1-1/2 inch double hem, but more desirable would be to add 6 inches so that you have a 3 inch double hem.
Sew, glue, or use hemming tape and you are done! The hardest part is the measuring, but after that it is a breeze!
By Elaine from Belle Plaine, IA
Give a "thumbs up" to the solution that worked the best! Do you have a better solution? Click here to share it!
Questions
Here are questions related to Making Curtains With Grommets.
Does anyone have instructions on making curtains with big grommets? Specifically the proper way to put in the grommets.

Nicky from Canada
AnswerWas this interesting? Yes No
Ad
---
---
Most Recent Answer
By Donna (Guest Post) 01/12/20090 people found this helpful
Buy a Grommet Kit. It comes with instructions.
---
If I have a 10 foot wide window, how wide would you make each panel? I know the rule of thumb is the curtain width should be 2 1/2 times the length of the window. I didn't know if it wasn't different with the drop cloth material. Thank you.
By Lisa
AnswerWas this interesting? Yes No
Ad
---
---
Most Recent Answer
By Marty Dick 163 959 04/19/20150 people found this helpful
Since the drop cloth is so heavy would it be more feasible to have box pleats at regular intervals and use tape across the top to form a rod pocket? Two or three pleats per panel would give fullness without all that weight from gathering.
---
I have drapes that have large grommets, I need to remove them so that I can sew them together and then reinstall the grommets without destroying them in the process.
By Cathy from El Cajon, CA
AnswerWas this interesting? Yes No
---
Most Recent Answer
By Dee Gardner 1 9 03/20/20100 people found this helpful
Hi Cathy, Jilson has a good point. I've worked with grommets on T-shirt fabric fashion wear. If the fabric is stretchy, you can "pull" it away from the grommet, but the hole will be slightly larger, and that grommet you removed is NOT reusable. You will have to have new grommets for replacements.

If you are trying to sew 2 drapery panels together, my simple suggestion is to measure the distance between grommets. Once you have that, half the number. Add 1/2 inch. Put the two panels right sides together, then meaure out from the second grommet from the edge and cut. Sew using a 1/2 inch seam allowance and you should be good to go.
---
I am making some window coverings that have grommets. Can anyone give me good directions about how to apply them? The directions provided with the kit weren't very good and I didn't find anything better on the Internet.

Claudia
AnswerWas this interesting? Yes No
---
Most Recent Answer
By Judy (Guest Post) 07/19/20050 people found this helpful
Question for Tori. Where the heck did you find the extra large grommet kit? i've searched the net for DAYS! Got to find it first to know if I'm going to have trouble. Thanks for your help.
---
I am using large grommets in the top of my curtains. I need to know how far in should my first one be? The rest will be 8 inches apart.

Carrie L. from Eugene, OR
AnswerWas this interesting? Yes No
---
Most Recent Answer
By Lelia Jo Cordell 51 1,936 12/03/20080 people found this helpful
Commercially made curtains tend to have the first grommet close to the end, not more than a couple of inches in from the edge. That's what I'd recommend for yours.
Can l remove and reuse plastic grommets from one curtain to another curtain?
By Denise
Archives
Thrifty Fun has been around so long that many of our pages have been reset several times. Archives are older versions of the page and the comments that were provided then.

Does anyone know how to determine the placement of grommets on curtains. There needs to be an even number and I just can't figure it out!

Mary from Aurora, CO
Answers:
RE: How To Determine Spacing Of Grommets On Curtains
Several years ago I made a set of curtains and a matching shower curtain for my bathroom out of two flat bed sheets. I used my sewing machine and sewed 12 small grommet button holes across the top for my shower rings. I recall that my husband helped me to measure the spacing along the top hem where I was to make the button holes.

Why don't you fold the fabric in half so you can find the center for the first grommet and work from there.

I measured the width of the grommets on my own fabric shower curtain and they are 5 1/2" apart, but it may vary depending on the width of your fabric.
I hope that I was able to answer your question.
Marge from NY (09/15/2007)

By MCW
RE: How To Determine Spacing Of Grommets On Curtains
Figure out how far from the edges you want the grommets to be. This will depend on how wide your curtain is and how big your grommets are. (not too close but you don't want flaps at the sides)

Then measure between the edge grommets and divide by 1 LESS than the number of TOTAL grommets. If you have 6 grommets, you would divide the inner space by 5, divide by 7 for 8 grommets, 11 for 12 grommets, etc. Pin or mark at these divisions. This will determine the space between grommets and you should center the hole of the grommets on the pins or marks.

You DO NOT want to center the first grommet or they will all be off. This would only work with an odd number. Draw it out on paper to see what I mean, it is hard to "show" you with words :) (09/18/2007)

By Lisa from Lena, WI
RE: How To Determine Spacing Of Grommets On Curtains
I think it also depends on the weight of the fabric you are hanging; lightweight, limper fabrics need them closer together. I think I would do a trial run with bent paper clips that you could move and re-space until you liked the way they draped. Then just put the grommets where the paper clips were. (09/19/2007)

By claudia-md