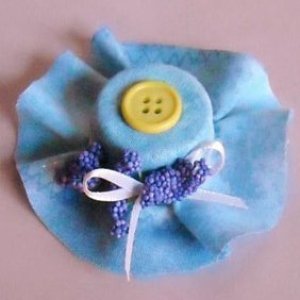 Recycle crafters are always on the look out for projects to use up as many recyclables as possible, even the lowly plastic bottle cap. When you visualize creatively, the ideas arise. This is a guide about craft uses for plastic bottle caps.
Ad
---
Solutions: Craft Uses for Plastic Bottle Caps
Read and rate the best solutions below by giving them a "thumbs up".
Drill a hole in several tops and add one length of string to each top at different lengths. Use for 'scaring' birds from your vegetable patch.
Right now a "hot" trend in crafting and rubber stamping is to make rosettes for putting on a card or package. That consists of scoring and folding lightweight paper (like scrapbooking sheets), gluing and accessorizing. Use rubber-stamped numbers, images, or stickers. You make a flat fan and you need a round accent piece in the center of the flower.
A bottle cap could be used to anchor everything together whether plain or decorated. A rosette can also be used as an award. If you add 2 wide ribbon pieces behind, cut at an angle, it can resemble a 1st, 2nd, or 3rd place award ribbon.
Source: This information comes from being an active rubber stamper.
By Lynn from Bridgeville, PA
Recycle plastic bottle caps by drilling a hole in the middle of the top, string on fishing line and use for outdoor garlands at Xmas or use the colors for different holidays, for example orange and black for Halloween.
By Sharon Y. from Janesville, WI
I am saving my bottle caps for a Christmas project I found in a craft magazine (sorry, can't remember the name of it). Glue bottle caps together in a circular shape with one in the center. Glue in glitter pom poms in Christmas colors inside the caps, add a string for hanging for a Christmas ornament.
I think on the back side, I'll cut out a picture from old Christmas cards to finish it off. Thought it was a cute idea that I could do with the grandkids for Christmas projects. I save like colors from the bottles, have gold ones and red ones to use.
By HerkDia from Baltimore, Md
Give a "thumbs up" to the solution that worked the best! Do you have a better solution? Click here to share it!
Questions
Here are questions related to Craft Uses for Plastic Bottle Caps.
I am looking for crafts that use bottle caps.
By Kelly from Medina, OH
AnswerWas this interesting? Yes No
Ad
---
---
Most Recent Answer
By Phyllis Smith 2 47 10/07/20100 people found this helpful
You can spray paint them orange and use a black permanent marker to add the "face."
These can become pins or checkers for a game, etc.
I am looking for crafts using bingo dauber caps. They are solid colours and rounded. They have to be good for something, but what?
By Ruth D.
Archives
Thrifty Fun has been around so long that many of our pages have been reset several times. Archives are older versions of the page and the comments that were provided then.
I have a ton of plastic Mountain Dew soda bottle caps I forgot to send in for their latest promotion. I've looked online, but I can't locate something I can do or make with these plastic caps. I see plenty of projects with metal caps, but not plastic. Any ideas?
Jessica from Waukesha, WI
---
RE: Crafts Using Plastic Bottle Caps
You could make a checker board set and use them up. (03/06/2009)
RE: Crafts Using Plastic Bottle Caps
If you enjoy crafts or have children who enjoy crafts, go to the library and borrow "Bottlecap Little Bottlecap" by Michelle Stitzlein. The book contains ideas for fun crafts with bottle caps. Her creativity is amazing! (03/06/2009)
RE: Crafts Using Plastic Bottle Caps
flickr has some wonderful shots of recycled crafts. Get lovely shots of bottle cap pincushions.
I saw someone on TV make lawn ornament flowers out of butter/plastic container lids and the centers were bottle caps. You can make a mosaic picture out of all the colored bottle caps. I plan to drill holes into the center and use old metal wire hangers to create a trellis on my lanai. I am going to paint it white. (03/07/2009)
By soyzicks
RE: Crafts Using Plastic Bottle Caps
How about drilling holes in the caps and stringing them on a pipe cleaner? Glue on googly-eyes and you have an instant caterpillar! (03/07/2009)
By MooseMom
RE: Crafts Using Plastic Bottle Caps
Donate them to your local school. I collected some and put them in Ziploc bags and use them for Bingo markers for the games we play at school. (03/07/2009)
By sweetie6116
RE: Crafts Using Plastic Bottle Caps
My Easter Hat Magnet craft has been submitted, but here's a sneak peek at the photo! Poor But Proud!! (03/11/2009)