I've just changed the buttons on an old coat and it looks just like a new one. I buy buttons in thrift stores (where you can find horn, mother-of-pearl, or brass ones) or take them off other pieces of clothing. I also often dye clothes, particularly woolens, to revitalize them.
Beige or cream sweaters or cardigans, if they are looking grubby or dull, can be dyed a brilliant cherry red or bright pink. Yellows, greens and blues should be dyed again somewhere in their own color range or the color looks a bit muddy. Use Dylon dyes which can go in the washing machine. They are not expensive. New buttons and colors give you a whole new wardrobe.
By Lucy from UK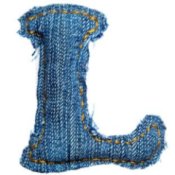 Each time I donate bags of clothes to Good Will, there is a lingering pile of items that didn't make the cut. It consists of frayed jeans and torn t-shirts that can't be donated and are destined for the trash can. After talking with someone about her scrap crafts, I started to tally all of the items that I could create with the used clothing that was a bit too used. It seemed like the best of both worlds-recycling and free crafts items.
Old Yarn Is New Again
If your clothing is too worn to donate to the local Salvation Army, consider using it to make new items. After all, clothing is made of fabric and yarns. A skein of woolen yarn is expensive, but an old and worn woolen sweater is garbage waiting to be taken to the curb. Put your knitting, knotting, and crocheting skills to the test by un-weaving the sweater. With a few careful scissor snips at the knots (look on the inside of the sweater to find them), sweaters can be gently pulled apart by even the most inexperienced hands. Wind your yarn as you disassemble the sweater, and when you're finished you'll have a nice roll of yarn to use in a future crafting project.
Recycled Cloth
Older generations remember looking at their mothers' newest braided rugs and recognizing their siblings' old clothing patterns woven into the rugs. Why don't we share this tradition? If your daughter's stained, worn, and torn dress can't be worn anymore, who says it has to remain a dress? Cut the seams out of the fabric and create as many whole pieces of cloth that you can. Make dolls, rugs, or doilies out of them. If your sports fans have destroyed their jerseys and team t-shirts, consider using the part of the fabric that sports the logo and creating a set of team placemats for your next party.
You could also create a crazy quilt style tablecloth by cutting the shirts into geometrical patterns and sewing them together to form one large piece. Patterns for these types of crafts can be found at websites such as www.craftown.com and www.patternpage.com. If you know a quilter and you have some 100% cotton items laying around, cut the fabric into geometric shapes (cut the arms into long rectangles, leave the body of a shirt as a large square, etc.). Then, fold or roll it neatly and tie the rolls/piles together with a ribbon into a bundle of quilter's material.
Odds & Ends
Don't forget to recycle your odds and ends from your clothing. Grandma's button box didn't get filled with purchased buttons from the craft store. They were recycled from the clothing that became the braided rug. Look for all sorts of notions on your discarded items. Even a worn out dog leash has a solid metal clasp on the end that might come in handy somewhere else. Drawstrings make nice twine, and a pocket with a zipper could become a change purse. Keep your mind and your craft bin open.
Clothing to Crafts
If you would like to make your own recycled crafts, then there's no limit once you've recycled the basic supplies. An option for sentimental clothing items is to use them to cover photo albums. Select a hardcover notebook from an office supply store. Then, use your son's first t-ball shirt or the detail from the front of the dress your niece wore on her first day of school to cover the notebook. Lay the material flat and place the open binder on top of it. Using double sided tape or a hot glue gun, fold the material over the edges like you would cover a book or wrap a present. On the inside, adhere a piece of oak tag to cover the raw edges unless you've tucked them under as you work.
For more no-sew fun, create a tied wreath. Bend a wire coat hanger into a circle and add a circle hook at the top for hanging. Then, cut five inch by one inch strips of fabric from your worn clothing. Finally, knot the fabric strips onto the wire, pushing them close together so the knots don't show. You'll have a puffy, crafty wreath for your door in one evening.
Your limits are endless, and so is your supply. With some ingenuity there are no more expensive trips to the fabric store and no more landfills heaped with wasted fabrics and yarns.
I have been asked to help adjust a dance recital dress for a toddler. She is three years old and the size 6 dress ordered for her was the largest size available. It is too small particularly in the torso and sleeves. The skirt I think will be OK.
Here is what it looks like. The top is pink satin with a Peter Pan collar. It buttons in the back to the waist. It has short puffy sleeves with elastic edging. The skirt sits at the natural waist and has multilayers of underskirts. The main outer layer is cotton. I measured the child in the dress and we need additional inches across the back and in the sleeves.
I would love to make these adjustments without too much cutting. I was thinking I may be able to add a piece of satin (maybe with some spandex?) to the back between the buttons and the buttonholes and then open the seams of the puffy sleeves and add some extra fabric to enlarge the area around the arm and armpit. Or maybe opening the sides of the top and inserting stretchy fabric all the way from the sleeve to the waist and leaving the back area as is; that is, leaving the buttons alone. Any other ideas out there? Thank you so much for any help!

By Joanieb from NY
April 5, 2012
0

found this helpful
Also aren't all of the dancer's dresses supposed to be identical. Any alterations that you make will have to be done so that they aren't noticeable.
April 9, 2012
0

found this helpful
Obviously a factory error in the sizing, and it happens more often than people think.
You're on the right track, I think; you could probably get away with creating an extension panel with buttonholes in the width you need across the back. Button the panel to the existing buttons, and seam it to the other side.
You'll have to work it in at the waistline no matter what you do-you may have to unpick the waist and reattach it to the newly expanded bodice.
Would 'cutting in' large panels under the arms all the way down the entire garment work to add enough in the sleeves and back? (I did this to enlarge a gorgeous wool and cashmere charity shop overcoat two sizes too small-worked a treat and looked perfect)
Good luck, post pics if you can of the altered garment so we can learn from what you did, please?
Read More Answers...