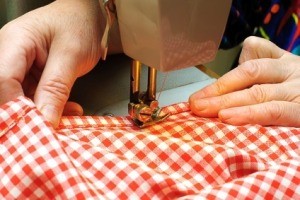 Solutions: Altering Old Clothing Into New
Read and rate the best solutions below by giving them a "thumbs up".
I've just changed the buttons on an old coat and it looks just like a new one. I buy buttons in thrift stores (where you can find horn, mother-of-pearl, or brass ones) or take them off other pieces of clothing. I also often dye clothes, particularly woolens, to revitalize them.
Beige or cream sweaters or cardigans, if they are looking grubby or dull, can be dyed a brilliant cherry red or bright pink. Yellows, greens and blues should be dyed again somewhere in their own color range or the color looks a bit muddy. Use Dylon dyes which can go in the washing machine. They are not expensive. New buttons and colors give you a whole new wardrobe.
By Lucy from UK
Re-use clothing parts to renovate clothes in trouble. For instance, if sleeves on a shirt are too short, cut them off just above the cuff and sew on some cut-off sweatshirt sleeves from a too-small or stained garment. Suddenly you have not only a layered-look shirt, but a new life for a previously unusable garment.
By kemperjl from Gilbertsville, NY
I've been looking for tops for my white skirt and ivory skirt and looking for print skirts.
One day I hadn't found anything and went to the dresses, although I didn't want a dress. I found a dress with a print I liked and thought, "I wish this were a skirt." That's when I realized I could cut it in half and make a skirt. Maybe next time the top half of a dress will become a top. Another time, a long skirt was cut to make a short, cute skirt. And then I realized I could take pants and make shorts when I can't find shorts! I'm not a pro sewer, but hems are easy enough.
This may not be news to some, but I was so excited to see something in a new way and can now look in additional sections of the store when I need something. And that long skirt that became a short one only cost $2 because the color tag was half off! :O
I had to laugh the other day when I realized thrifting now makes Walmart look expensive!
By CS7 [1]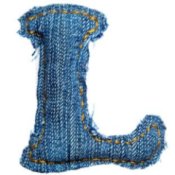 Each time I donate bags of clothes to Good Will, there is a lingering pile of items that didn't make the cut. It consists of frayed jeans and torn t-shirts that can't be donated and are destined for the trash can. After talking with someone about her scrap crafts, I started to tally all of the items that I could create with the used clothing that was a bit too used. It seemed like the best of both worlds-recycling and free crafts items.
Old Yarn Is New Again
If your clothing is too worn to donate to the local Salvation Army, consider using it to make new items. After all, clothing is made of fabric and yarns. A skein of woolen yarn is expensive, but an old and worn woolen sweater is garbage waiting to be taken to the curb. Put your knitting, knotting, and crocheting skills to the test by un-weaving the sweater. With a few careful scissor snips at the knots (look on the inside of the sweater to find them), sweaters can be gently pulled apart by even the most inexperienced hands. Wind your yarn as you disassemble the sweater, and when you're finished you'll have a nice roll of yarn to use in a future crafting project.
Recycled Cloth
Older generations remember looking at their mothers' newest braided rugs and recognizing their siblings' old clothing patterns woven into the rugs. Why don't we share this tradition? If your daughter's stained, worn, and torn dress can't be worn anymore, who says it has to remain a dress? Cut the seams out of the fabric and create as many whole pieces of cloth that you can. Make dolls, rugs, or doilies out of them. If your sports fans have destroyed their jerseys and team t-shirts, consider using the part of the fabric that sports the logo and creating a set of team placemats for your next party.
You could also create a crazy quilt style tablecloth by cutting the shirts into geometrical patterns and sewing them together to form one large piece. Patterns for these types of crafts can be found at websites such as www.craftown.com and www.patternpage.com. If you know a quilter and you have some 100% cotton items laying around, cut the fabric into geometric shapes (cut the arms into long rectangles, leave the body of a shirt as a large square, etc.). Then, fold or roll it neatly and tie the rolls/piles together with a ribbon into a bundle of quilter's material.
Odds & Ends
Don't forget to recycle your odds and ends from your clothing. Grandma's button box didn't get filled with purchased buttons from the craft store. They were recycled from the clothing that became the braided rug. Look for all sorts of notions on your discarded items. Even a worn out dog leash has a solid metal clasp on the end that might come in handy somewhere else. Drawstrings make nice twine, and a pocket with a zipper could become a change purse. Keep your mind and your craft bin open.
Clothing to Crafts
If you would like to make your own recycled crafts, then there's no limit once you've recycled the basic supplies. An option for sentimental clothing items is to use them to cover photo albums. Select a hardcover notebook from an office supply store. Then, use your son's first t-ball shirt or the detail from the front of the dress your niece wore on her first day of school to cover the notebook. Lay the material flat and place the open binder on top of it. Using double sided tape or a hot glue gun, fold the material over the edges like you would cover a book or wrap a present. On the inside, adhere a piece of oak tag to cover the raw edges unless you've tucked them under as you work.
For more no-sew fun, create a tied wreath. Bend a wire coat hanger into a circle and add a circle hook at the top for hanging. Then, cut five inch by one inch strips of fabric from your worn clothing. Finally, knot the fabric strips onto the wire, pushing them close together so the knots don't show. You'll have a puffy, crafty wreath for your door in one evening.
Your limits are endless, and so is your supply. With some ingenuity there are no more expensive trips to the fabric store and no more landfills heaped with wasted fabrics and yarns.
You don't have to throw away your favorite sheath-style dress just because you outgrow it. All things old can become new again with a bit of imagination.
Approximate Time: 1 hour
Supplies:
1 yd complimenting scrap material
1 scissors
1 matching thread
1 sewing machine
Steps:
Cut the sheath dress from the bottom hem to the bottom of the arm hole on both sides of the dress. The front and back will be connected only by the shoulders.
Cut a strip of complimenting material the length of the dress from the arm hole to the hem, leaving enough extra to hem the top and bottom. The wider the material strip, the larger the dress will fit. Hem the top and bottom of the strip to prevent fraying.
Turning the dress inside out, simply sew the material strip to the front and back panels of the dress creating a new side panel. Do the same for both sides.
Trim the inside seams and press flat.
Turn the dress right side out and you're done!
When I altered my v-neck sheath dress, the neckline became too low. I simply attached a panel of the side material to the front as well. I've never received more compliments on a "home-made" dress.
I have made shorts and blouses from a large bed sheet, also curtains, pillow cases, etc. It's often cheaper than fabric from fabric store.

You can make skirts from neck ties. Take them apart, press with steam or wet cloth, sew together. Put a zipper and a band on it, make a button hole, sew button on band.

I also make shorts out of pant legs. Cut legs off as high up as you can (the crotch), remove seams. Press with wet cloth or steam iron, you are ready to cut shorts out Good luck.

By Kathleen from Dothan, AL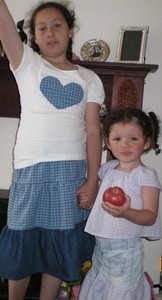 Look what mamma made! I made these outfits for my two daughters. The older one is from my dad's old shirt with some denim curtains that were given to me, then I appliquéd a heart on an old t shirt. The little one had put a hole in her knees of her jeans, so I took off the legs, added a skirt to the bottom, then made a top to match the fabric. I used another of my dad's old shirts. Both my girls loved their new clothes, and of course grandad was very proud of the recycling.
If you find a big stain on the front of your infants onesie or child's t-shirt, or would rather not be advertising some company name splashed across the front, cover it up with a hand-made patch!
This patch was made with a fabric-painted patch that was then embroidered into, with some sequins added for the final touch. You can also just use a nicely patterned piece of fabric.
By Maura H. from New York, NY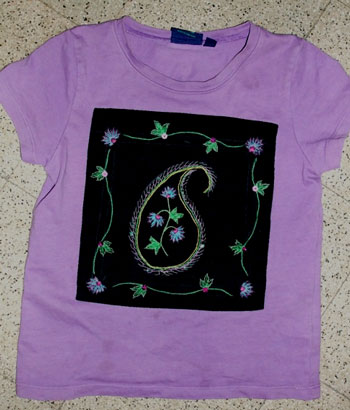 Wool sweaters (with or without alpaca/angora/cashmere) will shrink (felt) in hot water, and then they are amazingly dense and warm! No sewing or hemming needed. Long sleeves make leg warmers that stay up without elastic. Arm warmers are very cozy in cool or chilly weather, and great if your coat sleeves always seem too short. Wear them instead of mittens or gloves. They cover your wrists and hands almost as far as fingerless gloves and are so easy to make and enable you to keep the thermostat way down! Uses for the body of the sweater have been described in many places. Have fun!
By Toby from Berkeley, CA
My daughters like to 'design' some of their own clothes, which often means they will be either cutting or adding something to their clothing. I have a hard time watching them alter a pair of jeans I just paid $50 for, so, I started going to the local thrift stores to buy newer looking, or vintage looking clothes in my kids' sizes, and they can design all they want without me worrying that expensive brand new clothes will be ruined. Bonus - they end up with original outfits that no one else at school has.

By Jennifer
Give a "thumbs up" to the solution that worked the best! Do you have a better solution? Click here to share it!
Questions
Here are questions related to Altering Old Clothing Into New.
I have been asked to help adjust a dance recital dress for a toddler. She is three years old and the size 6 dress ordered for her was the largest size available. It is too small particularly in the torso and sleeves. The skirt I think will be OK.
Here is what it looks like. The top is pink satin with a Peter Pan collar. It buttons in the back to the waist. It has short puffy sleeves with elastic edging. The skirt sits at the natural waist and has multilayers of underskirts. The main outer layer is cotton. I measured the child in the dress and we need additional inches across the back and in the sleeves.
I would love to make these adjustments without too much cutting. I was thinking I may be able to add a piece of satin (maybe with some spandex?) to the back between the buttons and the buttonholes and then open the seams of the puffy sleeves and add some extra fabric to enlarge the area around the arm and armpit. Or maybe opening the sides of the top and inserting stretchy fabric all the way from the sleeve to the waist and leaving the back area as is; that is, leaving the buttons alone. Any other ideas out there? Thank you so much for any help!

By Joanieb from NY
---
Most Recent Answer

By Frugal Sunnie [11]04/09/2012
Obviously a factory error in the sizing, and it happens more often than people think.

You're on the right track, I think; you could probably get away with creating an extension panel with buttonholes in the width you need across the back. Button the panel to the existing buttons, and seam it to the other side.

You'll have to work it in at the waistline no matter what you do-you may have to unpick the waist and reattach it to the newly expanded bodice.

Would 'cutting in' large panels under the arms all the way down the entire garment work to add enough in the sleeves and back? (I did this to enlarge a gorgeous wool and cashmere charity shop overcoat two sizes too small-worked a treat and looked perfect)

Good luck, post pics if you can of the altered garment so we can learn from what you did, please?
I need help altering clothes due to weight loss. Any suggestions to help would be appreciated.

By Karen from Winona, WV
---
Most Recent Answer

By Judy = Oklahoma [57]10/27/2011
This site has some fantastic tutorials for sewing. Their "refashioning & upcycling" section has some great instructions for re-sizing clothes.

http://www.allfreesewing.com/Refashioning-and-Upcycling
I recently purchased a couple of really nice t-shirts, only to find they are too large. Nice problem, huh? I want to alter them to fit me better. The shoulders are much too wide as well, so will need to do something about that. Does anyone have directions for altering t-shirts that are too large? I have been sewing for years. Thank you.

Judy from Birmingham, Alabama
---
Most Recent Answer

By Krikit09/23/2008
I'm a seamstress (by trade, originally) and I don't have any "pattern" per se, but short of completely opening up the entire shirt and re-cutting and re-sewing, I've simply sewn new allowances where I need the closer fitting. I've done them as a baste-in 1st, checked the fit, made any adjustments necessary and then sewn them in permanent, afterwards cutting off the excess "old" seam allowance.
As I get older my waistline expands and I find that my skirts get tighter! I don't want to throw them away, does anyone know of a way to make them larger by "taking them up" at the waistband, and make them elasticated instead of button and zip?

I realize that this will make them slightly shorter but that doesn`t matter. Also, a lot of my skirts have a zip up the front, any ideas how to incorporate that? (I always wear blouses over the top of my skirts, I don't tuck them into the waistband.)

Looking forward to hearing from someone. :)

Jan from England
---
Most Recent Answer

By missnomer (Guest Post)05/25/2005
I read a letter from a woman who sews clothing for many of her (long-distance) relatives. She says that instead of finishing the waistbands of these garments, she sews a buttonhole on the inside of the waistband, pulls both ends of the elastic through it, and secures it with a safety pin. This way her relatives simply try the garment on and sew one line of stitching or just re-pin where they need it! I would leave a little extra elastic on the inside. The buttonhole can be used to add new elastic as needed without cutting your seams. As for your zipper, why not sew it closed using a ladder-stitch by hand or a zig-zag by machine. How about making it into a pocket or adding applique?