It's often less expensive to buy shelled nuts, but it can be difficult to remove the shells without damaging the meat. This guide will help you get crackin'. This is a guide about shelling nuts.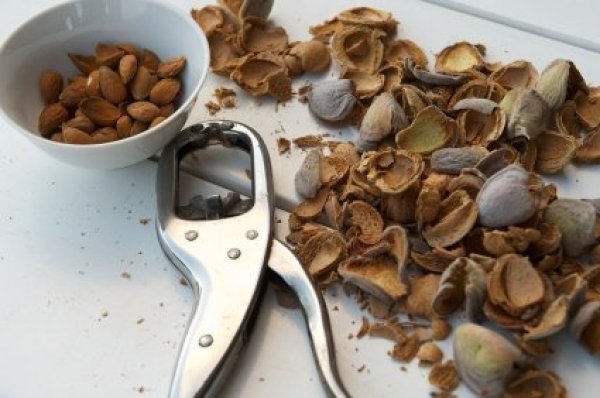 Filter

: All Articles
Sort

: Relevance
I have always loved the flavor of Brazil nuts, but they are such a pain to crack whole. Half the time you need to use a pick that comes along with the nutcracker set and then end up not being able to get all of the nut meat out of the shell or, sometimes, end up stabbing your hands trying - LOL!
Well, I finally found the secret to cracking those little puppies easily :-) All you have to do is freeze them for about six hours and then crack them width wise in the center. 99% of the time, you will have a whole nut to enjoy without effort! The reason this works is because it pulls the meat away from the shell. So, do yourself and your company a favor and freeze them before cracking open.
By Deeli from Richland, WA
I have a hickory tree and picked up about a 1/2 bushel of nuts. I have never saved them before so I am not sure about removing the husks. Do you just peel them off? Also, I wondered if there was an easy way to crack them? I would like to make my mother's fudge recipe using these if I can figure out an easy way to do it.
Hardiness Zone: 5b
By Elaine from Belle Plaine, IA
Answer
Was this helpful?
Helpful?
Yes
Elaine
I was born and raised in Arkansas and we had tons of Hickory trees around our house. We use to pick them up in 5 Gallon buckets and put them in my Fathers garage for Winter time. We'd crack them on a brick with our hammer and flatten the point of a med size nail to dig out the goodies. Take the outside husk off first. You would do the Black Walnut the same way. They make delicious candy, cakes and cookies. Use them as you would a pecan.
Reply
Was this helpful?
Helpful?
Yes
Read More Answers...
How to break walnut in one piece without making the nut in pieces?

Smarty from Bombay
Answer
Was this helpful?
Helpful?
Yes
Insert the tip of a pointy knife in the small hole found in the base of the walnut & twist the knife. The walnut splits neatly in half. This works very well, my husband opens all the walnuts that way.
Reply
Was this helpful?
Helpful?
Yes
Read More Answers...
What is the best way to crack hickory nuts to get lots of halves?
By foxygram from Combined Locks, WI
Answer
Was this helpful?
Helpful?
Yes
I have soaked them overnight in water and then put them in a food dehydrator for 2-3 hours: they split open enough so you can pop in half with the twist of a sturdy knife. (Picking the meat is still a bit challenging but no "shrapnel" like you get with a vice or hammer!)
Reply
Was this helpful?
Helpful?
Yes
Read More Answers...
To crush nuts with no fuss and no clean up, I put the nuts in a heavy duty storage bag and stomp on them a few times. Does the trick quick and no mess!
You can either freeze really hard-shelled nuts like black walnuts or soak them in water for several hours before cracking. Stand frozen nuts with their points facing up and hit them with a hard object like a hammer to crack them open.

For soaked nuts, crack them with a nutcracker. Place the nut in the grip of the nutcracker so that the seam of the shell meets with the direct force. Use as little force as necessary to split the shell when squeezing so that you avoid crushing the nut kernel inside. Rotate the nut while squeezing so the shell cracks slowly.

Remove the kernel from the shell and allow it to dry out for a few hours before storing. If you do not use the nuts right away, make sure you store them in an airtight container in the refrigerator. Nuts contain very healthy oils that can become rancid. Keep in mind that the best way to store nuts long-term is unshelled.

By the way, you can toast those shelled black walnuts in a 350 degree F oven for 5 to 7 minutes, or until they smell toasty. Keep your eye on them so they don't burn.

By Kathy
Comment
Was this helpful?
Helpful?
Yes
If you want to shell walnuts but keep the nut intact, soak the walnuts in saltwater over night before shelling them. Then gently crack the nuts.
Comment
Was this helpful?
Helpful?
Yes