Making Popcorn Tips and Tricks
Popcorn is a excellent, nutritious snack and can be even better when you know how. This guide is making popcorn tips and tricks.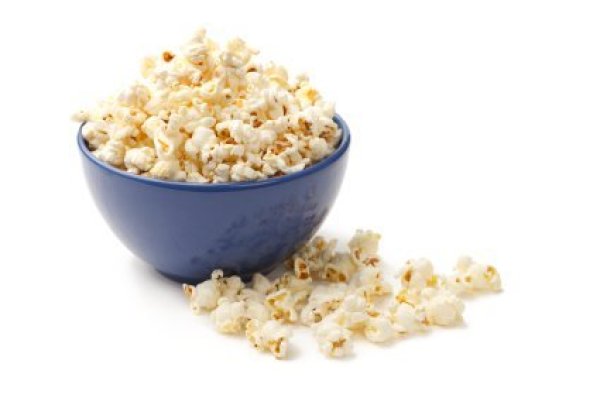 Filter

: All Articles
Sort

: Relevance
You don't have to buy gourmet popcorn. When making popcorn, I have found it is better not to heat the oil on a high heat at first. I know this may sound stupid, but the kernels get more more heat distribution if you start out slow.
Think: You don't cook prime rib steak on blazing heat from the get go; you'll end up burning parts and other parts will be undercooked. After hearing the first few kernels pop, turn up the heat. Cook as normal.
I think you will find less kernels than before. I have and I buy store brand. My friends wonder why there are so little kernels left. They think I have used gourmet popcorn like ORVILLE REDENBACHER. HA. HA. HA.
It's like my grandma letting the city cousins think they were drinking delivered milk when all she was doing was putting the family cow's milk in a bottle she found!
By the way, I don't ever use a popcorn machine.
This is the old-fashioned way of making popcorn. It is easy to make and tastes so much better than microwave popcorn. This is the way my family makes popcorn. Nearly every kernel pops and it does not take that long to make.
After you're done popping your popcorn in the microwave, and before you open the bag, put it over the garbage can and shake the bag really hard. Make sure the opening of the bag is down. All your unpopped seeds will go into the garbage, no more seeds.
Here is a tip to release the aroma of popcorn but protect it from anything entering. Simply use a splatter screen cover. Great for home, picnics, or parties!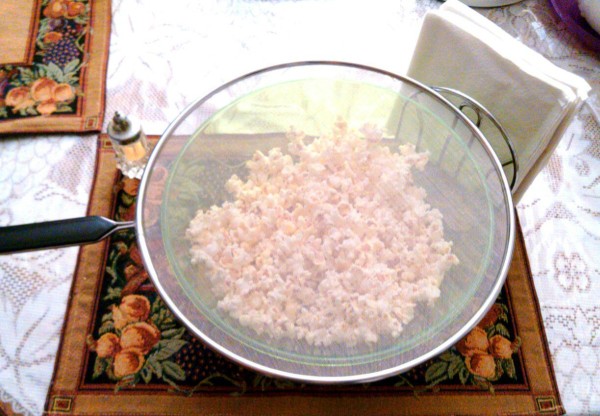 How do you color popcorn? I have seen colored popcorn (unpopped kernels) in catalogs for sale, and it's rather pricey. Apparently when popped the popcorn is multicolor. I'd love to figure out how to do this.

Rose from MO
October 8, 2008
0

found this helpful
Best Answer
I too remember when colored popcorn came in bags. The colors looks so neat we were sure we would be eating green, red and blue kernels but not so. The first lady was right. It all popped up just like regular popcorn. The color must have been a gimmick to push sales.
December 20, 2009
0

found this helpful
I remember my mom buying the colored popcorn kernels and when you popped it just the hulls were colored ~ pretty but not really what we were expecting.
January 5, 2010
0

found this helpful
Just picked up a small cookbook 'Kool-aid[soft drink mix]Comes OF Age'. Page 37. Popcorn Balls 9 cups popped popcorn 1 cup light corn syrup 1/3cup Kool-aid sugar sweetened soft drink mix, any flavor Place popcorn in a lightly buttered bowl. Combine syrup and soft drink mix in a saucepan. Bring to a boil and continue boiling until mixture will seperate into hard threads when dropped into very cold water[or to a temperature of 270*] .Remove from heat and pour over popcorn, mixing quickly to coat well. Spape into 1-1/2 inch balls. Makes about 3 dozen. You wouldn't have to make this into balls, you could just place on a cookie sheet, cool and break into pieces. Colored and flavored too! Enjoy jimsjunque
Read More Answers...
This is a guide about making colored popcorn. Making popcorn in an array of fun colors can be done at home.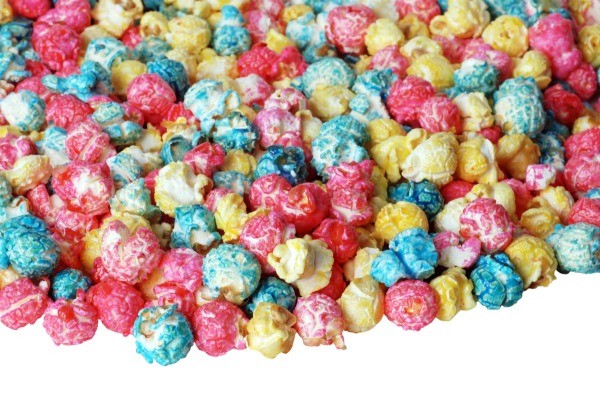 Tips for popping and flavoring popcorn. Post your ideas.
July 19, 2005
0

found this helpful
Does anyone know the best way to store unpopped popcorn kernels? We never seem to be able to get more than halfway through a bag without them going "flat" and not popping as well.
Thanks for any suggestions :)
January 23, 2006
0

found this helpful
I only pop popcorn on the stove. I use no name popcorn. I use a dutch oven pot (one of the big ones with a lid), pour enough oil onto the bottom of the pot to evenly coat it, pour in kernels to coat the bottom, then slide them around to coat in oil. Cover, turn onto high, and rest the covered pot on the element until it starts rapidly popping. Then I turn it down between med-high, hold it over the element (about 3 inches) and shake every ten seconds or so. A giant pot of movie popcorn in about 3 minutes and no annoying shaking sound on the element. Toss with salt. No need to add butter since the kernels are already coated in savory oil. MMMMMMMMMMM.
January 4, 2009
0

found this helpful
What's the best way to flavor popcorn?
Read More Answers...
Is there a way to refresh stale popcorn?
By Ray from Chicago, IL
September 2, 2010
0

found this helpful
I would put it in the micro at a low power setting for about 2 min. Worth a try.
September 2, 2010
0

found this helpful
I was also going to say placing in the microwave but I would experiment with the amount of time so you don't burn the popcorn. In my microwave it would definitely be burned if I did it for two minutes. I refresh crackers and chips this way so it might work for popcorn too. :-)
May 30, 2013
0

found this helpful
Don't throw away your stale popcorn....save it using your oven!
1.Preheat the oven at 200 degrees F.
2.Spread the popcorn evenly on a baking sheet.
3.Put the baking sheet in the oven.
4.Set the timer for 5 minutes.
Check the popcorn to see if it is crisper and more palatable.
Repeat Steps 4 and 5 until the popcorn is to your liking.
Get away from the microwave for popcorn. Cook the popcorn from the popcorn in a jar, using a Teflon pot and a cover. This way, you have nothing fattening in your popcorn.
I hope that someone can help me. I was given some Microwave popcorn. The only problem is I don't have a microwave to pop it in. Can I pop it on an electric stove and how do I go about doing this? Thank you for any help.
What kind of oil is 'healthy" for popping popcorn on the stove top?
I just received two large tins of loose popcorn. How do you cook popcorn in the microwave oven?
Related
© 1997-2016 by Cumuli, Inc. All Rights Reserved. Published by
ThriftyFun
.
Page
generated on September 1, 2016 at 6:23:23 AM on 10.0.0.94 in 3 seconds. Use of this web site constitutes acceptance of ThriftyFun's
Disclaimer
and
Privacy Policy
. If you have any problems or suggestions feel free to
Contact Us
.