October 24, 2008
0

found this helpful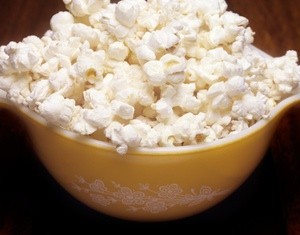 Tips for saving money on popcorn as suggested by the ThriftyFun community.
The Original Frugal Snack
How can a person not save money on popcorn? It's one of the cheapest snacks you can buy. That is if you buy the raw popcorn and pop it yourself.
By Marjorie
Make Your Own Microwave Popcorn
The best tip that I got (from either here or another site) was to make your own microwave popcorn bag.
Take a brown paper bag (lunch size), spray some cooking spray inside the bag, making sure to get the sides of the bag very well, and add a tablespoon or two (no more) of popcorn inside. Fold over the top twice and lay on its side in the microwave. Pop for about 2 minutes 30 seconds. Keep an eye on it as for cook time. It is faster than the store bought microwave popcorn and does burn more easily. I've also played around with putting the salt in the bag before cooking, as well as other spices for taste. If you prefer to add flavor after cooking, it's easy to just dump it in the bag and give it a shake.
Buy the bulk popcorn at the store and either cook it the way I described above or in an air popper or on the cook top.
They you're all ready to get a big handbag and sneak it into your next movie.
By Corene
Buy In Bulk
Buy the bulk popcorn kernels. Our local movie theater uses coconut oil, so if you can locate that, do. Heat it up in a pan with about a tablespoon of kernels. Be sure to do this with a lid. Stay close and shake it when it starts to pop.
Don't Buy Microwave Popcorn
The best way to save money on popcorn is not to buy the microwave stuff. It's healthier and popping it on the stove tastes so much better.
By Wendy
Try Your Nonstick Cookware
I never buy microwave popcorn. I buy the kernels at Super Walmart and pop them in my non-stick cookware. I just put in a little oil and then add the kernels. Swish the pan to coat the kernels with oil. Put on the cover and let it pop. No need to shake the pan if you are using non-stick. If you want Kettle Corn, Add some sugar just before it starts to pop. Make sure you watch to make sure it does not burn. It is faster than microwave! Good luck.
By Linda
Use A Reusable Microwave Popper
I was shopping for an air popper recently. The store was sold out of them but did have a popcorn bowl that you put in the microwave. You had to have reflector disks for the bottom to focus the heat. It works really great and takes no butter or oil. The reflectors are very cheap and you can use one for 25 batches, or more. Healthy as air popped but the convenience of microwave popcorn.
By Jess in Oregon
Check For Locally Popped Popcorn
A local gas station sells a bucket for popcorn in December and January. The cost is $7.00 and you can get popcorn in it every day. This is a great deal for us as we live within 500 yards of the gas station. We can get popcorn anytime day or night as they are a 24 hour station.
Check and see if there is such a station in your area that does this.
By Ms April
Store Popcorn In Fridge Or Freezer
I just had to toss some old popcorn that I didn't have in the freezer or fridge so I can attest to this: Store popcorn in airtight containers in the refrigerator, or better yet, in the freezer.
After about 30 months at refrigerator temperature, the popping volume begins to decrease. In room-temperature storage, the popcorn will lose its popping quality in 3-6 months.
Source:
By KL
Check Farm Supply Stores For Bulk Popcorn
I usually buy our popcorn at the local farm supply store. We usually go to "Rural King". I'm there getting chicken and rabbit feed anyway and they sell the hulless in huge bags cheap!
By Sarah Leach
Get It Right From The Field
We live in northwest Iowa, and Jolly Time Popcorn Company is right here. What we ENJOY doing is going out to a field that a farmer has grown for them, and gleaning the popcorn after the machine has been through. I either take the whole ears and put them in baskets for gifts, or I run a pair of deck shoe type tennis shoes through the washer and dryer, then walk on the ears of corn in a plastic bin. You can also take the kernels off the cob by hand, but this is a LOT easier on your hands.
Fortunately, a couple years we were able to use someone's antique corn sheller. By the way, you can take popcorn on the cob and put it in the microwave just like that, and voila! You have the equivalent of air popped corn. I, however, am a "real butter" snob!
By Prairie Mom
Use Popcorn Instead Of Packing Peanuts
Here's a great way to save money using popcorn, use it to package delicate items for shipping. Since we have to ship gifts all over the country, we air pop some corn and used it in place of those non-biodegradable packing peanuts. The popcorn cushions the packages and the recipient gets an extra gift to feed the birds and squirrels. Just be sure to use air-popped so there is no oil or butter.
Get an Air Popper at a Garage Sale
You can pick up pop corn air poppers at thrift stores and garage sales.
By Beth
Do you have any ideas to share? Feel free to post them below.