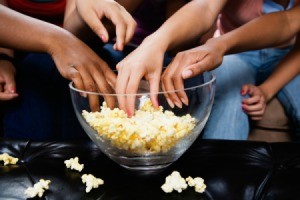 Store bought microwave popcorn unfortunately is not "health food", mainly because of the artificial butter flavoring. Besides, the corn is likely GMO, and if you are concerned about that, as I am, you want to make your own healthy microwave popcorn at a fraction of the price!
I buy bulk organic non-GMO corn and put some in a previously used brown paper bag. I add a teaspoon of butter, spices and/or salt (if desired), fold the top twice, and throw it in the microwave! Make sure you fill the bag only about 1/5, to allow for popping. Microwave for 2 minutes . . . and done!
No artificial stuff to worry about. The bag can go straight in the compost after use. And the house doesn't smell like "artificial butter" either.