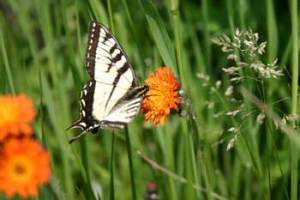 Every gardener appreciates the sight of butterflies flitting about in the garden. Show them a little hospitality, and these "flying flowers" will return to your garden year after year. Here are a few tips on how to turn your garden into the perfect spot for a butterfly social.
Invite the Locals
Different butterflies, especially in the larvae stage, have different needs. Plants commonly thought to attract butterflies may not attract butterflies native to your area. Before you set out to attract butterflies to your garden, find out what species inhabit your neighborhood and what types of host plants (egg laying plants) and nectar plants (food plants) they prefer.
Serve Them a Great Meal
To attract the greatest number of butterflies to your garden year after year, it's necessary to provide food for the them at every stage in their life cycle.
Nectar Plants: New butterflies emerge all summer long, so plan to provide them food throughout the growing season. Adult butterflies use their proboscis (tongue-like appendage) to drink nectar from flowers. Butterflies will feed on flowers from plants, shrubs, vines, and trees, but studies have shown they are most attracted to purple, orange, yellow, pink, and white blossoms. They also prefer old-fashioned flower varieties with simple, open blooms (or small clusters)-allowing them easy access to nectar and a place to perch. Hybrid varieties and flowers with double blooms are showy, but tend to produce less nectar.
Tip: Supplement nectar plants with a homemade feeder made from a small jar. Punch a hole in the lid and plug it up with cotton. Fill the jar with one part sugar (don't use honey) and nine parts water. Glue brightly colored fabric petals to the lid to attract the attention of butterflies and hang it lid side down in a sunny spot in your garden.
Host Plants: When butterfly eggs hatch, caterpillars feed on the leaves of the plant where the eggs were laid. As a result, some female butterflies are fussy and will only lay eggs on specific host plants. Monarch butterflies, for example, lay eggs on milk weed plants because that is what Monarch caterpillars eat. Black Swallowtail caterpillars, on the other hand, feed only on parsley, carrots, or parsnips. Butterflies lay eggs continuously throughout the season, so the low levels of caterpillars present at any one time will not seriously damage your plants.
Offer Them a Drink
Butterflies love mineral water-but not the kind humans drink. Place a shallow pan (like an aluminum pie tin) filled with sand and water in a sunny spot in your garden. Butterflies will drink the mineral energized water right from the sand. Another idea is to place a small mineral block, like the type purchased at feed stores, directly on a small bed of sand in your garden. Watering plants and morning dew will keep the sand full of minerals from the damp block.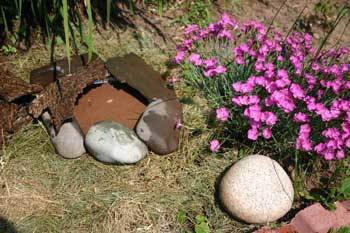 Give Them Places to Relax
A Sun Deck: Butterflies cannot take active flight in the morning until their body temperature reaches 86F, so they need a place where they can warm up and bask in the sun. Light-colored stones or concrete bricks in sunny openings around flowers or near drinking pans make great basking platforms.
Shelter From the Wind: Imagine how difficult it would be to get around in the wind with large wings on your back. Butterflies prefer not to fight the wind when feeding or laying their eggs. A fence, tree, building, or large plants will provide them with the shelter they need while visiting your garden.
Places to Hide-N-Sleep: Butterflies need places to escape the sun, hide from predators, and in some cases, hole-up and sleep over winter. The butterfly houses you seen in stores are pretty, but butterflies rarely use them. A pile of firewood, cracks in brick walls, old trees, and hollow logs are places butterflies prefer to hide and sleep.
Protect Your Guests from Harm
Pesticides can harm and kill butterflies and caterpillars. Even benign pesticides like those made from dish soaps can kill caterpillars. If you're serious about attracting butterflies to your garden, you need to eliminate pesticide use on your plants (and encourage your neighbors to do so as well).
Don't be discouraged if butterflies don't show up in your garden immediately. It may take a little time for them to discover all that your garden has to offer. When they find out what a great host you are, they'll take advantage of your generous hospitality year after year!
July 11, 2005
0

found this helpful
Would you happen to have a list of flowers to plant that are good at attracting butterflies. I live in zone 5.
March 2, 2006
0

found this helpful
What is the name of the plant with the pink flowers in the pic?
December 6, 2006
0

found this helpful
Hi, I am just the manufacturer of nylon butterflies, dragonflies, ladybugs, bees, flowers and so on in China, these items can be decorated on your butterfly garden and butterfly bushes. If you are interested in, pls contact with me by ellen01166@hotmail.com, if you are interested in, pls add my MSN ID above. I think we will be good friends and partners.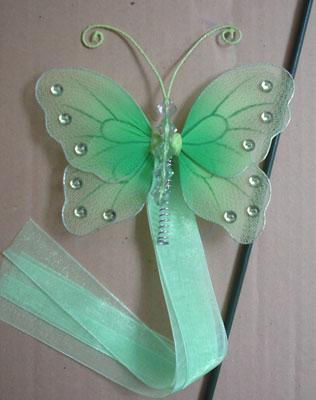 January 7, 2009
0

found this helpful
I am in Zone 5 also (Michigan) and although I am still looking into what other species are in my area, I do know that the Black Swallowtail caterpillars love the dill that I always plant.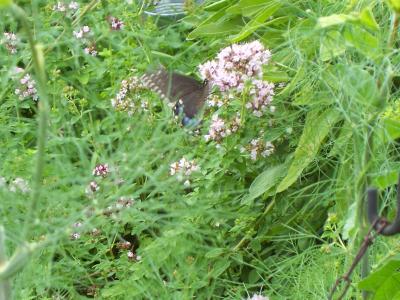 May 2, 2009
0

found this helpful
Here is a butterfly garden sculpture I got in Ashville, NC last summer.

By kflocey from Gladwin, MI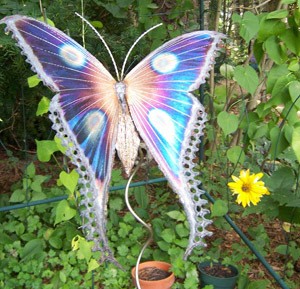 March 14, 2009
0

found this helpful
That is beautiful. Do you have a website or address to buy one? I live near you. I lived in Houghton Lake as of 2 weeks ago. I now live in Port Huron on the coast. Contact sassier299 AT yahoo.com
March 14, 2009
0

found this helpful
I love butterflies, This one is beautiful! I was in Lake Lure NC ( which is very close to Ashville) last April for a reunion with my siblings. Wish I had seen this butterfly while we were out shopping. Every year we rent a vacation home and get together for a long week-end.
This year we are going to Soddy-Daisy, TN. My 3 sisters, brother and I are all spread out:
Illinois, Indiana, Arkansas, Georgia and Florida. This way we get to see each other at least once a year. Always have a great time.
March 19, 2009
0

found this helpful
Oh no fair I want one too! It is gorgeous, thank you for sharing.
How in the world is this made? Is it all one piece, plastic photo print of the lovely colors, iridescent threads, something else, or can you tell? Do you think it was machine or hand made? It's likely imported, since it's so lovely. Lucky you. God bless. : )
Question:
I would love to have a butterfly garden with perennials. I live in an area that received mostly direct sunlight. I would also like to do this very inexpensively. I would love to read some ideas.
Thanks!
Mindy
Answer:
Mindy,
A butterfly garden with perennials can be created inexpensively-especially starting the perennials from seeds indoors or seeking out cuttings from friends and neighbors. It's important to remember that not all butterflies are attracted to the same types of trees, shrubs and plants. Before planting anything, check with your local county extension agency, library or the regional section of a nearby bookstore to find out which types of butterflies are native to your area. Make sure the site you select receives 5-6 hours of sun daily and provides the butterflies with some type of wind break (tall plants, a trellis, the side of a building, trees, etc.) Provide a place to sun bask (flat, light-colored rocks work well) and a source of mineral water (like a pie tin filled with wet sand).
You'll need to provide host plants for the larvae (caterpillars) and nectar plants for the adults (butterflies) all season long. A diverse mix of trees, shrubs and native and cultivated plants works best. Also, consider offering small pieces of fruit to supplement their diet. Here are examples of perennials that have successfully attracted butterflies:
aster, azalea, bee balm, butterfly bush, butterfly weed, clover, cone flower, coreopsis, daisies, dianthus, goldenrod, ironwood, Joe-Pye weed, lavender, lilac, lupine, milkweed, mint, passion flower, pincushion flower, sage, salvia, sunflower, thistle, tickseed, verbena, violet, yarrow.
- Ellen Brown
July 21, 2005
0

found this helpful
You can start a perennial garden for free if you ask friends, neighbors for extra plants after they divide theirs. Usually you just need a very small clump to get started, then wait. You might have to wait for the following year or even two for the plants to really look nice, but if you get some new plants each year it will progress nicely. Or shop clearance sales on perennials, as long as they're alive, don't have to be flowring or pretty, they will grow in your garden & come back in spring beautifully.
July 21, 2005
0

found this helpful
Try Zinnia, hollyhock ,cosmos,and other flower seeds,. Zinnias are a wonderful flower for butterflys.And they love sun. If you have a friend/neighbor that has a butterfly bush, ask for a cutting.They come in several colors. Mine had been grafted white ,orchid and deep purple all on one tree.I payed $5.00 for it from an ad in a magizine.I threw out seeds that were from 1995in 2003 and just let them fall.Watered every day for 14 days and up a whole garden of flowers came.Including some pumpkins. Good luck. GG Vi
July 22, 2005
0

found this helpful
Mindy, I sure messed up. I see that you said perennials. Seeds are fast and they will re-seed themselves. But perennials can be bought in 6 packs and 4 inch pots. It is those that will give you a chance to see what will grow in your area best & cheapest.GG Vi
July 27, 2005
0

found this helpful
hi~~I have coneflowers (I think that's what they're called) and the butterflies just love them and they come up every year. hope this helps.
I'm wondering what I would need to start a butterfly garden with, also if anyone would have any seeds or plants to share for this garden.

Hardiness Zone: 6a
April 25, 2007
1

found this helpful
Hi Edwin,
I have tons of PorterWeed Seeds that I'll gladly share if you'll send a SASE.
PorterWeed is a flower grown in all Commercial
Butterfly Gardens across the country. Just check it
out on the internet.
If you're interested, email me at
Kitcat22791 AT wmconnect.com.
All the best,
Julia in Orlando, FL
April 27, 2007
1

found this helpful
I have recently planted a butterfly garden and have done quite a bit of research on what kinds of flowers they like. Here are a few of the best ones:
Butterfly Bush (Buddleia Spp)
Purple Coneflower (Echinacea Purpurea
Blazing Star (Liatris Spp)
Black-eyed Susan (Rudbeckia Spp)
Pincushin Flower (Scabiosa Caucasica)
Verbenas
Milkweed (aka butterfly weed)
I hope this helps! Good luck on your garden
April 30, 2007
1

found this helpful
Try growing asclepias (milkweed). Caterpillars got all over mine, ate it up, made cocoons in it and the kids and I watched butterflies emerge shortly after... really cool!
January 14, 2011
1

found this helpful
Starting a butterfly garden can be a fun project. I love watching beautiful butterflies floating around flower gardens. There are few things to consider when you start a butterfly garden such as where to plant, what to plant, butterfly garden design, how much sun the area get. For more info visit: www.starting-a-garden.com/Butterfly-Garden.html