Every gardener appreciates the sight of butterflies flitting about in the garden. Show them a little hospitality, and these "flying flowers" will return to your garden year after year. Here are a few tips on how to turn your garden into the perfect spot for a butterfly social.
Invite the Locals
Different butterflies, especially in the larvae stage, have different needs. Plants commonly thought to attract butterflies may not attract butterflies native to your area. Before you set out to attract butterflies to your garden, find out what species inhabit your neighborhood and what types of host plants (egg laying plants) and nectar plants (food plants) they prefer.
Serve Them a Great Meal
To attract the greatest number of butterflies to your garden year after year, it's necessary to provide food for the them at every stage in their life cycle.
Nectar Plants: New butterflies emerge all summer long, so plan to provide them food throughout the growing season. Adult butterflies use their proboscis (tongue-like appendage) to drink nectar from flowers. Butterflies will feed on flowers from plants, shrubs, vines, and trees, but studies have shown they are most attracted to purple, orange, yellow, pink, and white blossoms.
They also prefer old-fashioned flower varieties with simple, open blooms (or small clusters)-allowing them easy access to nectar and a place to perch. Hybrid varieties and flowers with double blooms are showy, but tend to produce less nectar.
Tip: Supplement nectar plants with a homemade feeder made from a small jar. Punch a hole in the lid and plug it up with cotton. Fill the jar with one part sugar (don't use honey) and nine parts water. Glue brightly colored fabric petals to the lid to attract the attention of butterflies and hang it lid side down in a sunny spot in your garden.
Host Plants: When butterfly eggs hatch, caterpillars feed on the leaves of the plant where the eggs were laid. As a result, some female butterflies are fussy and will only lay eggs on specific host plants. Monarch butterflies, for example, lay eggs on milk weed plants because that is what Monarch caterpillars eat. Black Swallowtail caterpillars, on the other hand, feed only on parsley, carrots, or parsnips. Butterflies lay eggs continuously throughout the season, so the low levels of caterpillars present at any one time will not seriously damage your plants.
Offer Them a Drink
Butterflies love mineral water-but not the kind humans drink. Place a shallow pan (like an aluminum pie tin) filled with sand and water in a sunny spot in your garden. Butterflies will drink the mineral energized water right from the sand. Another idea is to place a small mineral block, like the type purchased at feed stores, directly on a small bed of sand in your garden. Watering plants and morning dew will keep the sand full of minerals from the damp block.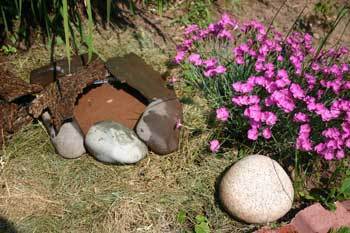 Give Them Places to Relax
A Sun Deck: Butterflies cannot take active flight in the morning until their body temperature reaches 86F, so they need a place where they can warm up and bask in the sun. Light-colored stones or concrete bricks in sunny openings around flowers or near drinking pans make great basking platforms.
Shelter From the Wind: Imagine how difficult it would be to get around in the wind with large wings on your back. Butterflies prefer not to fight the wind when feeding or laying their eggs. A fence, tree, building, or large plants will provide them with the shelter they need while visiting your garden.
Places to Hide-N-Sleep: Butterflies need places to escape the sun, hide from predators, and in some cases, hole-up and sleep over winter. The butterfly houses you seen in stores are pretty, but butterflies rarely use them. A pile of firewood, cracks in brick walls, old trees, and hollow logs are places butterflies prefer to hide and sleep.
Protect Your Guests from Harm
Pesticides can harm and kill butterflies and caterpillars. Even benign pesticides like those made from dish soaps can kill caterpillars. If you're serious about attracting butterflies to your garden, you need to eliminate pesticide use on your plants (and encourage your neighbors to do so as well).
Don't be discouraged if butterflies don't show up in your garden immediately. It may take a little time for them to discover all that your garden has to offer. When they find out what a great host you are, they'll take advantage of your generous hospitality year after year!