Recent visitor at my backyard butterfly bush. It's a Red Admiral Butterfly, A dark black, bright orange stripe and white spotted beauty! Hope you all enjoy the photo.
By Evelyn from McHenry, IL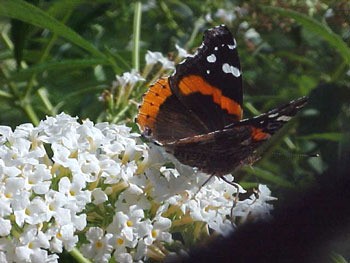 Answers:
Red Admiral Butterfly
Beautiful visitor, thanks for sharing (09/13/2006)

By Ruth Kennedy
Red Admiral Butterfly
This is beautiful. I love butterflies. Thanks for sharing. (09/13/2006)

By Sharon
Red Admiral Butterfly
Very pretty butterfly and photo is great! (09/14/2006)

Red Admiral Butterfly
God's creation is always so fascinating, some lovely like this marvelously delicate and beautiful creature that lives only a VERY short time, (others awfully ugly, and live too long for comfort). Yet, like for humans, God has a plan and a purpose for every living creature on Earth.

One of His purposes for you is to be sensitive enough to appreciate His creation , patiently wait for the right timing, to capture it for all to view. These sorts of photos almost always lift a heavy heart, make a sad face smile; yet we can focus more on the Creator rather than the created, because He loves us so much and never leaves nor forsakes those who have made Him their focus. God bless your photography and sensitivity. Have a great week.
(09/14/2006)

By Lynda
Red Admiral Butterfly
I have a privet hedge in bloom and it is literally covered with the Red Admirals. I just located what they are and do not remember seeing them before. BEAUTIFUL (06/26/2007)

By wronginfo