Making a Hummingbird Feeder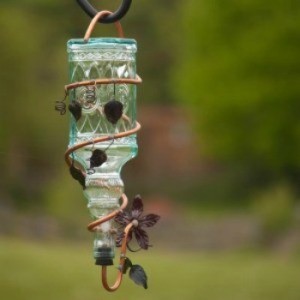 Many people enjoy having these quick flying little visitors. Putting out a hummingbird feeder will help attract them to your yard. This is a guide about making a hummingbird feeder.
Solutions
Share on ThriftyFunThis guide contains the following solutions. Have something to add? Please share your solution!
Often my hummingbirds visit before the flowers are out in bloom. Sometimes they need a little extra help remembering where the feeders are. I use the silk and plastic Poinsettia flowers from my outside Christmas decor to help them spot the feeders. I either fasten the flowers to the pole that the feeder is on or I weave them to the wire fence nearby. The extra bright colors draw the little hummers in to a fresh and tasty snack.
By the time the hummers have been here all summer, the flowers have faded a little so I purchase one or two new Poinsettias to add to the Christmas decor the next winter. Usually I buy these at the local dollar store. I have had several comments of the "varied coloring" of my special Poinsettia decorations! It usually takes four or five years before I actually have to throw any of the Poinsettias away.
By Dawn from Ann Arbor, MI
April 1, 2013
0

found this helpful
I tie some red bows to the feeder and that draws them, too.
Read More Comments
I frequent a hummingbird forum. On it, there is a photo of a feeder where someone used a Frisbee at the top of the feeder to shade it. It's a great idea and saves buying the expensive ones. Click on the address below then scroll down to see it. There are a couple pics.
We are visiting the dollar store tomorrow to get some. Also making one for my underprivileged neighbor. She's so excited! She gets a Clearwing Humming Bird moth in her garden each year but has yet to see a hummer, she's excited :)
http://www.network54.com/Forum/ 439743/thread/1148427398/Humbrella+idea
Ariela from Jax Fl
May 4, 2008
0

found this helpful
This is better than my idea...at least not as temporary. I have been using a Styrofoam picnic plate weighted down with a piece of wood. It isn't so much for the shade that I have added the plate on top. My feeders are hung in the open from a shepherd's hook, and with all the rain we have been having, my feeder sometimes gets fuller as time passes when it is raining instead of emptier. The rain enters the feeder through the feeding holes and dilutes the nectar.
Harlean from Arkansas
Read More Comments
Questions
Ask a QuestionHere are the questions asked by community members. Read on to see the answers provided by the ThriftyFun community or ask a new question.
March 15, 2015
0

found this helpful
Is it OK to paint the feeder if you stay 3/4" from the feeding tube? Thank you.
By Ray
March 16, 2015
0

found this helpful
Best Answer
Why do you want to paint the feeder? OK-but only if the paint is completely non-toxic to hummers, is more than two feet from any opening that is used to pour the food in and the hummers touch. That is, no paint at or near the perch, feeder tube and body, inside and out, and any other areas of the feeder.
I belabor answering your question because when you clean the feeder at least every four days, there is the definite probability of getting even a tiny little bit of dried paint residue into the hummer food. And, even a tiny little bit hurts a tiny little bird, very much so!
I want to make hummingbird feeders. Where do I buy the cork part the bird feeds out of?
By Dawn B
I have made these hummingbird feeders before, but the copper tube that is at the bottom with the flower attached sometimes leaks. I must not be bending it right. Does anyone have a pattern I can print out so I can bend it exactly? Please and thank you.
By Lillie
I'm looking for ideas on how to transform jars or wine bottles into hummingbird feeders. Any ideas on how to decorate the glass would be great and ideas on where to get the feeder tubes and how to secure them to the jar lid would be great too. Thanks!

Tammy
January 23, 2005
0

found this helpful
Here is a link I found to making your own:
I want to give gifts for Christmas and want to make hummingbird feeders from bottles. I need to know, can I make my own feeding tube or do I need to buy them? Thanks.
By Ruth from Northern, KY
Related Content