Making a Hummingbird Feeder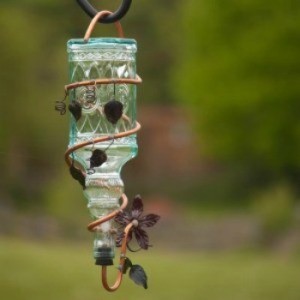 Many people enjoy having these quick flying little visitors. Putting out a hummingbird feeder will help attract them to your yard. This is a guide about making a hummingbird feeder.
Solutions
Share on ThriftyFunThis guide contains the following solutions. Have something to add? Please share your solution!
Often my hummingbirds visit before the flowers are out in bloom. Sometimes they need a little extra help remembering where the feeders are. I use the silk and plastic Poinsettia flowers from my outside Christmas decor to help them spot the feeders. I either fasten the flowers to the pole that the feeder is on or I weave them to the wire fence nearby. The extra bright colors draw the little hummers in to a fresh and tasty snack.
By the time the hummers have been here all summer, the flowers have faded a little so I purchase one or two new Poinsettias to add to the Christmas decor the next winter. Usually I buy these at the local dollar store. I have had several comments of the "varied coloring" of my special Poinsettia decorations! It usually takes four or five years before I actually have to throw any of the Poinsettias away.
By Dawn from Ann Arbor, MI
Read 2 Comments
I frequent a hummingbird forum. On it, there is a photo of a feeder where someone used a Frisbee at the top of the feeder to shade it. It's a great idea and saves buying the expensive ones.
We are visiting the dollar store tomorrow to get some. Also making one for my underprivileged neighbor. She's so excited! She gets a Clearwing Humming Bird moth in her garden each year but has yet to see a hummer, she's excited :)
Ariela from Jax Fl
Read 4 Comments
Questions
Ask a QuestionHere are the questions asked by community members. Read on to see the answers provided by the ThriftyFun community or ask a new question.
March 15, 2015
0

found this helpful
Is it OK to paint the feeder if you stay 3/4" from the feeding tube? Thank you.
By Ray
March 16, 2015
0

found this helpful
Best Answer
Why do you want to paint the feeder? OK-but only if the paint is completely non-toxic to hummers, is more than two feet from any opening that is used to pour the food in and the hummers touch. That is, no paint at or near the perch, feeder tube and body, inside and out, and any other areas of the feeder.
I belabor answering your question because when you clean the feeder at least every four days, there is the definite probability of getting even a tiny little bit of dried paint residue into the hummer food. And, even a tiny little bit hurts a tiny little bird, very much so!
I'm looking for ideas on how to transform jars or wine bottles into hummingbird feeders. Any ideas on how to decorate the glass would be great and ideas on where to get the feeder tubes and how to secure them to the jar lid would be great too. Thanks!

Tammy
January 23, 2005
0

found this helpful
Here is a link I found to making your own:
I want to make hummingbird feeders. Where do I buy the cork part the bird feeds out of?
By Dawn B
I have made these hummingbird feeders before, but the copper tube that is at the bottom with the flower attached sometimes leaks. I must not be bending it right. Does anyone have a pattern I can print out so I can bend it exactly? Please and thank you.
By Lillie
I want to give gifts for Christmas and want to make hummingbird feeders from bottles. I need to know, can I make my own feeding tube or do I need to buy them? Thanks.
By Ruth from Northern, KY
Archives
ThriftyFun is one of the longest running frugal living communities on the Internet. These are archives of older discussions.
November 23, 2010
0

found this helpful
How do you make a hummingbird feeder from recycled plastic bottles?

By Miliana from Crestline, CA
Answers:
Homemade Hummingbird Feeders
http://www.birdsandblooms.com/Backyard-Projects/Bird-Feeders

http://www.birdsandblooms.com/GoogleLandingPage.aspx?SearchPhrase=hummingbird feeders

These should help you. (09/24/2010)

Homemade Hummingbird Feeders
By the way, Walmart had nice hummingbird feeders for $4.99 last year. We bought 7 of them, and the pre-made food and tied the recipe card " how to make the refill food" to the kids' Christmas packages. (09/25/2010)

September 19, 2010
0

found this helpful
I have seen hummingbird feeders made from 2 litre pop bottles. Does anyone know how it is done?

By winger298 from La Fayette, GA
Answers:
Homemade Hummingbird Feeders
There is actually a kit you can buy to convert a 2 liter bottle into a feeder. The brand name is Gadjit. If you Google it, you'll see what I'm talking about. You can also buy hummingbird feeder "tubes" that you can put into any bottle-type container. They look like a cork with the familiar tube that the hummers feed out of. Just Google "hummingbird feeder tubes" and you will find them. They are relatively inexpensive. (10/01/2009)

Homemade Hummingbird Feeders
Build your own hummingbird feeders with everyday materials!

http://fohn.net/hummingbird-pictures/hummingbird-feeders.html

http://www.instructables.com/id/Water_Bottle_Hummingbird_Feeder/
(10/02/2009)

By LMcCay420
September 27, 2009
0

found this helpful
How do I make a Hummingbird feeder?

By playa from Houston, TX
Answers:
Homemade Hummingbird Feeders
If you Google "homemade hummingbird feeders' you'll be amazed at the responses you'll get. Too many for me to put down here. (07/21/2009)

By Cricketnc
Homemade Hummingbird Feeders
Homemade Hummingbird Feeder from Recycled Plastic Containers
By Carol H. D.
Supplies:
Red Folger's coffee container, 29.2 oz.
CoffeeMate 32 oz. container
soda bottle, 2 liter
glue gun
glue
X-acto knife
string
Directions:
Cut circle from bottom of Folgers coffee container.
Cut circle in center of bottom of Folger's coffee container. Inner circle is the size of CoffeeMate cap.
32 oz Coffeemate container
Remove cap and label from 32 oz. Coffeemate container. Remove black stamped date with nail polish remover.
<l>Place cap from Coffeemate container firmly into hole of Folger circle.
Hint: If hole is too small, make 1/8 inch cuts 1/8 inch apart around inside of circle.
Glue cap from Coffeemate container into hole of Folger circle.
Cut bottom off at line of plastic 2 liter soda bottle.
Cut 5 tabs and fold inward. Look at the 5 wells formed in bottom. Cut the tabs in between the wells.
Cut 5 tabs and fold inward.
Cut remaining 5 tabs each into 3 tabs and fold outward.
Place Folger circle on top of soda bottle bottom.
Glue Folger circle to top of soda bottle bottom. Place glue on each tab.
Hint: Use clothespins to hold one half while gluing other half.
Center hole in Folger circle above well in soda bottle bottom. (total 5 holes).
Optional - Recycled plastic to make decorations.
Optional - Decorations
Tie String to top of CoffeeMate bottle at groove in bottle. Fill bottle with sugar water, recipe below:
Bring to boil, simmer 5 minutes, cool, screw CoffeeMate bottle to cap, hang, and enjoy. (09/06/2009)

By cdjp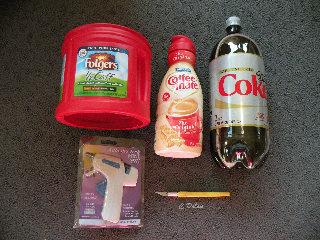 July 21, 2009
0

found this helpful
I can't afford to pay $10 or more each for Hummingbird feeders. I would like to find an economical way of making my own.

By samsonskola from Branson, MO
Answers:
Homemade Hummingbird Feeders
I don't live in their fly zone but I do attract a few hummers. In fact I just submitted an article, on thriftyfun, about attracting hummingbirds. In my article I mentioned how my mother used to feed them, a small cordial glass or vial! She wrapped copper wire around the glass and the little handle on the glass so it would hang at an angle. She filled it with sugar water, tied a red ribbon on it. There you have a hummingbird feeder. Takes but a few minutes to assemble. The cordial glass was a wedding favor from my wedding 34 years ago. You can find some great little glasses at garage sales for a quarter. If you buy flowers, to plant in the spring, think of those that attract hummingbirds. (04/28/2009)

By Deb H.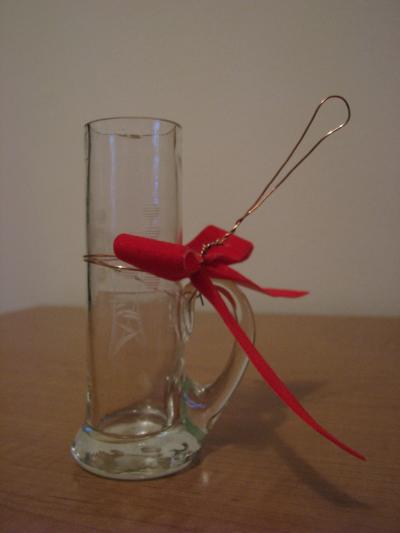 Homemade Hummingbird Feeders
This link has easy step by step directions how to make a hummingbird feeder using a plastic pop bottle.

http://fohn.net/hummingbird-pictures/hummingbird-feeders.html (04/28/2009)

By Lorelei
Homemade Hummingbird Feeders
Just in case you haven't seen them, Wal-mart has some for $4.99 and they are made in the USA. And they are easy to clean and fill. We just bought 7-8 of them for kids and neighbors last Christmas, love em. GG Vi (05/02/2009)

April 28, 2009
0

found this helpful
How do you make a hummingbird feeder?
Read More...
Related Content