I can't afford to pay $10 or more each for Hummingbird feeders. I would like to find an economical way of making my own.

By samsonskola from Branson, MO
Answers:
Homemade Hummingbird Feeders
I don't live in their fly zone but I do attract a few hummers. In fact I just submitted an article, on thriftyfun, about attracting hummingbirds. In my article I mentioned how my mother used to feed them, a small cordial glass or vial! She wrapped copper wire around the glass and the little handle on the glass so it would hang at an angle. She filled it with sugar water, tied a red ribbon on it. There you have a hummingbird feeder. Takes but a few minutes to assemble. The cordial glass was a wedding favor from my wedding 34 years ago. You can find some great little glasses at garage sales for a quarter. If you buy flowers, to plant in the spring, think of those that attract hummingbirds. (04/28/2009)
By Deb H.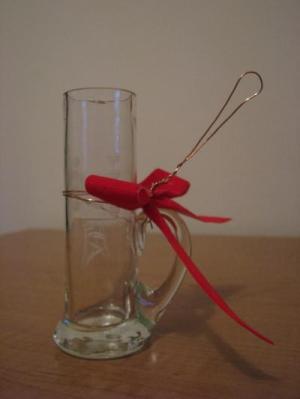 Homemade Hummingbird Feeders
This link has easy step by step directions how to make a hummingbird feeder using a plastic pop bottle.

http://fohn.net/hummingbird-pictures/hummingbird-feeders.html (04/28/2009)

By Lorelei
Homemade Hummingbird Feeders
Just in case you haven't seen them, Wal-mart has some for $4.99 and they are made in the USA. And they are easy to clean and fill. We just bought 7-8 of them for kids and neighbors last Christmas, love em. GG Vi (05/02/2009)