A unique trellis can become a focal point in your garden. It is a great way to reuse items you already have around the house or a good search mission for your next trip to a garage sale or antique store. This is a guide about creative garden trellis ideas.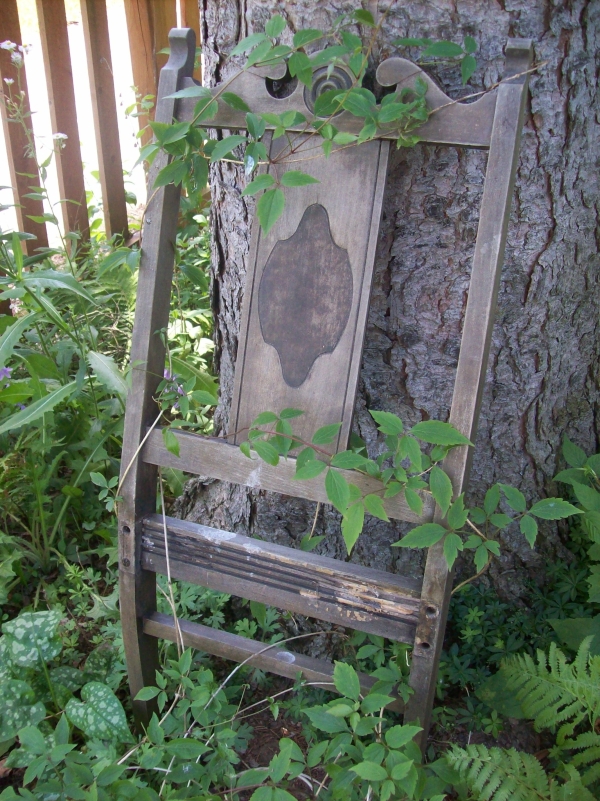 Filter

: All Articles
Sort

: Relevance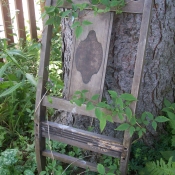 Keep an eye open for old chairs at garage sales, thrift stores, or better yet, pick one up that's been trashed at the curb. Some have beautiful ornamentation and can be used in lots of ways other than a place to park your backside. In this photo, I'm using the back portion of a broken "curb alert" chair as a trellis. My new clematis is pretty happy with it. Sink the side pieces into the soft soil, or like this, just lean it against a tree. Use the left-over seat portion of the chair to hold a potted plant or birdbath bowl.
By Gloria from western NY
Gardening is a hobby with my wife and me. As we have a number of Clematis vines the trellises deteriorate. In my recycling travels I came upon a great way to make a trellis. I came by a motel and noticed a discarded box spring by the dumpster. I took it home and took it apart, finding some nice 1x4's and then took a bolt cutter and cut the spring in half and wala. We have 2 great trellises that are now in use. I might add that the clematis and the box springs make great bed fellows.

By Patrick from Mcminnville, TN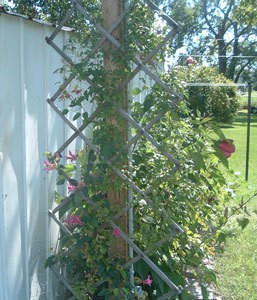 Do you remember the old wooden baby gates? If you see one at a garage sale or an auction, they make an excellent trellis. I have a clematis growing on mine that I started this year.
By Elaine from IA
The seat to my lawn swing rusted and broke off the main frame. The frame itself is still in good condition and I'd like to have some pretty vines trailing up the frame. I was told by someone that the frame would get too hot in the Texas heat unless I insulated it with something like chicken wire. I've never worked with chicken wire so I'd have to figure it out. I'm wondering if any of my ThrftyFun friends have a simpler solution, other than the chicken wire.
By Betty
April 9, 2012
0

found this helpful
Could you get wooden lattice at the lumberyard and attach to the frame with wire? Or you could get wire (maybe at a plant nursery) and make a support system for the vines on the frame.
April 10, 2012
0

found this helpful
Could you paint the frame with one of the insulating paints that throw off heat?
I used KoolSeal on my shed roofs back in AL and GA (I live in NE Scotland now) and it kept the metal cool to the touch. Seems I recall you can buy a small pint can of the paint for touch-ups so it shouldn't be too expensive.
April 10, 2012
0

found this helpful
We used the metal frame from a trampoline to make an arched grape arbor, and it works perfectly. The metal does not get too hot, especially once the vines start growing on them (or at least that has been my experience). We also have gourd vines growing on an old metal gate. Wisteria would be fine, too, as would rambling roses.
Read More Answers...
Plant any kind of vining plant below an old clothesline. As the plant grows, you can anchor it to the pole with string or yarn. When it reaches the top of the pole, you can train it across the clothesline itself by attaching it to the line with clothespins. I planted a wild blackberry bush under my old line and it not only looks great, but it's easier to harvest the berries each year.
By Marie from West Dundee, IL
Christine Weber
2

found this helpful
A rustic looking ladder for sweet peas or other climbers to scramble up in your garden or in a planter on your patio.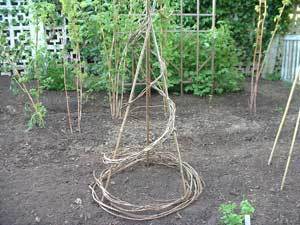 With limited space for a garden, I have to come up with new ways to grow things. This is the new hanging trellis I made to grow cantaloupes on. It is an old ladder supported by plant hooks on the fence side and utility hooks and nylon string for the outside.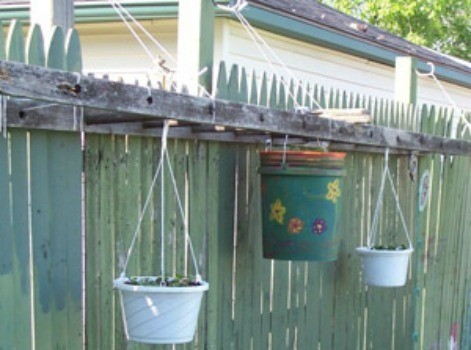 Make a trellis for your climbing plant (indoor or out). Shape the triangular part of a clothes hanger into any shape you like, then straighten the hook. Stick the straightened hook into the soil then train your plant around the the wire.
The concept of the trellis is simple - plants grab on and plants climb up. Whether you are using one to add growing space to your garden, screen an unsightly view, or to create a sense of privacy near your patio, the humble trellis is one of the most versatile structures that you can have in your garden.
Choosing Materials and Style
When selecting a trellis for your garden, try to choose a material and style that complements your home's exteriors and landscape design, as well as fitting the grow requirements of your plants. Trellises are usually made from one of three main materials: wood, metal, or plastic. Each has its advantage and disadvantages.
Metal trellises: If your plant is heavy and needs a lot of support, a trellis made from metal may be a good solution. Metal trellises tend to cost more than wooden or vinyl trellises, but withstand the elements best and will likely never need replacing. Trellises made from copper tubing will acquire a beautiful natural patina over time. Aluminum is lightweight and very durable, especially when painted. With steel and wrought iron trellises, make sure you look for a rust-proof finish.
Wooden trellises: Trellises made from wood are probably the most popular choice among gardeners. They are inexpensive to buy and if left unpainted, blend in seamlessly with the landscape as they age. If you're handy, there are also plenty of free trellis plans on the Internet, so you might even consider building your own. Wood trellises will eventually succumb to the elements, but you can extend their lifespan by choosing insect and rot-resistant woods like redwood, cypress, and looking trellises fastened together using galvanized nails or screws, not tacked together with staples. Avoid painted trellises and trellises made from treated wood if you want to recycle yours to the compost pile when it starts to rot.
Vinyl trellises: For a low maintenance trellis, one that will never rust and never need painting, try one made from vinyl. Although typically only available in limited colors (usually white, green or brown) vinyl trellises are becoming more popular with gardeners because of their durability. They key is to find out if the vinyl is treated and rated UV stable, meaning the vinyl is resistant to mildew and it won't fade or splinter due to long term exposure to the sun.
Flat trellises (ladders or fences): Flat trellises are usually designed to be anchored to structures like garages, sheds, walls, or fences. A flat trellis consists of a framework in which the slats are connected to form a ladder of squares or rectangles. These trellises come in a variety of heights, and depending on the width, can easily support multiple plants.
Obelisk trellises: With its tall, pyramid shape rising several feet up into the air, this three-dimensional trellis instantly becomes a dramatic focal point of the garden. Obelisk trellises add a vertical design element to your landscape and are meant to be viewed and appreciated from every side. Because their framework consists of 4 sides (usually made from metal), these trellises can support a variety of climbing vines and plants.
Fan trellises: These trellises are made to be freestanding or mounted. They can be used in the same way flat trellises are used, but they are usually designed to support only one plant. Their shape is narrow at the bottom and fans out at the top, which makes them ideal for setting inside of containers and supporting annual vines like sweet peas.
Installation Tips
Always match the trellis to the plant. Climbing plants have different growth rates and different techniques for hanging on to supports. Some have delicate tendrils that gently coil around thin supports. Others are sprawling and need a more sturdy framework to support their weight.
When training plants to climb, never use plastic or metal ties to fasten stems. Instead, use ties made from natural fibers or ties designed to stretch and accommodate plants as they grow.
Plan ahead. Attach 3-inch thick furring strips to structures before hanging your trellis. Then attach the trellis to the furring strips with hooks and eyes instead of screws. This will help increase air circulation around your plants, and if there's ever a need to paint or repair the wall, you can easily remove the trellis.
I use old metal bed headboards -- wrought iron, brass, etc. -- as trellises for my garden. The veggies climb right up them, they look great and always garner comments, and they're interesting in the winter covered with snow.
In my garden for the beans and peas I use chain link gates that were no longer needed to get in and out of my back yard. There is a decorative top to the gate so it looks quite attractive. It would be great for clematis or climbing roses, too.
I have lots of branches and I always weave them on the top and bottom into the fence in different designs, some of the crosses, some of them different shapes to get my morning glories to grow up them. I have just started on mine this year. I am always pruning trees and bushes and I have tons! It gets them out of the way and also provides a little bit of privacy if you have enough of them. Also you can stick little short ones crossways at the corner of the fence and hang things on them. I haven't hung any chimes or anything on mine yet.
By Robyn Fed from Hampton, TN
Old brass or wrought iron headboards can be used as trellises in the garden and also add a touch of whimsy to the overall landscape look.