Cleaning Houseplants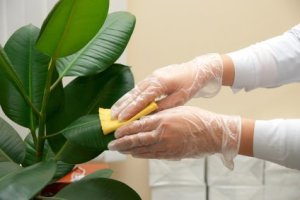 The leaves of indoor potted plants can get very dusty and dingy looking if not cleaned off regularly. Cleaning your houseplants will help them grow happy and healthy. This is a guide about cleaning houseplants.
Solutions
Share on ThriftyFunThis guide contains the following solutions. Have something to add? Please share your solution!
I've read many tips that say to use banana skins or mayo to clean houseplants. I don't like using these or any other such thing on my plants because they leave a coating on the leaves which can block them from getting air and/or water. It also causes them to collect dust and dirt faster.
What I do is I take a gallon size bucket and put no more than 1/2 tsp mild dish soap in. I then take a lint free cloth and wipe each leaf. This cleans all the dust and dirt without blocking their pores. And they are totally clean and will not attract dust and dirt, thereby staying clean longer. I use this method for all my plants that have leaves large enough to wash individually. For all the others, I put them in the bath tub and set the shower to "mist" and give them a good shower for about 10-15 minutes.
Any plants that are too large to pick up I always keep on a rolling tray. That way I can roll it into the bathroom and use a sprayer to spray it down good.
By Cricket from Parkton, NC
Read 1 Comment
Most homemade plant shine formulas call for a mixture of mayonnaise and a little cooking oil. Mayonnaise contains egg. I don't like the idea of a layer of egg sitting on my houseplants. At some point, it must begin to smell and I would think it would be an attractant to flies and other insects.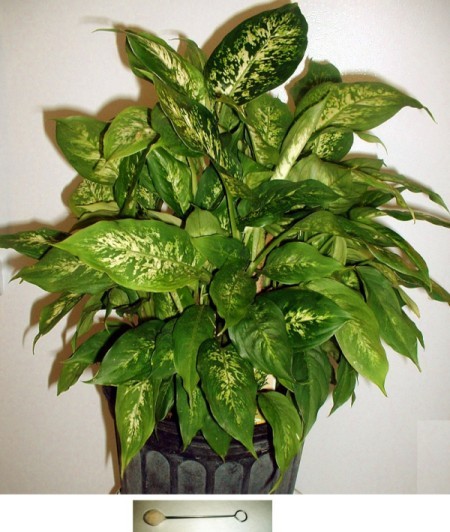 If you have a friendly butcher, ask him/her to give or sell you an ounce of food grade slicer oil. It contains no animal products. Unless you have many plants, an ounce should last a few years.
With an applicator (I like to use a wool swab), apply a very thin layer to the leaf tops only. Applying the oil to the undersides can prevent the stoma from being able to breathe.
By the way... I got this baby at Lowes for a markdown price of $2.00. I brought it home, repotted it, gave it a little TLC and it is growing happily.
Read 8 Comments
August 14, 2007
1

found this helpful
Apply mayonnaise to your plants to clean them and make them shine beautifully.
By Tammy from Economy, IN
Editor's Note: This may work fine on waxy leaves like a philodendron but it could harm softer leaved plants. There is vinegar in mayonnaise which can change the pH of the plant. Has anyone tried this?
Read 4 Comments
March 7, 2005
0

found this helpful
Cleaning philodendron leaves with a cotton ball saturated with milk will remove the dust and let them shine, shine, shine! After wiping off each leaf gently, let air dry. During the process, check the tips for any accumulated milk drop and dispose of with a Q-tip or paper towel. My plants look like they have been treated to whatever a florist uses to make plant leaves shine, but doesn't cost me a penny if I use the milk leftover from a grandchild's milk glass.
By Ronsan
Read 4 Comments
Clean house plant leaves using a sock. Slip your hand into the sock. You are able to clean the top and bottom of the leaves at the same time. I always use milk to clean the leaves. Makes them really shiny.
Read 1 Comment
Use a piece of soft cloth with a small amount of mayonnaise. Carefully wipe off the dust. Follow with another clean cloth to remove the mayonnaise. Your plants will shine and be able to breathe.
Read More...
Questions
Ask a QuestionHere are the questions asked by community members. Read on to see the answers provided by the ThriftyFun community or ask a new question.
February 10, 2005
0

found this helpful
Tips for cleaning house plants. Post your ideas.
November 29, 2015
0

found this helpful
I use a few drops of glycerin in a mug of water to wipe them clean using old socks or a soft muslin cloth
Read More Answers
I read an article about cleaning your house plants leaves with something special awhile back. Would anybody remember? I usually keep all of the articles, but I have lost this one. Thanks for any feedback!
By Nikki
May 1, 2016
0

found this helpful
I agree 100 percent. Water!
Read More Answers
I am looking for a good way to dust, clean my 3 large real plants. I have been using a mild soap, but it seems like it dries out the ends of the greens, and yellows them.
Any ideas?
By Annie
January 20, 2017
0

found this helpful
To clean the leaves on my live indoor plants, all I use is a swiffer duster. One hand under the leaf so it doesn't break, and use the swiffer to dust the leaves. They are naturally shiny when I'm finished. It's fast and easy.
Pat R.
Read More Answers
February 5, 2015
0

found this helpful
Why can I not use Leaf Shine by Miracle-Gro on hard cactus stalks or leaved ones? What do I use on air plants to make them shine?
By Ivamarie
Related Content