EllenB
Gold Post Medal for All Time! 858 Posts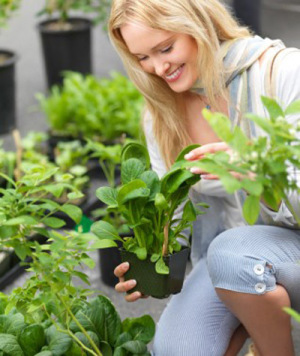 When it comes to gardening outdoors, buying plants that we know will grow best in our gardens is extremely important. Indoor plants are no different. They each have their likes and dislikes when it comes to growing conditions. Yet when buying them, many of us are content to select a plant based on price and appearance alone. Here are a few things to consider before buying your next indoor plant.
Before You Buy
Consider Your Space
Make sure that the plant you choose fits your space in terms of size and growing requirements (light, temperature, and humidity). Then consider your skills and how much time you are willing to invest when it comes to taking care of it. Many popular species of house plants have a reputation for being easy to care for and will do well despite our inexperience and neglect. Other species are considered more delicate and demanding. These types of plants are better suited to someone with plenty of time, patience, and experience.
Inspect Prospects Carefully
If you're buying plants in the winter, check for signs of cold damage (burned or dropped leaves), especially on tropical species. Inspect the undersides of the leaves for visible signs of scale, mealy bugs, white flies, or other pests. Then look under the pot. If roots are visibly sticking out of the drainage hole, the plant will probably need to be re-potted immediately.
Because the plant has already endured plenty of stress during its journey from greenhouse to market, you're probably better off looking for a different specimen. Avoid plants that exhibit the following:
obvious signs of pests of disease
droopy or scorched leaves; missing leaves
roots growing out of the drainage hole
shrinkage between the soil and the side of the pot
mold or green slime on the surface of the soil
Prepare Plants for Transport
During winter weather, it is best avoid buying plants online. If you do, ask for an insulted shipping carton and be prepared to pay the higher costs. Also, make sure someone will be home when your plant is delivered. If you buy the plants locally, try to transfer the plant to a warm car for the ride home. Before leaving the store, wrap the plant with newspaper or several layers of tissue paper.
Close it securely at the top to protect leaves and stems from cold drafts. During summer heat, avoid putting plants in your trunk of your car and leaving them to cook inside while you continue shopping. It's better to place them securely in box in the back seat and transport them home as soon as possible.
Acclimating Your New Arrival
Make Introductions Slowly
After you bring your new house plant home, keep it isolated from your other plants for two weeks just to make sure it is healthy. During that time, keep it out of direct sunlight, protect it from temperature extremes, and be careful not to give it too much water. While your plant adjusts to its new environment it may shed a leaf or two. Don't panic. This is perfectly normal. Just leave it alone in a moderately warm spot out of the sun.
Place Them Properly
Once you know your new plant is healthy, move it to its permanent location. Here are some things to keep in mind:
Light intensity decreases dramatically just a few feet away from windows.
A Southern exposure offers the longest and most intense light; an Eastern exposure gets good early morning light; a Western exposure gets good afternoon light, and a Northern exposure receives the least amount of light (put plants right next to the window).
Tropical plants, flowering plants, and plants with brightly colored foliage usually need more light than other types of house plants.
Never place a plant where you can't read the newspaper without a light on.
Plants will automatically bend toward the light, so give pots a quarter or half turn every few days to encourage even growth.
If you can't offer enough natural daylight for your house plants, consider making up the difference with artificial lighting.
Let Them Settle In
Once your new plants are in their permanent location, try to avoid moving them. Just like outdoors plants, house plants like to feel as through they "put some roots down." Sudden changes can cause stress that results in leaf or bud drop and may leave plants more susceptible to insects and disease. Unless absolutely necessary, resist the urge to repot them until they are well settled in.
Comments

February 1, 2011
0

found this helpful
How does anyone feel about buying plants in the late fall, or the end of any season, when they're (in the thrifty spirit) cheap, but also fairly bedraggled? If I'm keeping them indoors as house plants.
I'm in an apartment. Should that be ok? Or am I destined to care for an ailing plant that will soon die on me, wasting my money in the end, I suppose.