EllenB
Gold Post Medal for All Time! 858 Posts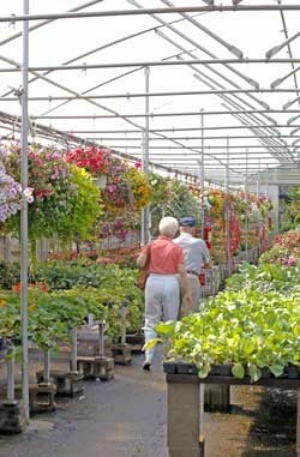 One of the best parts of spring is taking that first trip to the nursery or garden center to shop for bedding plants. If you're like me, walking into a greenhouse that is overflowing with green plants and colorful flowers is exhilarating and even a bit overwhelming-especially after a long winter. Here are a few things to keep in mind before you fill up your backseat with bedding plants.
Do Your Homework & Your Site Work
Before heading off to the nursery, have an idea of what you're looking for and where you're going to put it. Know your hardiness zone and the light and soil conditions of your site. Take time to prepare your soil in advance. Working the soil and amending it as necessary for good nutrients and drainage is the best way to insure that your new bedding plants will transplant successfully. This is especially true if planting perennials, where you only get one chance to get them off to a good start.
Understand the Difference Between Annuals vs. Perennials
Are you looking for one-season wonders, or plants that will grow back for several years? Annuals put on a terrific show for one season. They'll provide you with color almost right away and many will continue to bloom until fall. Keeping them blooming will require a little more care and maintenance, but you can't beat them for instant color. They are wonderful for baskets, borders, containers or "filling in" immature landscapes.
Perennials cost more initially, but they will grow and spread for years down the road. They may ultimately end up being less costly than annuals because they don't have to be replaced every year. Perennials are permanent additions to the garden that are usually divided every few years. Their selection and success is based on their ability to withstand the low and high temperatures of your specific growing region. With a little planning, the right combination of perennials will also keep you in blooms all season long.
Short & Fat Is Beautiful
To stretch your gardening dollars the farthest, you need the bedding plants you buy to transplant successfully into your garden. Look for plants that are short and fat, but well proportioned. Tall and leggy bedding plants have been in their packs too long and may be root bound. They are not as robust and are much less likely to stand up to the rigors of transplanting, insects or disease.
You might be able to pinch them back and trim their roots for better performance, but you'll have to wait longer for them to bloom. You're better off buying these plants later in the season when they are marked down.
Color As An Indicator
Ideally, the stems and leaves of young plants will be a deep, rich, green color. Yellowing lower leaves can be a sign of inadequate watering and if the soil has been allowed to dry out, possible root damage. Curled leaves, spots or mottling may indicate pest problems. Whiteflies and aphids can be a problem in greenhouse production and are especially fond of certain young bedding plants. Look around for hanging baskets or pots of Fuchsia and Verbena. They are good insect indicators. Check the undersides of the leaves where they attach to the stem and on the tips of new growth. If you spot insects, you might want to consider moving on to another nursery.
Plants that have been tucked away on the lower shelves may appear somewhat paler in color due to less exposure to light. They are not necessarily in trouble, and may green up quickly once you get them home.
Bigger Cells are Better
Most bedding plants are grown in individual pots or flats that contain 24 to 72 plants. These are subdivided into cell-packs that contain anywhere from 2-12 plants. When you have a choice, buy the plants in the deepest cells that are spaced the farthest apart. The deeper cells allow plants to develop more extensive root systems and more space means they are less likely to have fungus or mildew problems. These plants are also less likely to be root bound and less likely to dry out before transplanting.
A Big Pot Can Be a Big Value
There are times when a single plant in a 4 to 6-inch pot can be a better value than buying a flat. This is often true with Impatiens or Begonias that are blooming when you buy them. A bigger pot means that the plant's roots are more established and less crowded. This can be a big advantage because they tend to adapt faster to transplanting while giving you instant color.
Harden Them Off
If you buy plants from a greenhouse, it's always a good idea to harden them off for a few days before transplanting them outside. Gradually move them outside for longer periods of time each day until they adjust to outdoor light and temperature conditions. Transplanting them during the cooler parts of the day will help minimize shock. Happy planting!