Growing Vegetables from Seeds
Growing vegetables from seed can save you money and offer a wider choice of plant varieties. This is a guide about growing vegetables from seeds.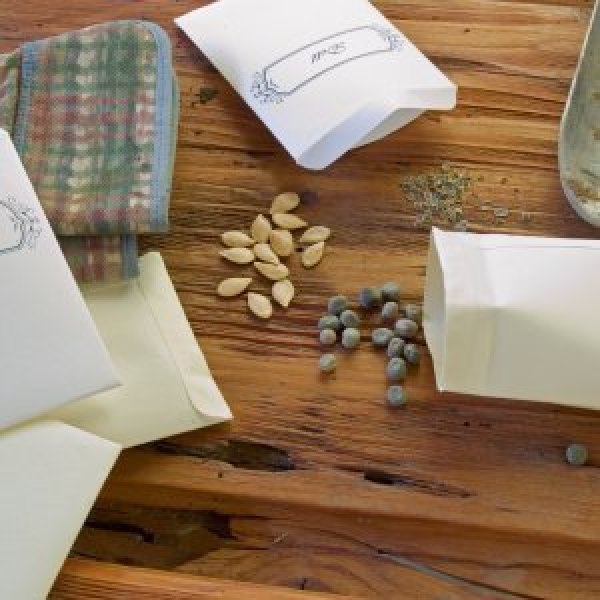 Filter

: All Articles
Sort

: Relevance
I was sitting here reading some of my gardening notes from 2015. I made a lot of mistakes last year. Hopefully, the notes will help make this year's gardening more fruitful and with less work. One thing I like to try is planting seed from hybrid fruit and veggies.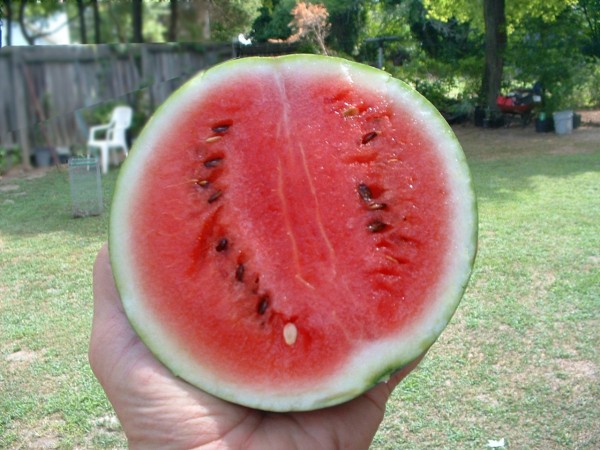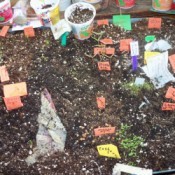 March is a great time to start your vegetable and flower seeds indoors. You can use any container. Here is how I am doing mine.
I took the plastic lids off my storage boxes and filled it with seed starting soil. I moistened the soil and laid the seeds on top of the soil. I am getting a bumper crop. Keep them moist and in the sun. On warm days, they go on the porch. Tomatoes grow quickly. In May, they all go outside.
I am a do it myself person and made this method up. It works.
By bali from Summerhill, PA
I am a beginning gardener and I would like to grow veggies with my kids. I was wondering what seeds are easiest. Also, can I use seeds I already have in the house like a peach seed or apple seeds? Can I plant seeds I cut from cucumbers? Do I need to dry out the seeds first? I'm just curious what will grow and what won't?
Hardiness Zone: 9a
By Michelle from Phoenix, AZ
February 26, 2010
0

found this helpful
Apple seeds, grapefruit, lemon, & lime (& avocado) have all grown for me. Just take the seeds - put between 2 layers of paper towel (moist) & put in a zip loc baggie. Wait for the sprouting (you'll see it!) then plant. Avocados of course you suspend over water with toothpicks. I'm a zone 6 so can't help much more than that. As missbes99 mentions, beans are a great thing to do. marg s.
February 27, 2010
0

found this helpful
Thanks everyone for the input keep the advice coming! We did plant a peach pit in the back yard and some apple seeds I guess I'm still in denial it will work. Time will tell.
I am curious why many people are suggesting to put in a wet paper towel and let spout first is that a better plan or can I just plant outside? We have had a lot of wet weather recently and it is perfect planting time!
March 1, 2010
0

found this helpful
Hybrid seeds don't do well. One time, I planted a canteloupe seed from a store bought, and wound up with a little tiny melon. The tiny melon was cute, but nothing more.
We have been growing heirloom tomatoes, and they keep coming back year after year. Bugs get to some of the tomatoes, so I just leave them on the garden ground, and the next year we have more tomato plants. Last season, I guestimated we had 200 to 300 heirloom tomato plants, and not enough room for them all to grow.
Radishes grow in about a month here, but children might not like their taste. I'm zone 5a.
Read More Answers...
After my garden is tilled, quite a few rocks get dug up. If they are about the size of a fist, I put one at each end of each row of seeds planted or in the middle of a hill of squash to mark the spot. They can easily be removed once the plants come up. I also make map of the garden on a piece of paper and note where I planted beans, onions, etc. in case I need to refer to it as the rocks don't indicate that. The rocks are handy, don't require pounding a stake into the ground, and stay where you put them.
By Judy from Valley City, ND
When I cut the root end off of scallions, I plant them in a pot on my porch and within a week or two, the tops have grown enough to use them. I do the same with any root vegetable and soon I have a free, healthy alternative to buying greens for salad, etc. I also plant seeds from my tomatoes, fruits etc. I have several lemon trees, grapefruit and tomato plants. Hope this helps.
By karenmom59 from New Port Richey, FL
I do this each and every year for my tomatoes and peppers. When I am cutting/slicing my tomatoes and bell peppers, hot peppers, banana peppers, I slice them on a paper towel.
I am a beginner vegetable gardener. Which seeds grow the fastest? Thanks!
By Trudy from in the woods, PA
February 20, 2012
0

found this helpful
http://urbanext.illinois.edu/veggies/radish.cfm
Radishes harvest very fast. Many are ready to harvest in less than a month. There are many, many different kinds of radishes, too. Some are all white, some are red in the middle and green on the outside, very pretty. There are even black radishes. They have different flavors. And you can eat the greens. Radish leaves taste pretty much like the radish, and are really good in a salad.
Leaf lettuces grow quickly, and there are hundreds of varieties. You can harvest a beautiful salad in a few weeks.
http://urbanext.illinois.edu/veggies/lettuce.cfm
Growing your own veggies is very fulfilling, and not as hard as you might think. I hope you are very successful, and that you really enjoy yourself. Good luck!
February 21, 2012
0

found this helpful
I agree, radishes and lettuce are great choices. You can plant fast-growing crops every couple of weeks to give you a steady supply during the season. If you choose loose leaf or "cut and come again" varieties of lettuce you can snip off leaves as you want them, leaving the plant to grow more. Another option would be early peas, baby carrots, or some varieties of beetroot. Read the description to see if the variety is suitable to harvest early; packets should tell you the length of time till maturity as well. Potatoes actually grow really well in containers, so you could even try new potatoes!
For vegetables that take longer to start from seed, like tomatoes, you can buy them as plants in your local garden center. Have fun!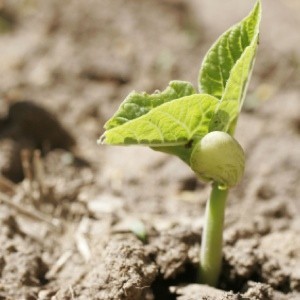 When you shop greenhouses in the spring, you may have noticed that some types of vegetables are rarely available as transplants; e.g. beets, peas, and carrots. That is because these types of vegetables grow best when sown directly into garden soil. They either tend to mature quickly, or have delicate root systems that are easily damaged when being transplanted from seed. Here's a list of 6 vegetables that are easy to grow from seed, and some tips and tricks to get them started.
Beans: Both pole beans and bush beans are considered simple to grow from seed. Plant them after danger of frost has passed and the soil has warmed. If you want to get a head start, warm up your soil by covering it with black plastic. Pole beans should be planted about 6 inches apart in rows 3 to 4 feet apart. They require a trellis, teepee, or wire fence to support their vertical growth habit (6 feet tall or more). Bush beans can be planted in double rows 18 to 36 inches apart, with each seed 4 to 6 inches apart. Bush beans do not require staking. Both types of beans should be kept evenly moist and need to be harvested regularly to keep plants productive. Pick them daily or every few days by pinching off the pods. Avoid pulling on them, which can uproot the plants.
Beets: Beets are a versatile root vegetable because they can be grown for both their roots and edible greens. For the best color, tastes, and texture, plant beets as soon as the soil can be worked in spring, and continue to sow seeds every two to three weeks throughout the season for a continuous crop. Don't plant the seeds too thickly. Each beet seed is actually a "fruit" or cluster of seeds, and will produce several seedlings. Plant them 1 to 2 inches apart in rows 12 to 18 inches apart.
When the greens are a couple inches long, thin them to approximately 1/2 inch apart. To encourage large roots to develop, you'll need to continue thinning them (unless you're growing the plants strictly for their greens). How far apart depends on the cultivars you're growing. Carrot-shaped beets should be thinned to 2 inches apart to develop roots; round-shaped beets need from 4-6 inches. A common mistake gardeners make with beets is under-thinning, so don't be afraid to give them plenty of room.
Carrots: Long, slim-shaped carrots tend to grow best in deep, sandy loam. Short, ball-type cultivars grow best in heavy soils and are also suitable for containers. Plant seeds in the spring as soon as the soil temperature reaches 45F and it's dry enough to work. To spread out your harvest, sow small amounts of seed every 2 to 3 weeks. Plant 3 to 6 per inch leaving 12 to 14 inches between rows.
When carrots reach 2 inches tall they should be thinned to 1 inch apart. Thin them again in 2 weeks so they are 3 to 4 inches apart. Because carrot seedlings are so tiny, planting and thinning them can be tedious chore. This can be avoided by using a planting dibble, or by mixing the seeds with sand before broadcasting them. Some garden centers also sell carrot seeds in pellet form, which makes spacing them much easier when planting.
Corn: Wait for warm weather before sowing corn--the soil temperature should be at least 60F. Dig a v-shaped trough with your hoe and plant 3 seeds together every 8 to 12 inches. To ensure good pollination, sow seeds in blocks of short rows (24 to 36 inches apart) rather than in a single, long row. Continue to plant seeds every few weeks for a longer harvest. In climates with short growing seasons, corn seeds can also be pre-germinated indoors. Seeds should be sown into individual peat pots or newspaper pots that can be planted directly into the soil to avoid damaging their delicate roots.
Radishes: Easy-to-grow radishes can be planted anytime after the soil can be worked. In fact, you can plant them in a shallow box near a sunny window and enjoy them all year long. Here is another root vegetable that provides tasty roots as well as greens. Spring radishes (Radicula group) grow quickly, while winter radishes (Daikon group) produce larger roots and take longer to mature. Depending on the cultivar, flavors can vary from mild to spicy hot. Plant 1-2 radish seeds per inch in rows spaced 10-12 inches apart. Be sure to provide radishes with an even supply of moisture or they'll develop woody roots. For a continuous harvest all summer long, plant small batches of seeds every 10 days.
Spinach: Spinach is one of nature's most nutrient-rich foods and it's also very easy to grow. It's considered a cool weather crop, so plant it in the early spring as soon as the soil reaches 35F. Heat-tolerant varieties are available, but most spinach will bolt (go to seed) once temperatures climb above 75F. Sow seeds 1 to 2 inches apart in rows 12 to 18 inches apart. Thin plants to between 2 to 4 inches apart. Spinach prefers full sun, but it will also grow well in partial shade. Leaves have their best flavor if harvested when they reach 2 to 3 inches tall.
When planting your seed rows, plant a few onions on each end of the row so you can tell where the rows of slow germinating seeds are. By the time the onions are ready to pull, the seeds will have sprouted.
Once again this year I purchased my vegetable seed packets to start inside. Other years I started them with special starting soil, placed them in a sunny window and kept them watered. I always end up with spindly plants with weak stems. How do I get stronger plants?
Hardiness Zone: 6a
By MaggieGrace from PA
March 7, 2011
0

found this helpful
Is there a chance you're falling victim to "damping off"? It's where otherwise healthy seedlings suddenly become weak and die. It's caused by a fungus that attacks the plants. I've had this happen myself.
Over-damp soil and lack of airflow can lead to the problem. Try not to water the foliage when watering, and keep covers ventilated if you're using them. Making sure your seedlings are properly thinned out can help too. There are home-made sprays that use chamomile tea or hydrogen peroxide to help prevent the fungus, if you wanted to search for them. I've read a sprinking of cinnamon powder on the soil can work too. Good luck with your gardening!
I use my flower pots from last year that already have soil in them. When I transplant, I then use the pot for my summer flowers. Works great!
When slicing tomatoes or peppers, I always slice them on a paper towel. Any and all seeds that fall onto the paper towel, I set aside for a couple of weeks and let dry out and then bury the entire paper towel in my flower bed and water as I water other plants in existing bed. Within a few days, seeds will sprout and voila! You have vegetable plants.

By Sharon from Florida
Answers:
Growing Vegetables From Seeds
I wish I lived in Florida with your long growing season. Have you ever done this with pumpkins? After we carved our pumpkins, I took most of the seeds and roasted them but all the ones on the ground I picked up and placed in the soil. I don't know if they will come up or not. I hope so. (11/02/2006)

By TC in MO
Growing Vegetables From Seeds
Sharon, thanks so much for telling us how to do this! So easy and simple! (11/05/2006)

By Jill
Growing Vegetables From Seeds
Thanks, I'll try that. (11/01/2007)

By ramona I
Growing Vegetables From Seeds
Many thanks, Sharon, for this very handy tip. The price of vegetables is expensive so I will definitely give this a go. I am moving to a small flat soon. Would it be possible to grow these in pots? If so, when is the best time to sow? Also, how long do they take to grow? Once again, a wonderful idea by ThriftyFun members. (10/12/2009)

By irisheyes