Thought tree lovers might like to see my enormous willow tree. Photos really don't do it justice. Standing beside it, however, is a truly humbling experience, imagining all the years and history it has seen, the storms it has withstood, the children that have climbed and built forts in it. Are there any tree experts out there that could hazard a guess of its age? I have no idea.
By Gloria from upstate NY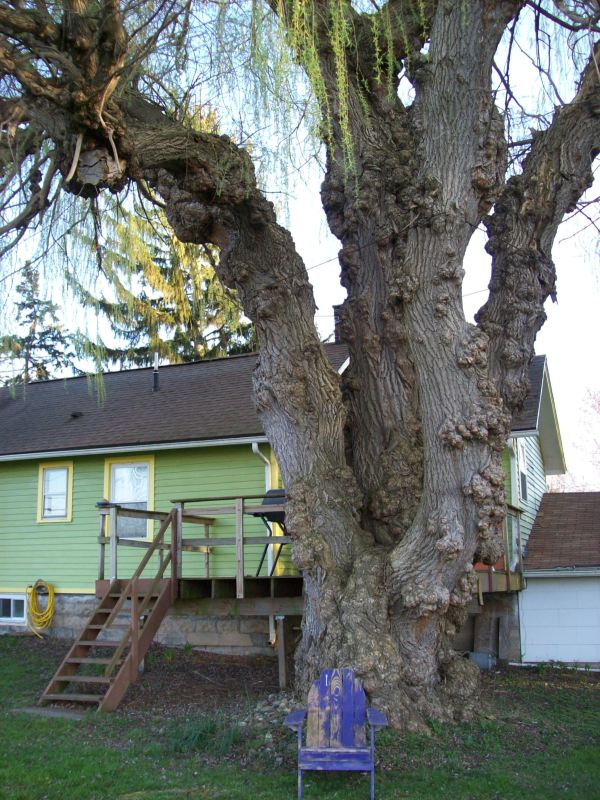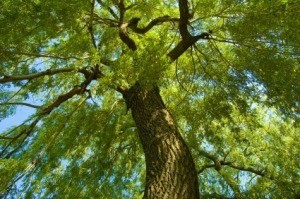 About 45 years ago, probably in 1967, when we were living in Oak Ridge, Tennessee, my eldest son won an art contest at school with a painting of a gorgeous weeping willow in the yard across the street from us.
The following summer in July on a very hot day, there was a dreadful electrical storm. The willow was split down the middle. I joined the neighbors in a crying fest and then asked for some cuttings. I was told by all the neighbors I couldn't plant in the middle of the summer. I was bound to try. I am a very stubborn person and not willing to give up on most things.
Now you have to understand about the soil in Oak Ridge. It is awful! There is a problem with huge rocks about a shovel's depth underneath the surface. These must be dug out before any sort of planting can take place. When I found a place for my tree, I was met with a "boulder" about 14 inches long and probably that big around. It took at least 45 minutes to dig that rascal out leaving a perfect "bowl" to hold all the water I was planning to give Mr. Willow.
I stripped all the leaves off some of the branches and put them in there along with some other goodies, like potting soil and such and planted my tree. It got a good watering every day and started to flourish. I must add that while I was planting the tree, all my neighbors were standing about laughing at me. At least two of them had degrees in horticulture.
Several years later as willows are wont to do, he started causing trouble in the pipes. The owner/manager of our apartment complex told the maintenance crew to snake out those pipes every day if need be, but "do not" touch that woman's willow tree. We left Oak Ridge in 1977 and the tree was still alive and taller than the 2 story building. Eventually the building was sold and torn down and the tree had to be removed for a business complex of some sort.
I suppose what I want to say is if you really want something to grow, and take very good care of it, you can plant it any time and expect it to flourish.
By Marty D from Knoxville, TN
Do you have a frugal story to share with the ThriftyFun community? Submit your essay here: http://www.thriftyfun.com/post_myfrugallife.ldml
I have wanted a weeping willow tree all of my life, I am now 51. I have tried looking up various types so I know what they will look like when they grow, but am still not sure. In my area, they are selling cherry (white and pink), and "regular" and golden globe.
I want one that is not real expensive and doesn't get too big. Where can I find accurate pictures of the different types of weeping willow trees? I wonder if I should abandon the idea since we live in an urban area? I do, however, have a wetter back yard, which is away from streets and buildings. Thanks.
Hardiness Zone: 6a
By Constance from Evansville, Indiana
March 27, 2009
0

found this helpful
Hi Constance!
Look to see what garden centers you have in the Evansville area. They usually carry the trees and plants that will thrive in your zone. Also, go to some of the bigger gardening websites I(i.e. Burpee, Victory Garden (PBS) to get an idea of what kind of willow you are looking for. There are willows like weeping cherry and then you have your standard weeping willow (with the long wisps of branches that sway in the breezes (and the kind they make willow furniture out of). If you have a wet area for the tree that leads me to believe you are looking for a more standard "weeping willow". They love having their feet wet. Do a little online homework and then visit your local landscape/garden center. It sounds like you have just the spot for a weeping willow but, do a little "information gathering" before you start digging. Good Luck!...maggie
March 27, 2009
0

found this helpful
Be careful...their roots go so deep and can get into your plumbing. Ours did that all the time. We were always calling roto-rooter to cut them out! They are beautiful though!
March 28, 2009
0

found this helpful
Search for "pictures of a weeping willow tree"lot of pictures & info there, good luck.
March 29, 2009
0

found this helpful
Just be sure to not plant your tree over or near your septic tank or drain field if you have one.
I think I'd consider a wheeping cherry tree instead. Theyre smaller and get flowers in the springtime.
April 6, 2009
0

found this helpful
http://www.ces.purdue.edu/index.shtml is the website you should go to. It is the Purdue Indiana University which is your state extension service. Click on the ag and natural resource link at the top. This will tell you about the trees that grow in your area, problems, and suggestions. I always go to the county/state extension links when searching problems. Best EXPERT to consult!
Question:
I have a weeping willow tree that is about 1 foot tall right now and I want to know how long I can leave it in a pot and what size pot it needs. It currently is in a 1 gallon nursery pot. I would appreciate advice.
Hardiness Zone: 5a
Thanks,
Sue from Centralia, WA
Answer:
Sue,
Unless you plan on keeping your willow as a container tree for a few years, I wouldn't put off transplanting it in the ground for too long. A 1 gallon container is small for the fast growing roots of a weeping willow. You can move it into a larger container for now if you plan on keeping it as a balcony or patio container for another 2 to 3 years, but otherwise it's best to transplant in the ground as soon as possible. When sizing up in containers, it's generally accepted that a vertical growing plant needs transplanting when it reaches twice the height of the container it's growing in. If you plan to keep on potting up, keep in mind that you risk loosing your tree from transplant shock every time you move it to a new pot. If you transplant it into the ground, it only has to suffer through this shock once. Of course, with the proper root pruning (like in bonsai trees), even large trees can last for many years in smaller containers. Root pruning is pretty labor intensive, however, especially as trees grow larger. If left in a small container too long, your tree will eventually start showing signs of being pot bound. Then even with the proper light, water and fertilization the leaves will be small and it will show a general loss of vigor.
Ellen
How far away should I plant a weeping willow from my sewer line? I live in the city.
Thanks
Hardiness Zone: 8a
By Wayne from Monticello, GA
May 8, 2010
0

found this helpful
A lot of people won't plant any kind of tree close to sewer lines or foundations of buildings, etc., because the roots can raise cane with that kind of things, they can crack the foundations and I have a sister who has a lot of trouble with her sewer, because many years before she ever bought her house somebody had planted a tree close to the sewer lines running to house.
May 11, 2010
0

found this helpful
Very far. The roots seek out water and will get into septic systems and other watering places. I'd pick another tree if I were you. Good luck!
May 13, 2010
0

found this helpful
You really DON'T want a weeping willow in your yard. Some years ago, when mine got into the sewer line and the septic tank, I called Roto Rooter to clear it. $200 later, I asked how long their work was guaranteed. They told me, "with weeping willow, 6 weeks. Anything else, 6-12 months." A weeping cherry would be quite lovely... Grows slowly, lovely weeping branches; beautiful spring blossoms, few pests, no mess.
I am interested in planting a weeping willow near a saltwater bulkhead. As it matures could it break the bulkhead? The bulkhead is old and has some cracks in it.
Hardiness Zone: 8b
By Betty from Gig Harbor, WA
April 24, 2010
0

found this helpful
Weeping willow roots are very strong and they head to the nearest water source right away and will go through water pipes if they are weak and then it is a mess trying to deal with all the damage all the time, but they are beautiful though. My parents had them and we were always cleaning/roto rooting the roots out all the time. That is why I wont have one, but I am considering growing one in a huge pot, but it wont grow very huge though! Robyn
April 26, 2010
0

found this helpful
I don't know what a bulkhead is, but I remember as a child my Mom the Gardener said never to plant them by a septic tank; the branches under the tree seek a water source and will clog your septic tank. Sorry, wish I had more to offer. Good luck!
What is the best time of year to plant a weeping willow?

By Jana D
June 5, 2012
0

found this helpful
Never! Actually, it depends on where you live as to whether you plant in Spring or Fall. Do not plant in hot season and this tree is a water hog. Do NOT plant near a septic tank or water line as the roots will grow to the wet area and invade the pipes. I have a huge weeping willow that is near my house and it is a messy tree. This tree does best next to a pond or by the water.
How far from my house should I plant a weeping willow tree?

Hardiness Zone: 6b


Lisa Murphy from Lancaster, PA

Answers:
Planting A Weeping Willow Tree
Weeping willow trees have roots that spread out and travel far. If you own small grounds; avoid planting this tree. If you do own large grounds with a septic system; plant very far back from leachbed lines and any large tree planted near a house can interfere with the foundation. Weeping willows are also very messy even though beautiful. In landscapes in our area people plant weeping cherry trees close to their house that don't grow large as the willow and blooms in the spring if you're looking for something to that effect. (09/16/2008)

By Lorelei
Planting a Weeping Willow Tree
How about Timbuktu? Seriously. Steer clear of a weeping willow, unless you have a huge property and don't care about the grass in your yard. Otherwise, don't plant a weeping willow. (09/17/2008)

By rscnet