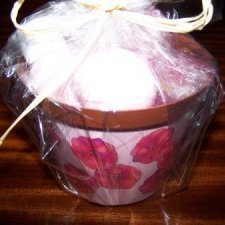 While very pretty, wrapping paper can be costly and is generally only used once. An alternative to the traditional gift paper is to wrap your gift in a reusable item such as a cloth tote, a baby blanket, or a flower pot; you get the idea. This is a guide about reusable gift wrap ideas.
Ad
---
Solutions: Reusable Gift Wrap Ideas
Read and rate the best solutions below by giving them a "thumbs up".
I am really excited about this one and wanted to share this with my Thrifty Fun Family!
I have never heard of Furoshiki before and this is the absolute coolest! Not only is it a green way to wrap gifts (the cloth itself being an extra gift), but it can also be used as a purse/carrying case!
The tutorial says to use a piece of square fabric, but you can mold/fold even a rectangular piece in to a square. Hope you get as excited about this as me :-)
The first link is a video tutorial, the second link is a PDF file that gives several other gift item wrapping instructions and the third link is the history of Furoshiki
Source: A girlfriend sent me the video and I googled more about Furoshiki. Here's the video:
By Deeli from Richland, WA
Editor's Note: Two of the links did not work, so we have included a Wikipedia entry on Furoshiki
I've been collecting inexpensive cloth tote bags for gifts. I buy these tote bags at grocery stores and thrift shops. They cost $1 or $2. I put birthday and Christmas gifts inside the reusable tote, instead of a gift bag or wrapping paper. I'm saving money, recycling, and the recipient gets a handy cloth or recycled tote bag. I've picked up some really nifty tote bags over the summer.
By RuralAngel from Dover, DE
A great holiday tip that became a tradition. Make a family box, box with separate lid, wrapped separate, for easy opening, fill with movies, games, new ornament, books, anything your family will share. It's great for video games.
Tie a wire ribbon into a bow on top, and open together after all the gifting on Christmas. Reuse every year just pack some Christmas stuff inside and put away till next year.
By 123helen from Senoia, GA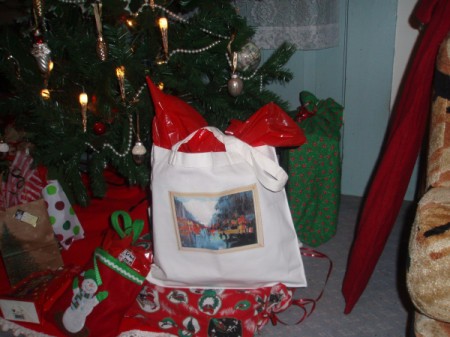 I love the holidays, but I really don't like wrapping gifts and bags can get expensive to buy.
So now I use cloth or Tyvek shopping bags (like the ones found in all stores' check outs) to wrap gifts.
Look for ones that have great designs (they are cheaper then buying paper gift bags and stronger too!)
I went to an online printer and purchased 5 of them, adding a photo of a painting I had painted, but you can even add a photo of a family member or pet for personalized bags. Great memories or laughs too!
You can use them again and again each year too.
By Donna [295]
You can use gift bags not directly related to the occasion with some ingenuity. I cut out candy images from an advertising mailing and put them on non-Christmas bags to make them more festive. This way I can use pink and violet bags, for example. Candy colors, no? Think of sugar plums!
You could save old greeting cards and paste/tape them onto gift bags or store bags. (I touched up the slight wear on a metallic bag with a permanent magic marker - They are wonderful!)
Collect colorful magazine images and newspaper ads, etc. and crumple instead of tissue. Coordinate with the colors of the gift bag(s).
P.S. Did you know that you can IRON tissue paper on a very LOW iron to refresh it? And many ribbons can also be ironed, just make sure you don't try that on the lurex (metallic) ones, as they might melt!
By pamphyila from L.A., CA
Here's a gift wrap idea for you. Years ago when my church gave a baby shower for a young woman in dire straits, I was helping an older lady pick up the gift wrap and get it ready to be tossed. I was middle aged at the time and she was probably the age I am now. After we filled up 2 toilet paper cartons, we both declared we would never spend another nickel on gift wrap.

On a few occasions, I have used the gift bags which I recycle. Mostly, if I am going to a wedding shower, I wrap it either in kitchen or bath towels and use a tuffy scrubber for a bow. Everyone needs safety pins so you can use those to secure it instead of scotch tape. For a baby shower, use a crib sheet or blanket and a rattle or small toy for the bow. You can use diaper pins instead of scotch tape to hold everything in place. All of it is usable and nothing will be thrown away.
My daughter-in-law has been going through the granddaughter's toys and arranging them by type, like Barbie's, etc. She purchased some plastic bins of different sizes for this task. I suggested to her that she ask all who customarily give gifts to the kid, put them in a plastic bin of appropriate size instead of wrapping them. Dollar Stores have them and they don't cost any more than traditional gift wrap.
By MartyD from Houston, TX
Give your gifts in this huge wow factor container.
Supplies:
Cleaned dried cylindrical container (example: coffee tin, oatmeal holder)
Artificial flowers, leaves, berries, birds, including one long strand which wraps around the container about 1 1/2 to 2 times
Contact paper or paint
Hot glue gun
Directions:
Cover the container with contact paper to eliminate any label. Alternatively, spray or craft paint the container and let dry.
Starting at the top edge of the container (not inside), hot glue the long strand of leaves working in a downward spiral direction.
Hot glue an arrangement of artificial leaves and flowers near the top of the container. Hide wires with single leaves.
Working in a downward spiral direction, hot glue another arrangement of items on the container.
Repeat until you reach the bottom of the container. There should be only 3 or 4 arrangements depending on the container size.
Hot glue an arrangement on the lid, including a focal piece such as a bird.
Voila! So impressive. NOTE: This craft can be designed with a theme in mind. Example: use red and pink items and hearts for Valentine's Day, or autumn leaves and dried grasses for Thanksgiving time.
By Pretty cheap jewelry from California
Because of our consumer society, we may want to consider "downgrading" the packaging and wrapping of the things we purchase in the coming year. I recently heard of a great idea: instead of wasting what amounts to tons (collectively) of wrap and ribbon, why not use seasonal dish clothes or towels to wrap some items? You could use place mats that have been rolled up and tied as a beautiful gift alone or with some kind of neat kitchen gizmo tucked inside. Use YOUR imagination!
Instead of purchasing shirt boxes for the holidays, use cereal boxes instead. They are just the right size to slide a shirt, pants, robe or anything else like that into. You can decorate the box with wrapping paper so that the cereal logos aren't seen.

By Sandi
Give a "thumbs up" to the solution that worked the best! Do you have a better solution? Click here to share it!
Archives
Thrifty Fun has been around so long that many of our pages have been reset several times. Archives are older versions of the page and the comments that were provided then.
I save all of my cereal boxes or any box that is about that size. I take those small cans of paint and some paint that is gold or silver color. I then spray my box with the color of paint that I want to use. When it's dry, I spray mists of the silver or gold or both on the box. When the box is dry, I take some of the Christmas cord found at craft stores. I make a couple holes on the narrow side of the box or two holes on each side of the box. Then I tie a knot on one end of the cord slip it through the first hole then through the last one then tie a knot on that end. Now you have a gift bag/box. You can also use stickers, ribbons, or just about any thing on your box to decorate it.
By Robin Mays from Bonham, TX
Answers:
RE: Cereal Boxes As Gift Boxes Or Gift Bags
This has got to be one of the best frugal gift giving ideas I've heard. Great idea! Also if the box is too large for your gift item you can cut it down. Thanks for a great gift bag idea! (11/10/2006)

By jjager
RE: Cereal Boxes As Gift Boxes Or Gift Bags
Dear Robin, I also think this is one of the best ideas I have heard. I have just gone through my pantry and found other boxes that could be used the same way. This is great as I hate throwing things out. Thanks for sharing. (11/10/2006)

RE: Cereal Boxes As Gift Boxes Or Gift Bags
This is a terrific idea- and one of the best tips I have heard about in a long time too!
Just one thing - i will have to start eating cereal now just so I can have the boxes! :D
Well done- fabulous idea, thank you.(11/11/2006)

By Monique63
RE: Cereal Boxes As Gift Boxes Or Gift Bags
Such a neat idea! Thanks for sharing! And something to do with kids! (11/11/2006)

By mobo
RE: Cereal Boxes As Gift Boxes Or Gift Bags
I wish someone would post some pictures as I'm trying to understand exactly what this looks like. I don't mean to criticize either but doesn't this end up costing more in the cost of the paint than just buying a gift bag at the Dollar store? I understand wanting to re-use something and the idea of being creative but it doesn't sound frugal to me. Maybe I am missing something tho??? (11/11/2006)

By Debbie52
RE: Cereal Boxes As Gift Boxes Or Gift Bags
Hi Robin, I really like your idea. It will be great to use up all the half empty spray cans that we have in the garage. I think the silver and gold misted over the other colors will look very elegant. I also have acrylic paints that I may sponge paint over the spray painted boxes, or use an old toothbrush and "flick" the acrylic paint on. You really helped me to get my creative juices flowing, thanks! (11/11/2006)

RE: Cereal Boxes As Gift Boxes Or Gift Bags
And, now, for being CAREFUL in opening those tough cereal boxes without damaging them! I like the idea, especially for my grandson's friends' parties, and especially since I can barely afford a little gift, much less the wrapping and ribbon. With a little more thinking I might be able to wrap it in kraft paper -bag, make some "finger prints", hand prints and secret code lettering out of tempera paint, even buying a "spy" gift that's so popular. Or, let my grandson glue on a painted picture especially for the friend's hobby. Good idea to "chew" on. LOL God bless you. : ) (11/11/2006)

By Lynda
RE: Cereal Boxes As Gift Boxes Or Gift Bags
Hello Robin, That is funny that you mentioned it here. I just discovered that same idea recently. At Christmas time I sometimes have a hard time finding bags or boxes to give all my gifts in. I just can't see spending a dollar to give a gift away in, thats the cost of a gift bag or box nowadays.
I spray mine with low odor spray paint and sprinkle wth glitter and sometimes glue on sprigs if pine tree from the x-mas lots you can pick up for free and add pine cones to the center and voila! Thanks for sharing. (11/11/2006)

By Crystel Tse
RE: Cereal Boxes As Gift Boxes Or Gift Bags
This is also a way to use up those small pieces of wrapping paper that seem to collect. Cover the box completely or cut out shapes and glue. And from the sewing/craft box....add bits of lace/ribbons/buttons...endless ways to dress up the box and have fun, too. (11/17/2006)

By MissMakeDo
RE: Cereal Boxes As Gift Boxes Or Gift Bags
This is also a way to use up those small pieces of wrapping paper that seem to collect. Cover the box completely or cut out shapes and glue. And from the sewing/craft box....add bits of lace/ribbons/buttons... endless ways to dress up the box and have fun, too. (11/17/2006)

By MissMakeDo
RE: Cereal Boxes As Gift Boxes Or Gift Bags
I too think this is a neat idea! You could also save the smaller boxes like the ones pop tarts came in or those breakfast bars. I also like the idea of using up left over wrapping paper or old wall paper scrapes.
My Mom use to get us to cut out x-mas pixs out of magazines and then glue to the box as decoration!
(11/30/2006)

By Gepe
Instead of paying for boxes to wrap presents in, I save boxes from cereal, oatmeal, crackers, microwave popcorn; just about any kind of box and put my presents in them.
For Christmas gift wrapping this year, I purchased some of the recycle bags that stores are selling now, canvas and usually green, the cost is usually a dollar. Use this bag to put your gifts in, to encourage recycling. A paper gift bag would cost about the same. This bag will last a lot longer and put festive bows on it.

By Hope from Wilmington NC
Feedback:
RE: Wrap Presents In Reusable Grocery Bags
I did this too! There are some nice bags recyclable bags out there for $1, so great for gift giving :) (12/19/2008)

By freya1970
RE: Wrap Presents in Reusable Grocery Bags
I did that too and I would appreciate gifts "wrapped"in these bags. No harm to the environment. Great idea. (12/29/2008)

By mulberry204