With so much cardboard packaging many of us are always looking for new ways to reuse it. This is a guide about reusing cardboard.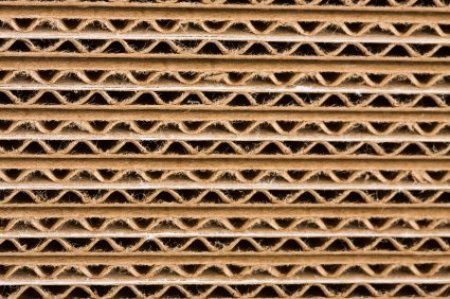 By Judy Stahl 22 16
Our cat was bored being cooped up in the house when it was twenty below zero for a week or so. We built him a play house out of cardboard boxes in which he can tunnel through from one box to another.
We attached the boxes together with packing tape and left some openings in the top for light to shine through and for the cat to enter from above as well as through the side. Boxes can also be stacked on top of one another for a two-story house.
Cats often like to claw on cardboard boxes so the boxes also deter them from clawing furniture.
By Judy S. from Valley City, ND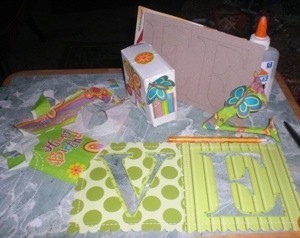 Recycle your kitchen cardboard into fashion decorator alpha accents or decorative lidded origami boxes using pretty paper napkins to cover them! This is a simple and low cost to NO cost way to use kitchen cardboard as craft material.
Stencil the letter(s) you want (I used the letters in my name) on the backs of food products cardboard and cut out as many as you want to form a stack of them. Secure them with tape and cover them in pretty paper napkins using glue to adhere them. Cut portions of the same napkin out to use the designs as embellishments. As you can see my napkin had butterflies and flowers. I cut them out and added them. Using a piece of scrap cardboard glue the cutout onto one side and trim out the shape.I bent the wings of my butterfly up to give it a pose!
Use the lidded origami box fold how-to. The box I used was a pie box and the inside was white. I chose the white inside to be the outside of my origami box and cut out portions of pretty paper napkin to decorate it. I used the same method to create the butterfly on both ideas. There is a little paper napkin left. But I used only one, it was lined. If yours is lined, you might want to peel off that second layer before you try to glue the paper to the alpha accent or the box. It will work much better with only one layer. Add any number of other embellishment: buttons or glitter or beads and what-not.
If nothing else, yours could be the cutest trash in the neighborhood! Maybe someone will want to take it home with them and put it to good use! ;)
Source: My own recycling efforts turned into craft projects!
By Melody_yesterday from Otterville, MO
By Liz 3
Does anyone have a use for the heavy cardboard backs from kid's puzzles? Our dog chewed up a bunch of pieces from my son's puzzles, but it seems like there could be another use for the backs of them. Any ideas?
By Liz from Charleston, SC
---
Most Recent Answer
July 17, 2014
You could also, take another piece of cardboard, around the same size, or even a little larger, as long as the second piece "over-lapses" the puzzle frame. Then, have an adult cut the edges, of this second piece, with something like a "Stanley or razor knife", so it fits snugly into the puzzle frame. Invite your child and/or grandchild to draw an original picture. When the young artist has finished his/her masterpiece, glue the finished work onto the newly carved cardboard. After the glue has set, (may be best to let dry overnight), cut the picture into any size and shape pieces, you like, and viola! You now have a new, one-of-kind, hand-crafted puzzle.
---
If you are storing long-term, do not use cardboard boxes. Anything can happen to them, be it roof leakage or bugs or mice. I use polystyrene boxes. I get them from the greengrocers, they've been used to transport broccoli. A quick swish out with warm water and dry off with a towel.

Place articles inside. Use cloth tape to seal. Clearly mark what is inside on all sides and top.

Clear plastic shoe boxes are excellent, I have found, for storage. I have ones I bought on sale at my local supermarket very cheaply. I use them for storing many different things but put like with like. For example: household glues and picture hanging nails. Small screwdrivers and other tools. Earphones and cords (amazing how many of those one collects in a short time and then can't find!). Greeting cards.

Dominus tecum.

By Leonie from Warrnambool, Victoria, AUSTRALIA
By Raelene 11 8
I have another use for cardboard, if you have a sick dog that throws up in the house or a person who does not make it to the bathroom, cardboard is a a good scraper. I take a piece of cardboard, tear it in half so that I have two pieces, then scrape. This gets most of the mess up with little fuss and makes cleaning the carpet or hardwood easier. I put it all in a plastic bag and toss when done. Paper plates work as well.
By Raelene from Clarksville, TN
I make a lot of crocheted doilies and when it comes time to block them I use the cardboard from cakes that I have purchased and saved. This cardboard has a shiny surface on one side so the doilies do not stick.

By Barb
We have seen the amount of paper and cardboard a family receives in the shopping of food and other things. So we decided one day, let's see how we can use this for good things in the every day life.

First we made a collection area for the two so it would not bother any one or get in the way. We have a fire spot and it is contained, safe to use all year. Here are some of the ways we came up with:
Use it for fire starters.
A second use is as ground cover. You do not need to go out to buy black fabric to put in garden. We cut to it to fit around the plants in our garden bed, overlap cardboard edges, and cover with 2 inches of dirt. The result is weed free good looking beds.
We fish so when cleaning a fish we do it on newspaper or flyers, saves a mess. You roll it up and dispose of.
The big boxes we save for putting between storage items so no scratches or rubs happen.
Children need boxes of different sizes for school projects and bringing some things to school.
When doing a oil change it can have spillage so to have paper and card board down first and then the tools, is time saving and easier.
This is just the beginning ideas so keep it in mind to reuse and not have the landfills full of paper products. Have fun with it. My mom would make us party hats and confetti out of news papers, flyers, ads, and magazines. We made game objects if we lost a play piece, we made one like a little car or mouse. There are lots of things you can learn from libraries and craft shops. The book may cost, but the art will just be paper.

These ideas are the result of living a thrifty life and wanting to lessen the human foot print.
Get unlimited cardboard from fast food places. You can put some in your pet carrier under papers. Also put papers on cardboard in the area you keep pet, just in case it is not REALLY well house broken!

By Bill from Indiana
Feedback:
RE: Cardboard For Easy Pet Cleanup
I have been using McD's fry boxes to move in - I have to buy shipping tape to "remake" them because here they fold them down flat and put them in a little fenced area on their parking lot! I will eventually get 2 or 3 emptied at a time and as I do, I will cut the tape and flatten them for easy storage!
By the way: I usually have great things to say about Dollar General but their shipping tape isn't worth it! It doesn't want to stick well to these fry boxes and I have seen it fall off! Save yourself the bother with their brand tape and get Scotch. Yes, it's higher priced but you won't end up with boxes breaking open! (11/08/2007)

<img src="http://img.thrfun.com/images/database/tff10558606.JPG" width="400" height="300" alt="RE: Cardboard For Easy Pet Cleanup" />