Reusing Cardboard
Solutions
Share on ThriftyFunThis guide contains the following solutions. Have something to add? Please share your solution!
Our cat was bored being cooped up in the house when it was twenty below zero for a week or so. We built him a play house out of cardboard boxes in which he can tunnel through from one box to another.
We attached the boxes together with packing tape and left some openings in the top for light to shine through and for the cat to enter from above as well as through the side. Boxes can also be stacked on top of one another for a two-story house.
Cats often like to claw on cardboard boxes so the boxes also deter them from clawing furniture.
By Judy S. from Valley City, ND
February 3, 2010
0

found this helpful
A great idea. My cats love to climb in boxes and hide. In fact I have a cat bed for one of them, but they would rather lay in a box with a blanket in it. Think I'll try this cat house. Yes, the cats do get bored during the winter. Should be fun watching them.
Read More Comments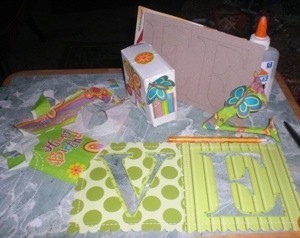 Recycle your kitchen cardboard into fashion decorator alpha accents or decorative lidded origami boxes using pretty paper napkins to cover them! This is a simple and low cost to NO cost way to use kitchen cardboard as craft material.
Stencil the letter(s) you want (I used the letters in my name) on the backs of food products cardboard and cut out as many as you want to form a stack of them. Secure them with tape and cover them in pretty paper napkins using glue to adhere them. Cut portions of the same napkin out to use the designs as embellishments. As you can see my napkin had butterflies and flowers. I cut them out and added them. Using a piece of scrap cardboard glue the cutout onto one side and trim out the shape.I bent the wings of my butterfly up to give it a pose!
Use the lidded origami box fold how-to. The box I used was a pie box and the inside was white. I chose the white inside to be the outside of my origami box and cut out portions of pretty paper napkin to decorate it. I used the same method to create the butterfly on both ideas. There is a little paper napkin left. But I used only one, it was lined. If yours is lined, you might want to peel off that second layer before you try to glue the paper to the alpha accent or the box. It will work much better with only one layer. Add any number of other embellishment: buttons or glitter or beads and what-not.
If nothing else, yours could be the cutest trash in the neighborhood! Maybe someone will want to take it home with them and put it to good use! ;)
Source: My own recycling efforts turned into craft projects!
By Melody_yesterday from Otterville, MO
January 13, 2010
0

found this helpful
i really should have cropped this picture before submitting it but didn't
here's a better view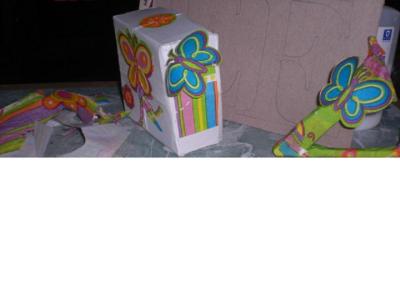 Read More Comments
If you are storing long-term, do not use cardboard boxes. Anything can happen to them, be it roof leakage or bugs or mice. I use polystyrene boxes. I get them from the greengrocers, they've been used to transport broccoli. A quick swish out with warm water and dry off with a towel.

Place articles inside. Use cloth tape to seal. Clearly mark what is inside on all sides and top.

Clear plastic shoe boxes are excellent, I have found, for storage. I have ones I bought on sale at my local supermarket very cheaply. I use them for storing many different things but put like with like. For example: household glues and picture hanging nails. Small screwdrivers and other tools. Earphones and cords (amazing how many of those one collects in a short time and then can't find!). Greeting cards.
Dominus tecum.
By Leonie from Warrnambool, Victoria, AUSTRALIA
By guest (Guest Post)
August 29, 2008
0

found this helpful
Plastic boxes of any kind are HORRIBLE to use in wet climates for long term storage as everything inside will mold faster than you can blink.
It's also insane how much people spend on "storage systems" and "closet organizers". Then fill up the landfills with perfectly good alternatives they could have recycled.
I recycle clear plastic boxes from the salads I buy for shoe box type storage. They are perfectly clear and thus require no labels.
We recycle smaller containers and some egg cartons for personalized drawer organizers.
I also make use of all the storage spaces I have. In closets, we use small hooks and nails to hang everything from belts to backpacks neatly off the floor. It's in full view so we use those items much more often than if we packed them away somewhere. If it starts to look cluttered; we know we have to get rid of some things.
The same goes for our bathroom cabinets. A few finishing nails hold most of our hair items neatly and in full view. The plastic q-tip box gets hung high on the inside cabinet under the sink. It's within easy reach without even looking and still out of the way.
In the kitchen cabinets, a few small nails and an extra small recycled plastic box hold spice packets and small items like that neatly and out of the way but still in full view. Get creative and personalize your home to fit your needs.
The more that's in full view; the less time you waste labelling and boxing/reboxing items you don't really use anyway. Spring cleaning becomes a pretty quick affair once you've gotten into a smart, open and clutter free way of organizing your home.
If we don't use it; we sell or donate it. I refuse to waste my time sorting, stacking and buying new and bigger packaging for junk.
We do use cardboard boxes for very limited storage but are smart about it. They're used in places where we don't have pipes running and are kept off the ground so leaks and drips aren;t an issue.
We go through everything at least once a year and if we don't use it; it goes. We replace boxes and recycle the discarded boxes into our compost.
Coffee cans/plastic cans are excellent for all kinds of storage and freezing items too. They even have built-in handles!
We buy mostly organic foods in the bulk section. I store them in reused containers from the same items instead of buying new plastic containers and throwing out perfectly good and pre-labelled containers. For ex, I refill a nice oatmeal container with fresh from the bulk section. That way I recycle, save money and don't waste time relabelling generic storage containers. If I don;t have a container to reuse; I use a coffee can.
Only keep one or two extra of something and donate or sell the rest. Don't buy more plastic boxes to hold more junk you don't really use or need.
A few dollars here and there adds up to hundreds of dollars in storage containers so you can lug around tons of junk you never really use anyway.
Read More Comments
I have another use for cardboard, if you have a sick dog that throws up in the house or a person who does not make it to the bathroom, cardboard is a a good scraper. I take a piece of cardboard, tear it in half so that I have two pieces, then scrape.
Read More...
We have seen the amount of paper and cardboard a family receives in the shopping of food and other things, so we decided one day; "Let's see how we can use this for good things in the everyday life."
March 9, 2013
0

found this helpful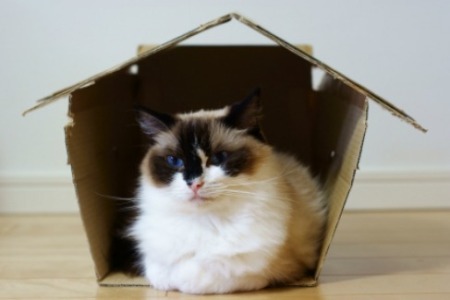 Recycling your cardboard boxes is a great practice, but don't forget that many of them can be reused in your own home. This is a guide about uses for cardboard boxes.
Read More...
Questions
Ask a QuestionHere are the questions asked by community members. Read on to see the answers provided by the ThriftyFun community or ask a new question.
Does anyone have a use for the heavy cardboard backs from kid's puzzles? Our dog chewed up a bunch of pieces from my son's puzzles, but it seems like there could be another use for the backs of them. Any ideas?
By Liz from Charleston, SC
December 24, 2009
0

found this helpful
Maybe your son could draw or color a page out of a coloring book and you could make a new puzzle using the back of the old one. Some are brightly colored; maybe a type of frame your his artwork.
January 4, 2010
1

found this helpful
If you got some peel and stick cork and cut to fit, you could make a small bulletin board. I would even try painting the center with blackboard paint(a couple of coats, letting dry in in between) to make a slate size chalkboard.
April 15, 2011
1

found this helpful
They can be glued onto a cheap frame or made into a frame and then spray painted. Make great Christmas decorations with child's photo inside. Use several layers to add depth.
July 17, 2014
0

found this helpful
You could also, take another piece of cardboard, around the same size, or even a little larger, as long as the second piece "over-lapses" the puzzle frame. Then, have an adult cut the edges, of this second piece, with something like a "Stanley or razor knife", so it fits snugly into the puzzle frame. Invite your child and/or grandchild to draw an original picture. When the young artist has finished his/her masterpiece, glue the finished work onto the newly carved cardboard. After the glue has set, (may be best to let dry overnight), cut the picture into any size and shape pieces, you like, and viola! You now have a new, one-of-kind, hand-crafted puzzle.
Photos
Share on ThriftyFunCheck out these photos. Click at right to share your own photo in this guide.
I use cardboard squares, which I cut out of cartons, etc., to put in the corner of the guinea pig cage and also in the ferret cage. These animals usually pick a couple of places to go and go there all the time, making this idea work. I just throw away the soiled square, it is so easy.
The squares, in a bigger size also work great for the bottom of the litter box, covered with baking soda and then the litter poured over it. I do this for the litter box most of the time. When it is time to change the litter, there is already a tool to scrape the box out with :).
My ferrets refuse to use the litter box, they are free spirits. Look at Stinker, or Tinker, trying to get out of the cage instead of take her daytime nap.
I would already be tearing up cardboard to throw away anyway, so this gives it an extra use before it gets burned or ends up in the landfill.
I also use cardboard squares in the garden to keep weeds from growing. I simply put them in a place and cover them with dirt. I usually dig a moat-like thing around the cardboard square, then use the dirt from that. Then I plant on top of it. I have a picture of a potato hill I made this way, only using an old dog blanket. Of course, this is my yard, where my favorite flowers, Morning Glories have free reign, and they take over everything. They are taking over the potato hill, and then the bugs on the potatoes are killing the plants, but I enjoy the circular flower beds, with no regular weeds in it, anyway.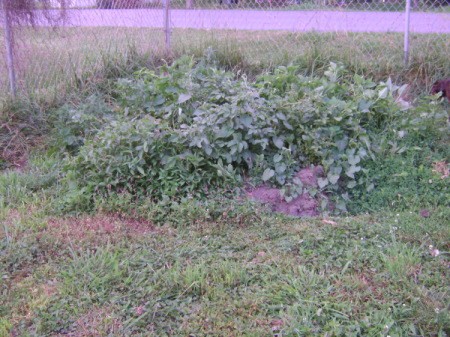 I might end up putting the cheap solar lights from Walmart around this potato hill, as a kind of funny thing. I will do it in honor of my Dad, who was an innovator, an inventor, an engineer, and a nurse. I love, and remember him, especially this time of year, since this is the 8th anniversary of his passing into heaven. He once considered putting a fake UFO in the backyard, but decided against it, but I still remember he wanted to do that.
By Robin F. from Hampton, TN
June 15, 2011
0

found this helpful
Really nice ideas and great story for sharing. Your father sounds a lot like my husband. It's fun living with a person whose mind is just so full of wonderful and inventive projects. Every day is a new adventure.
Thank you Robin.
Pookarina
Read More Comments
Archives
ThriftyFun is one of the longest running frugal living communities on the Internet. These are archives of older discussions.
September 24, 2010
0

found this helpful
Get unlimited cardboard from fast food places. You can put some in your pet carrier under papers. Also put papers on cardboard in the area you keep pet, just in case it is not REALLY well house broken!

By Bill from Indiana
Answers:
Cardboard For Easy Pet Cleanup
I have been using McD's fry boxes to move in - I have to buy shipping tape to "remake" them because here they fold them down flat and put them in a little fenced area on their parking lot! I will eventually get 2 or 3 emptied at a time and as I do, I will cut the tape and flatten them for easy storage!

By the way: I usually have great things to say about Dollar General but their shipping tape isn't worth it! It doesn't want to stick well to these fry boxes and I have seen it fall off! Save yourself the bother with their brand tape and get Scotch. Yes, it's higher priced but you won't end up with boxes breaking open! (11/08/2007)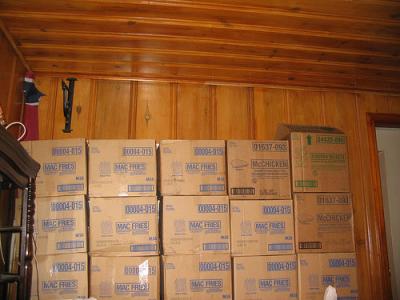 Related Content