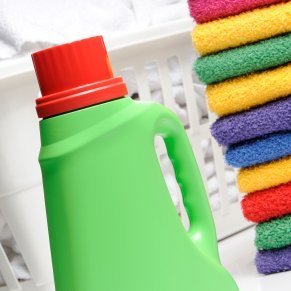 When you finish a bottle of laundry detergent, consider saving the cap. Those durable plastic caps can be put to use in many different ways. This is a guide about uses for laundry detergent caps.
Ad
---
This video teaches you how to make an adorable pincushion out of a laundry detergent cap.
Solutions: Uses for Laundry Detergent Caps
Read and rate the best solutions below by giving them a "thumbs up".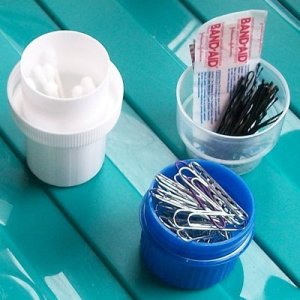 The house I live in does laundry a lot. And, they didn't recycle till I showed them the error of their ways.
So, instead of tossing these in the bin, I put them to good use. Here is an example of the things you can do with these wonderful lids!
Can you think of about a bazillion more?
By Poor But Proud from Sweet Home, OR
Air freshener dispensers and some laundry products have colorful caps. One way of reusing them is to use as luminaries or candle holders. We save the Christmas scented air freshener caps of green and red as well as the other colors and put tea candles in them and set out in kitchen, bathrooms, etc. We also find them quite useful in the warmer months outdoors. We use them on the picnic tables and enjoy sitting outside in the evening.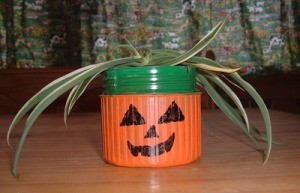 I made this planter out of an empty detergent lid. Just paint it and plant. You could use spray paint or I like to use model paint. I used a sharpie to make the face of the jack-o-lantern. Happy Halloween!
By luv2craft from Normalville, Pennsylvania
The lids from the Wisk bottles make the best cookie cutters for kid playdough-just right for little hands.
By Melanie Mom2_5 from IL
Extra laundry soap measuring cups make great bath tub toys. So do the plastic lids off of bottles of things like Wisk. When they get gunky throw them out.
By Melanie Mom2_5 from IL
From the Laundry Room to Snowmen!
Save those big caps from your Liquid Laundry detergent bottles. Wash them out good and turn them upside down (so it looks like a cup). Add 2 coal eyes (black pom-poms) and a carrot nose (orange felt, craft foam or clay) and you have a snowman favor cup for holiday entertaining. Start collecting the lids now for holiday crafting.
By Gail
Give a "thumbs up" to the solution that worked the best! Do you have a better solution? Click here to share it!
Questions
Here are questions related to Uses for Laundry Detergent Caps.
What can you do with left over laundry detergent caps?
By Padi
AnswerWas this interesting? Yes No
Ad
---
---
Most Recent Answer
By Sandi/Poor But Proud [446] 11/09/20110 people found this helpful
Never the trash, please. They won't biodegrade till your kids have grandkids!

http://www.thriftyfun.com/tf81527112.tip.html. This is one I posted last year. I hope this and all the imagination you can muster will give you ideas.

They can be used in the office, craft room, bathroom, shop, or even the car. Every can't find any quarters in your console or want to keep them in the cup holder? This you can lift out and use without having to scoop them out when you are in a hurry or in a dark car.

Another is spot spackling nail holes then later using a bit of paint to spot paint. The ideas are almost endless.
PBP
---
The question this morning about laundry powder scoops got me to thinking about the amount of plastic in my house. I use a lot of liquid laundry detergent and dishwasher soap. Can someone tell me a good way to reuse these bottles and caps? I reuse buckets and bowls for storage of small things.
AnswerWas this interesting? Yes No
Ad
---
---
Most Recent Answer
By Cora [1] 05/21/20100 people found this helpful
I washed my large laundry detergent lids and let the kids play with them in their bath.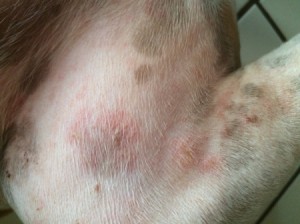 ---
Archives
Thrifty Fun has been around so long that many of our pages have been reset several times. Archives are older versions of the page and the comments that were provided then.
I have a stash of items that I need ideas of how to use them rather than throwing them away. What can I do with liquid laundy detergent caps?
Thanks for any ideas.
Michele
---
RE: Uses for Liquid Laundry Detergent Caps
You won't believe that I also collect the caps from laundry detergent bottles and have no idea why! I keep the spherical ones on the window sill - and sometimes use them to water house plants. I thought I would paint them in bright colours to make a costume jewelery necklace.
I had it on my mind to collect lots of frosted plastic and make my very own contemporary sculpture (I even bought silver spray paint!)
I collected toothpaste lids and perfume lids, and clothing packaging AND I WILL MAKE THAT SCULPTURE (one day). If you have any good suggestions please let me know! I'm 5,000 miles away from you, but you're a true spendthrift (like me). (05/23/2005)
By Julie UK
RE: Uses for Liquid Laundry Detergent Caps
Drill tiny holes on both sides, wire 2 of them together, you have xmas decorations for outdoor use. Paint them different colors, give them to the kids to use as large checkers for checker game. (05/23/2005)
By Rosa
RE: Uses for Liquid Laundry Detergent Caps
You can store small things like paper clips, safety pins or push pins (thumbtacs) so that they are easy to get to. Decorate by gluing a ribbon around it. Maybe you could poke a hole in the bottoms and start seedlings in them. (05/24/2005)
By Debbie
RE: Uses for Liquid Laundry Detergent Caps
This could be used for individual party favours. Drill a hole on each side and use a chenille stems (pipe cleaner type) to thread through to form a handle.
Make little bedside flower arrangements for patients in nursing homes.
Use in medicine cabinet to hold a tube of tooth paste. (05/24/2005)
By Syd
RE: Uses for Liquid Laundry Detergent Caps
You could use those tops to slowly water your house plants by putting a small hole in them and then put in your house plant and add the water, it would trickle out gently and water your house plants. Like the one lady, I use mine for small items. The bottles usually make good scoops if cut right. They also make good planters. Good luck! (05/24/2005)
By jaxi3
RE: Uses for Liquid Laundry Detergent Caps
Use them as sand toys for children. (05/24/2005)
By Katie A.
RE: Uses for Liquid Laundry Detergent Caps
If you have a daughter who plays with Barbie dolls. Use detergent lids to make planters for Barbie's apartment. Put in some modeling clay & a plastic bush, shrub or tree. Allow the modeling clay to dry.
Decorate the toothpaste lids with markers, etc. and drill a hole thru the lid and string to make necklaces with the lids. (05/25/2005)
By badwater
RE: Uses for Liquid Laundry Detergent Caps
I use them in my own personal tool box to store nails and screws and such. Lipstick stands up great in these. Children can cut circles in play-dough or trace circles on the outside of them. Also, they can used as a hat for a snowman that you already have or one that you would like to make. (06/02/2005)
By suzi homemaker
RE: Uses for Liquid Laundry Detergent Caps
Sometimes, if a knob breaks off of an appliance or etc. you can attach a toothpaste lid or other small lid with strong glue or a screw. You might even spray paint the lid to match the appliance, before attaching. (06/14/2006)
By AnnMel
RE: Uses for Liquid Laundry Detergent Caps
They can be marked and used for 1/4 to 1/2-cup measures for camping trips, rather than use your good kitchen measuring cups. (02/13/2007)
By Dale in DeLand
***
Laundry Detergent Caps For Bathroom Cups
*** One way we reuse the caps from liquid laundry detergent bottles is in the bathroom: we use them to rinse our mouths after brushing our teeth. Not only are they unbreakable, they are easy to wash by hand or in the dishwasher.
Most of them even match our decor! :)
By Laura from Long Beach, CA
---
RE: Laundry Detergent Caps For Bathroom Cups
I love recycling/re-purposing, but don't these caps always smell of laundry detergent? (seems the detergents are heavily scented). Just curious. (02/28/2008)
By Squirrley
RE: Laundry Detergent Caps For Bathroom Cups
I'd check to make sure that this plastic is 'food safe'. YIKES! (03/01/2008)
By Deb