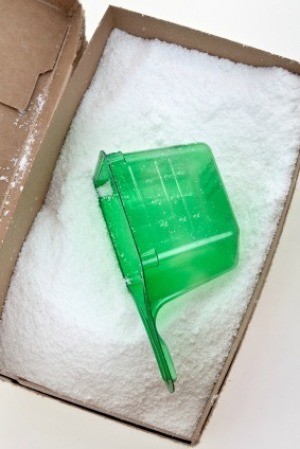 Scoops from laundry detergent: The ones I have are transparent green, and checking how much they hold (mine holds 1 cup of liquid) I use them as extra measuring cups when baking. So many times you need to use your 1 cup measuring cup several times. Now I don't have to clean it between ingredients.
By BrendaLea
Read More

Comments
Looking for ideas to use those plastic laundry scoops from powered detergent. Any ideas?

hben4me from Dalton, GA



Answers
October 5, 2007
0

found this helpful
All these ideas are great! I use liquid laundry drtergent so I don't need them. My daughter in law uses tide so I will pass these along.
October 5, 2007
2

found this helpful
I just thought of something. When my boys were little I remember my plastic drinking tumblers landing in the sandbox. Seems an excellent place fo a nicely washed laundry soap scoop.
October 8, 2007
1

found this helpful
You could also donate them to a school for use in the science lab or art room. I use them in my lab for a variety of things -- where one might use a glass beaker, often these plastic scoops will work well, and cost nothing. I use them as mixing pots for plaster of paris, and also for water cups for water color painting. I use many recycled items in my science lab -- small measuring scoops from iced tea as mini beakers, baby food jars, large pickle jars, ice cream pails, cottage cheese containers and lids, stryofoam trays of all sizes
all sorts of things.
By Mary Stewart (Guest Post)
October 10, 2007
1

found this helpful
I hope you all dont get tired of hearing from me, LOL. I really am not a snobby know it all, I just am a frugal stay at home mom. But we have used the scoops for planting seedlings, cut the handle off if you want to and poke holes in bottom and viola. hehe...Mary
By hben4me (Guest Post)
October 11, 2007
0

found this helpful
Thank you for you ideas,
Keep the Gift or Craft Ideas coming. As the Holidays approach I am looking for Ideas that I can use for about 50 Seniors and 25 pre schoolers in the community and 35 co -workers Male & Felmale @ my husbands work. so there fore it needs to be broad based but yet crafty.
Thanks again
hben
October 11, 2007
1

found this helpful
I use mine as dog food scoops. I can measure them easily and when they get cracked, I always have more. I also use them when measuring in the garden. Hope this helps.
Answer

this Question