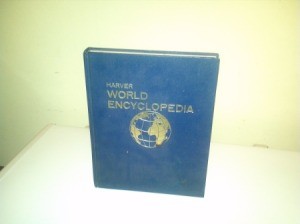 Outdated encyclopedias are not necessarily worthless, get creative and repurpose or craft something using these sturdy books. This guide contains uses for old encyclopedias.
Ad
---
Solutions: Uses for Old Encyclopedias
Read and rate the best solutions below by giving them a "thumbs up".
Most of the time old sets of encyclopedias are worth nothing. If the sets are very old there might be some artistic quality in the old pictures that are in them. For instance pictures of cities in the 1800's or even more recently. These pictures could be cut out, enlarged and put in frames. Especially pictures of places that have changed or no longer exist. I am not sure about copyrights pertaining to them but if they are for your own use or for children's projects and not for selling it probably would be fine.
By Lilac from Springfield, MA
Since old encyclopedia sets are hard to sell and no one has the space for them anymore, individual volumes make great "birthday" or event cards. Give the volume that is the initial of the person and say something pithy on the inside. As a joke I gave the S volume to a friend we dubbed the snake oil salesman - tabbing the Snake article of course!
Give a "thumbs up" to the solution that worked the best! Do you have a better solution? Click here to share it!
Questions
Here are questions related to Uses for Old Encyclopedias.
We have several sets of old encyclopedias and we want to donate them. Who can we contact?
By Pat
AnswerWas this interesting? Yes No
Ad
---
---
Most Recent Answer
By Lelia Jo Cordell 51 1,936 05/17/20110 people found this helpful
You might ask any missionary organization you know. We caught an encyclopedia set on FreeCycle last year, and contacted our church. They were more than happy to take them for their Philippine faith-based school.
---
I would like to sell a set of 1985 Collier encyclopedias or find a good home for them. Any suggestions?
By Marge from central NJ
AnswerWas this interesting? Yes No
Ad
---
---
Most Recent Answer
01/28/20100 people found this helpful
Take them to your local library. Even if that branch doesn't need them they will pass them along to another branch or a charity.
---
My mom has a complete set of World Book large print dated in the 50s. What can she do with them?
By Jennifer
AnswerWas this interesting? Yes No
---
Most Recent Answer
By cybergrannie [32] 02/05/20150 people found this helpful
It is sad but there is almost no place to dispose of these sets but you can check out eBay, Google sites, and maybe Craigslist. It is sometimes very difficult to even give them away - library sales will not usually accept sets. But, try Free-cycle in your city to see if anyone would like to have them.
---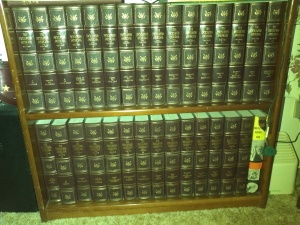 We have a 30 volume set and wish to find someone who would want it or know what to do with it besides put it in the dumpster. Anyone have any ideas, please.

By Marilyn
AnswerWas this interesting? Yes No
---
Most Recent Answer
By Jason W. 07/27/20130 people found this helpful
Hi, I've been looking for a set of encyclopedias that I used to have as a child and used all the time. Sadly, I cannot remember the name of them. These look similar to them, but I cannot be sure. Can you tell me, does this particular set have summaries of great works of literature at the end of each book?
We have an old set of World Book encyclopedia and Childcraft with several yearly updates. Is there anywhere we can donate them?
By Cindy H from western IA
Archives
Thrifty Fun has been around so long that many of our pages have been reset several times. Archives are older versions of the page and the comments that were provided then.
I have a 30 year old set of Encyclopedia Britannica in almost pristine condition. I must downsize and dispose of them. I have called thrift shops, rescue mission, library and no one wants them.