This idea can be used all year as well as Christmas. I gathered branches and made sure all the leaves were off and spray painted them white, I found a basic vase, that would accept the white spray paint, I found the little twinkle lights and put those on the branches after they were dry.

Of course, use caution when using the electric lights, also it is still pretty without the lights, look through your decorations or old jewelry to see what you would like to hang from the branches, you can use pretty ribbon, I used mostly clear decorations, and now all year I look for small things to hang on the branches. You can decorate the branches for Easter or just for fun. Also the branches look great with their natural color.
It's a fun idea for kids to help with the decorating part, they could make paper chains all in white or cut snowflakes. You may need to weigh down your vase and branches with rocks in the bottom. This idea can be cheaper than a tree and be used all year, enjoy.
By Kersti from Bellevue, Wa.
By guest (Guest Post)
December 11, 2005
0

found this helpful
Its funny that you should mention this because this is an idea that I have had but never executed... My mother always made the Easter Egg tree for that holiday and I dont see why deciduous trees cant be used for the Christmas holiday as well. What a great alternative to spending $30 for a live tree! I prefer the natural look so I dont think I'd spray paint mine... for me... less is more... If you know what I mean... smile
Read More Comments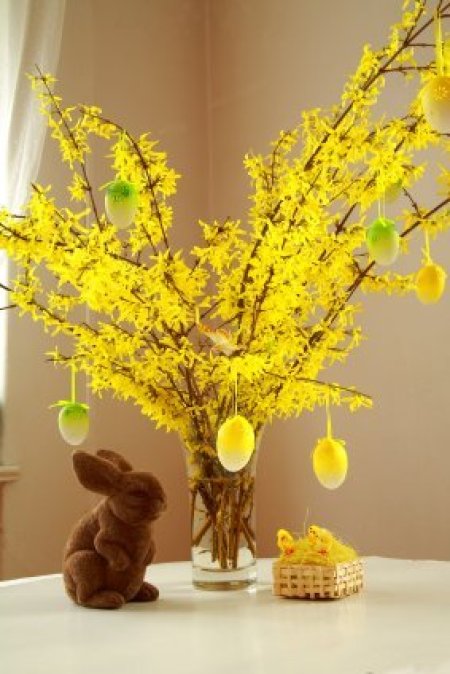 Say hello to spring this year by cutting a few branches from flowering trees and coaxing them to bloom for you indoors. Many woody plants can be forced into early flowering early, including forsythia, pussy willow, fruits trees, witch hazel, spirea, quince, and even lilac.
Read More...

Collect various branches or smaller limbs and spray paint them black or your choice of colors and secure upright in a flower pot suited to its size in cement.
It may be used to display your favorite objects that would become weather worn if left out during the off season.
By melody_yesterday from Sedalia, MO
By guest (Guest Post)
July 26, 2006
0

found this helpful
we did the same thing when I work for a florist for a wedding only smaller known as a money tree for the couple
Read More Comments