Forcing Branches To Bloom
Solutions
Share on ThriftyFunThis page contains the following solutions. Have something to add? Please share your solution!
March 20, 2012
2

found this helpful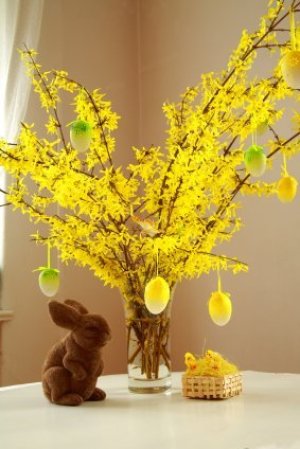 Say hello to spring this year by cutting a few branches from flowering trees and coaxing them to bloom for you indoors. Many woody plants can be forced into early flowering early, including forsythia, pussy willow, fruits trees, witch hazel, spirea, quince, and even lilac.
When to Collect Your Branches
Flowering trees need a dormant period of rest and cold before they will flower-most need at least 8 weeks. The length of dormancy needed varies by species, but cutting branches in early February will work for most. Early bloomers like forsythia and flowering quince can be cut in late January to early February. Later bloomers, like Crab Apple and Honeysuckle should be cut in from mid-March to early April. As with all tree species, the closer you cut them to their normal bloom time, the faster the branches will bloom indoors. Most will take between 2 to 5 weeks to force into bloom. For a succession of color, try cutting various branches over the course of several weeks. Here is a general guide of when branches should be cut:
Late January to early February: Cornelian cherry, forsythia, flowering quince, witch hazel, poplar, willow)
February: red maple, alder, birch, quince, cherry trees, rhododendrons and azaleas (later in the month), pussy willow and wintersweet.
Mid-March to early April: hawthorns, Honeysuckle shrubs, Callery pears, apple trees, crab apple trees, mock orange, oaks, lilacs (late March to early April), redbud, and spirea.
Forcing Branches to Flower in 5 Easy Steps
Gather the following supplies:
a pair of sharp hand pruners
bucket or pail of lukewarm water
packet of floral preservative or a few drops of chlorine bleach
container for displaying branches
Cut branches during the warmest part of a mild day, when buds have the most sap. Select several medium-size branches with well-formed buds and cut them diagonally above a bud in 2 to 3 foot lengths. Look for branches containing multiple new flower buds. They are typically plumper and rounder than the leaf buds, which are usually slim and pointy and positioned closer toward the stem.
Slightly crush the ends of each of the stem to maximize their water uptake and remove the buds from the parts of the stems that will be underwater.
Submerge the cut end of the stems in a pail of lukewarm water. Add a drop or two of chlorine bleach to prevent the growth of bacteria.
Set the pail in a cool place (50 F to 65 F) for a week or two. Warmer temperatures may cause them to break dormancy too quickly and result in the flowers not opening properly. Change the water every 4 to 5 days.
As soon as the buds start to swell, transfer the stems to your water-filled display container for arranging. Add fresh water and a floral preservative to extend their "vase life". Set the container in bright, but not direct sunlight (65 F to 70 F). The warmer the room, the faster the buds will open. For a longer display life, move the container to a cooler areas at night.
For me, one of the hardest parts about spring (besides keeping the mudroom clean) is the endless waiting for it to get here. The arrival of March (at least here in zone 4) brings the first few promises of spring-the sun is noticeably higher in the sky and the snow at the base of neighborhood trees is starting to recede. Too bad March also brings a huge case of 'garden fever.' The cure? Forcing spring branches may be just what the doctor ordered.
Cut
The process of cutting and forcing woody branches is a simple one. Pick a warm, sunny day approximately 6 to 8 weeks before the branches would naturally bloom to cut them. Not only will the warm temperatures be more comfortable for you, but it will also get the sap running in the branches, making them more 'awake'. Using a very sharp scissors or shears, select 4 to 5 branches with plenty of buds, and prune them to a length of 1 to 2 feet (1 to 2 year-old branches generally have the most buds).
Soak
Submerge the branches for 2 hours in a sink filled with lukewarm water. Soaking them will help loosen up the bud scales and wash away any remaining dirt and debris. After soaking them, trim away 2-3 cm from the cut end of the branches at an angle, and use a rock or other heavy object to gently crush the end (this will encourage increased water uptake). Over the next few weeks, you may need to trim the ends again to keep the water uptake flowing smoothly.
Forcing
What to do with the branches next is somewhat open to debate. Some gardeners like to arrange their branches in a vase immediately, thus preventing the disturbance of the delicate buds when they open later on. Others keep their branches in a bucket until they open, and then move them to a vase. Personally, I like the look of sparse branches even before they bloom, so after a few transitional days in a darker room, I usually move them to a room with brighter light to display them right away. In any event, be prepared to exercise a few more weeks of patience before you see any buds start to pop.
Moisture
Some gardeners also store branches covered with ventilated plastic wrap to keep them moist, while others mist them daily with a squirt bottle. The important thing to remember is to keep the branches (and swelling buds) from completely drying out. This means keeping them away from heat vents and out of direct sunlight, ensuring that they take up adequate water and that the buds stay somewhat moist. An ideal room temperature for forcing is about 65-70 º F and water in the vase or bucket should be hanged every 3-4 days (or when it becomes cloudy). Adding a few drops of mouthwash, bleach or a packet of flower preservative to the water will also help retard bacteria growth.
Timing Is Everything
Mother nature can't be rushed, but the closer you cut your branches to their natural bloom time, the more quickly they will open. The amount of time necessary for forcing depends on many things: last year's moisture levels, the period of dormancy needed, light, temperature, and the plant's own hormones. In general, pussy willows and forsythia are usually the earliest to emerge (in 2-6 weeks).
Good Candidates for Forcing
azaleas
beauty bush
beech
birch
cherry
crab apple
dogwood*
flowering quince
flowering almond
forsythia
honeysuckle
lilac
magnolia*
peach
pear (beware of their fishy odor)
pieris
plum
pussy willows (once open, move to dry vase)
redbud
red maples
rhododendron
service berry
spirea
witch hazel
* More difficult to force.