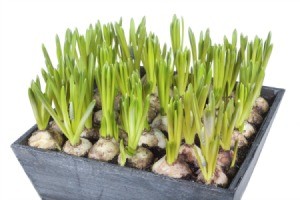 Question:
I'm forcing a couple of hyacinth bulbs indoors and I've dug them up from the flower bed, gently washed the bulbs and roots and put them in a pretty glass vase with water. Now, my question is, should I use some Miracle-Gro Quick Start in the water so they can have some nutrients or not? And, if so, how much Quick Start should I use? Thanks for any help you can give.
Linda from Ely, NV
Answer:
Hi Linda,
I've never used Miracle-Gro Quick Start for forcing bulbs, but it shouldn't be necessary. The most important step for forcing hyacinth bulbs is to give them enough time in the cold and dark to develop an adequate root system. Yours may have been "pre-chilled" and developed some roots in your beds over winter, but you're still going to want to give the roots more time to develop. Hyacinths should have 12-14 weeks of darkness at 40ºF to develop their root systems before being allowed to bloom. Yours have had a bit of a head start and may only require 8-10 weeks. More roots equal taller stalks and bigger flowers. If you skip (or shorten) this step, the hyacinths will not fully develop. You'll be able to tell because they will send up very short stalks that will begin to open and bloom when they are just barely out of the bulbs. I learned this the hard way this winter after chilling some in my basement. I tried to shorten the process and I ended up having to put them back in the basement to let them develop for a longer period of time, even though at the time, they appeared to me to have a mass of roots.
To chill your bulbs you can put the whole vase in the fridge, just keep fruit out of the fridge during the process (the off-gassing will harm the bulbs). The occasional light from the open fridge won't bother them. After their cold/dark period, move the vase to a bright, warm location (not direct sunlight). The bulbs will bloom about 5-6 weeks after they sprout. You can also pop them in the fridge at night during blooming to extend the life of their flowers.
Ellen