Whether you create your own or find good deal, there are numerous ways to have inexpensive wall art. This is a guide about saving money on wall art.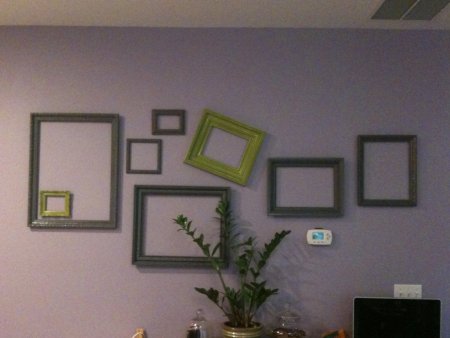 Using acrylic paint and 2 old frames (with glass), you can create 2 fun, unique pieces of wall art. No art skill necessary!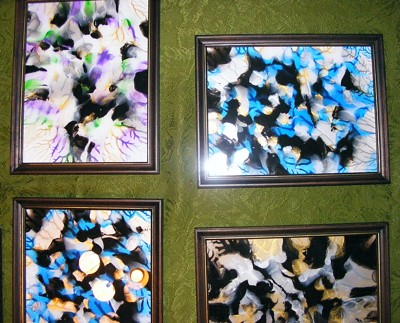 Approximate Time: 1 hour (including dry time)
Supplies:
squeeze bottle acrylic paint
2 frames with glass
newspaper
gloves (optional)
rag or paper towels
background paper
Instructions:
Take apart frames and remove glass from both. On spread out newspaper, carefully clean both sides of the glass (using gloves, if desired).
*Remember, frame glass is unfinished on the edges, so be really careful!

Once the glass is dry, randomly squeeze colors of your choice on one piece of glass. (Have fun with this part, but don't overdo how much paint you apply, or you'll have a big mess!)
Lay your second piece of glass over the paint and begin pressing the paint toward the edges of your glass. Once the paint is covering all four corners of your glass, CAREFULLY separate the glass without sliding the paint.
Lay glass paint side up to dry. While the paint dries, you may want to spruce up your frame, mine were old wooden ones, so I did a quick coat of black paint.
Some of my paint was transparent when it dried, so I used a piece of copy paper between the paint and cardboard backing of the frame. Secure the backing, hang and enjoy your 2 new pieces of beautiful wall art!
By Jenn from Vineland, NJ
By lalala... 731 97
Over the last few months, I bought a handful of interesting picture frames from second hand stores. I then spray painted them various colors and hung them on the wall in our dining room to add some texture to a large blank wall. The arrangement adds some more color to the room and has a funky feel. :)
In addition, I have periodically hung seasonal art that the kids have brought home for fun too.
By Laurel from Port Orchard, WA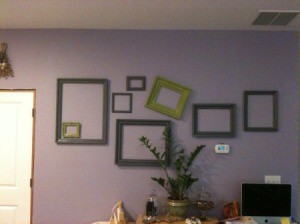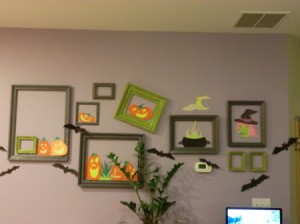 This is a guide about repurposing calendar pictures. Continue to enjoy your favorite calendar pages, even after the year is over, by displaying them another way or using them for crafts.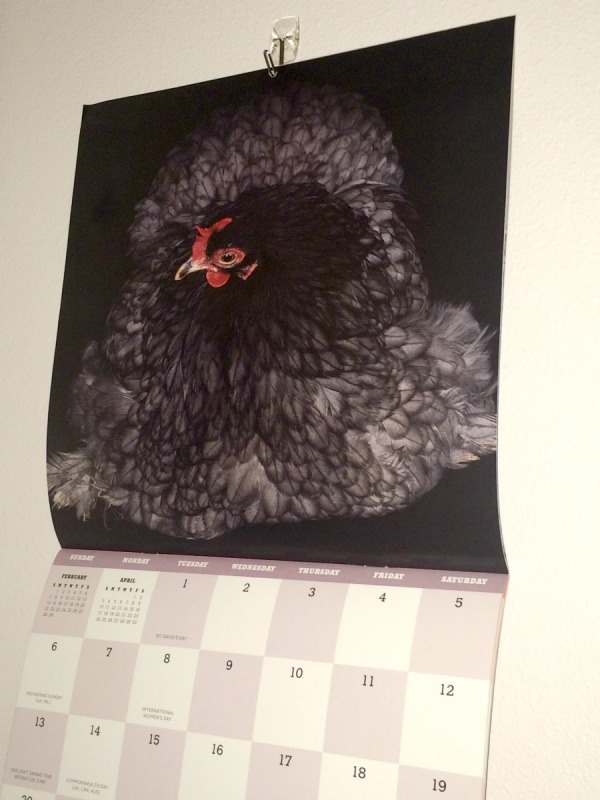 What are some inexpensive do-it-yourself ideas for one-of-a-kind wall art? I'd like to make my own unique art for my home, but I get intimidated by those big blank canvasses at the store. They make it look so easy on decorating shows, but I can never remember how to do what they show on the shows. Any ideas?

Rhiannon from Athens, GA
---
Most Recent Answer
September 23, 2008
Never let a blank canvas intimidate you. It's just 4 pieces of cheap wood, some cloth, and a few staples. What's so intimidating about that? ~;0)
Seriously, though. What about silhouettes? They don't have to be black, they can be any color or even a combo of colors. The intensity of paint color you use it up to you. They can be bold or they can be soft.
There are literally thousands of silhouettes available for purchase, or even for free online. Any thing, image, idea, etc. can be turned into a silhouette. It's just a "shadow" of something.
If you have a camera, start looking at the shadows flowers and leaves and other things make. Take pictures. Those "shadows" can make really unique and interesting paintings, and painting this way, using only 1 or 2 colors that need no blending is a great way to start.
If you don't want to try your hand at painting them, then cut them out of paper or fabric and 'glue' to the canvas with mat medium, then cover the whole thing with gloss medium/varnish when thoroughly dry.
Any kind of paper or fabric can be used, mix prints with plain, oragami papers, papers with texture, mags etc. Use colors that are already part of your home decor palatte. You can make an entire floral still life (for example) out of different papers or fabrics ending up with your own unique one-of-a-kind collage artwork.
Scour the internet, especially the home decor/design websites for TONS of great ideas. Think outside the box and get creative!
---
By VeronicaHB 87 12
A bare wall is a blank canvas waiting to be decorated. However, art can be expensive. I have found that I can decorate my walls at little or no cost simply by using photos from books or magazines.
Cheap picture frames can be found at Dollar Stores, yard sales, and thrift stores. I cut out and mount pictures from magazines I subscribe to or find free at various locations.
A local library has over-sized books available at their book sale for $1. The book covers are well worn or damaged but the pages inside are usually in good condition. Nature and gardening books often have beautiful pictures in them that look fantastic when framed.
I can very inexpensively create a wall of pictures that relate to things I'm passionate about, such as nature scenes, animals and flowers. I like to frequently alter my decor but my budget doesn't allow me to purchase new room accessories very often.
Just placing new "free" pictures on the wall will alter the atmosphere and appearance of a room. Temporarily removing standard pictures and replacing them with holiday pictures is an inexpensive way to decorate for Christmas.
By VeronicaHB from Asheboro, NC
By Shannon 58 25
If you are on a budget, but want some really pretty art work for your walls, I have a tip for you! All you need is an 8 x 10 picture frame from your local dollar store, ($1.00) and a magazine with pretty photographs in it.
Find a picture in the magazine you like, carefully rip it out, and put it in the frame. When you hang it on your wall, it looks like a really pretty photograph, or art poster.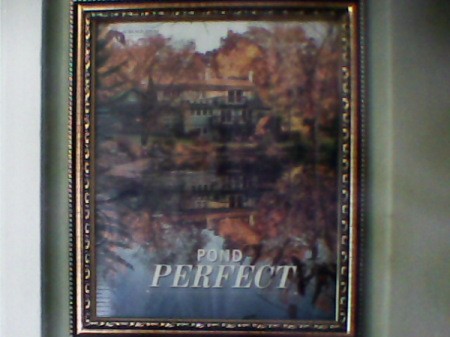 I always find really nice place mats at local thrift stores. I like ones made from straw, seagrass, and other materials like that. I really like the ones that are loosely woven so you can see through them. I have some round ones in a natural shade hanging vertically on my mocha brown living room walls. They look great! Velcro works well for mounting them against the wall. I also have round, black ones hanging horizontally in my dining room, side-by-side, touching each other. Looks really good with my black furniture. They cost 75 cents each for a total of $3.75 and make quite a statement!
By dusty6788 from Silver Spring, MD
Want to have beautiful artwork to hang on the walls, but have a tiny budget? With a computer, printer and the help of colored pencils all things are possible. Go to a site such as art.com and find whatever artwork moves you. Select it to print in grey scale. Print it out and use colored pencil to flesh out the piece in the way that you would like to see it. It gives the illusion of a fine watercolor. Buy a cheap frame, like at target they have 2 for $2.99 called document frames and hang. They are beautiful and are the first thing everyone notices when entering a room.
By Suzanne S.
By Cyinda 214 1,287
Hang a large rug (as art) on a wall that faces the outside of your home to help save energy and help keep out noise. A rug will also help keep a bedroom quiet if hung on an inside wall.
This is especially helpful for those of us who live in mobile homes because the bedroom walls are so thin. I hung a new 100% wool rug on a north facing wall to help with energy saving in the winter, and on a south facing wall in my bedroom to help keep out summer heat. This has saved me quite a bit of energy.
For extra floor insulation a large rug can be placed on top of your wall to wall carpet, and smaller washable rugs help insulate a bare kitchen floor. You will get added insulation if you put a rug pad behind the rugs.
By Cyinda
I created this book art when decorating my son's farm bedroom. Since we went with a down on the farm theme, I wanted to incorporate some of his favorite books in artwork.
First, I color photocopied his favorite book (front cover only) at Kinkos: size 8-1/2 x11 size or 11x14. Second, buy a pre-stretched canvas board slightly bigger than the photocopy. Third, paint background with the matching colors of the picture or paint one color. Let dry. Glue photo copy down on canvas. Dry again. Put picture hooks on back and hang up in bedroom. Costs less than $6 per art work and only 1 hour to make. With coupons, it's even cheaper. Have fun! By Kerry from Flat Rock, MI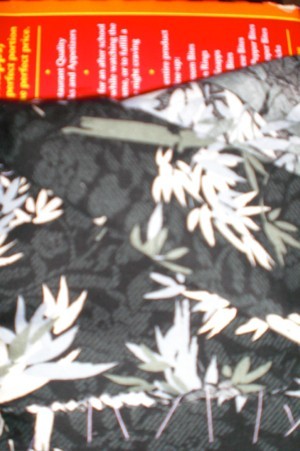 Use empty kitchen cardboard as a pallet to display favorite fabrics!
Open the box all the way so that it will fold down flat.

Tuck in the tabs so you have a nice smooth edge (or you can trim them off with scissors)

Pick a fabric you like and adjust it to fit the collapsed box.

Stitch fabric in place (fold it around the same way as you would wrap a gift)

Whip stitch it closed on all open sides.
As you can see at the bottom of the picture, I used large stitches. This is so if I decide later I want the cloth for something else, it will be easy to remove to use again. I am unsure right now how I will hang this on my wall but I think maybe I will attach them together with a nice matching cord so that they hang down together in a vertical row, requiring only one hang tab, largest at the top then the next size, and so on to the smallest one.
By Melody_yesterday from Otterville, MO
My son loves Roy Rogers, and I've looked at prints and posters to decorate his room with, but most are a little pricey for a momma on a budget. While I was walking through the dollar store the other day, I noticed a gift bag that just happened to have a cute, good-sized tinted photo of Roy Rogers and Trigger, one on each side. I cut them out and framed them in dollar store frames. Two framed pics for $3.00, instead of $30.00.

So, look over those cheap, but cute giftbags and grab your scissors. Butcher a bag!

By Gina J. from CO
When looking for a fun new piece of artwork for your laundry room (or any room really), think outside of the ordinary. Take old patterns for clothes (50's, 60's and 70's styles are really neat) and frame the fronts. They are fairly close to standard sizes for frames and easy to trim down. Just frame and hang. When you get tired of one, switch it out! Easy and cheap, these are usually fairly easy to find in thrift stores and at yard sales.

By lifewithmadman from Little Rock AR
By pam munro 522 790
People are always asking about decorating walls - I just saw a great easy project at kodak.com. Search for "Digital Wall Art" at their website.