A well organized kitchen makes meal preparation and grocery shopping easier. Keeping your canned goods organized will help to know when you need to replace that product and may even be helpful in last minute meal creation, or off the shelf cooking. This is a guide about organizing canned goods.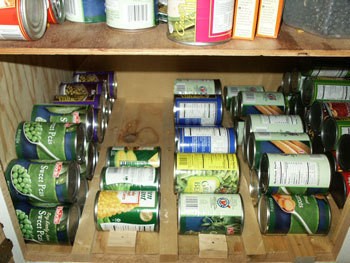 Filter

: All Articles
Sort

: Relevance
I was putting my cans in the pantry from a recent trip to the supermarket and decided to share this. For all who use canned beans of any sort, I'm sure you've had to deal with the beans on the bottom and juice/soup at the top. When you turn the can up to empty it, all the goodies are in the bottom.
I store mine upside down so that all the beans settle in the top of the can and the soup is in the bottom. When I open it, everything just jumps out into the sauce pan or wave dish. I don't have to scrape or put water in it to get everything out.
By MartyD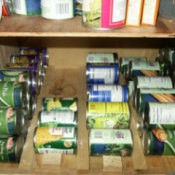 Here is how I solved the endless "what can will I grab" from the food pantry. I cut strips of wood then placed in rows to hold my canned goods on the bottom shelf of my cabinet. I used a square of wood to hold them in place at the front of each row.This will work for any space I'm sure. I took this photo after Thanksgiving, obviously we'd hit the corn!
By Melanie from IL
Right now, the cabinet fronts of the kitchen are coming off, I mean literally falling off! So I moved my food to the dresser where I keep my dishes for now. Not wanting to take them all out to find just one, I marked them on the top. This helped me and I hope it will help you.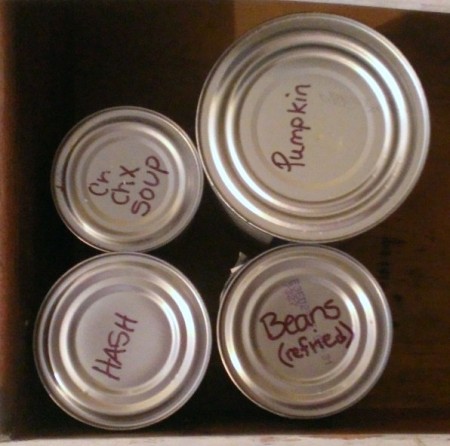 Living in the South, it seems like dust will accumulate out of nowhere in no time at all, including inside my cabinets. No matter how diligent I am about dusting, before I can turn around, it's back!
I used to store my canned goods right side up. But just about every time I would get one out to use, I'd have to wipe the dust off the top before opening it. Well I finally figured out a simple and so obvious way to fix this problem, I was upset with myself for taking so long to think of it! LOL
I simply store my canned goods upside down! I wipe them off (since many times they are dusty from the grocery store), then just turn them upside down when I put them in the cabinet. Now all I have to do is pull a can out and open it right away. No more dusting before opening! Since I open from the top of the can, I don't worry about the bottom of it being dusty.
Especially in summer, every second saved in a hot kitchen means a lot to me!
By Cricket from Parkton, NC
I have a drawer used for cans only in my kitchen cabinet. I took a permanent marker and labeled the top of each can. Now when I roll the drawer open, I can see what's stored in a glance.
I enjoy organizing and my most helpful tip I use in the kitchen. When I buy canned goods, I store them in the pantry in alphabetical order.
I like to can fruits and vegetables, but my basement is heated and a cool dry place is needed to store home canned products. So I bought a used refrigerator and put in my basement just for canned goods. It keeps them cool and dry.