I was putting my cans in the pantry from a recent trip to the supermarket and decided to share this. For all who use canned beans of any sort, I'm sure you've had to deal with the beans on the bottom and juice/soup at the top. When you turn the can up to empty it, all the goodies are in the bottom.
I store mine upside down so that all the beans settle in the top of the can and the soup is in the bottom. When I open it, everything just jumps out into the sauce pan or wave dish. I don't have to scrape or put water in it to get everything out.
By MartyD
April 22, 2010
0

found this helpful
I do too. Great tip. I also clean the tops before I open them. I read this tip awhile ago because of unwanted critters on the loose in warehouses.
April 22, 2010
0

found this helpful
Great idea on the beans. Will go turn them ALL upside down now. :-)
I ALWAYS wipe the tops of cans before opening them and I also rinse or wipe down soft drink cans before drinking from them.
April 22, 2010
0

found this helpful
I love this idea...so simple! Yet, absolutely fab.
April 22, 2010
0

found this helpful
Interesting idea but why don't you just shake them before opening? Even baked beans will distribute the goodies evenly doing that. I am still going to give you a thumbs up for being creative ;-)
April 26, 2010
0

found this helpful
Great idea, but you have me stumped. What is a wave dish?
May 11, 2013
0

found this helpful
I am going right now and flip all the cans of beans in my pantry! This is another "Now why didn't I think of this?" hint. It makes perfect sense...
Right now, the cabinet fronts of the kitchen are coming off, I mean literally falling off! So I moved my food to the dresser where I keep my dishes for now. Not wanting to take them all out to find just one, I marked them on the top. This helped me and I hope it will help you.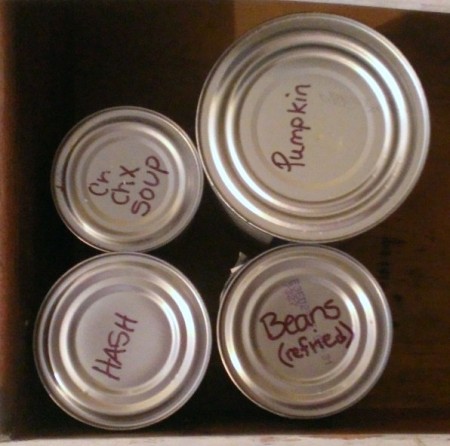 October 12, 2014
1

found this helpful
I'm glad I read your solution. We are trying to stock the pantry before my husband retires in a few months. We plan to triple the usable space in our tiny 18" wide closet by adding more shelves between the existing ones.
The current height between shelves is not enough to stack 2 cans on top of each other. But with another shelf, we can double the space by laying the cans sideways. Your idea will make it easy to find what I need.
January 4, 2015
0

found this helpful
Glad I could help Diane99. Here's another idea if you want to spend a little now and save space later.
Take all your same style boxed or pouch dishes (mac/cheese, rice, etc) and note how much is in each box. For instance, if each box of m/c has 1 cup of macaroni, mix 5 or so boxes in an airtight container, even putting the mix pouch in with it if there is room. If not, put them in their own container. Write the directions on the lid, or cut out one box and keep it in with the pouches. This will do two things...it will save you space, and it will protect the boxes from moisture and critters.
When you are ready to make a rice dish, scoop out the amount of rice needed for the servings and add your pouch as you would if you opened the box just then.
I hope that helps, too.
PBP
January 4, 2015
0

found this helpful
That's a good one, Sandi. I usually remove things like dry pasta or rice from their cheap packaging right away and put in an airtight container and write the date. The packaging gets it to you, but a lot of that thin plastic has air holes or will bust if you mess with it too much.
Living in the South, it seems like dust will accumulate out of nowhere in no time at all, including inside my cabinets. No matter how diligent I am about dusting, before I can turn around, it's back!
I used to store my canned goods right side up. But just about every time I would get one out to use, I'd have to wipe the dust off the top before opening it. Well I finally figured out a simple and so obvious way to fix this problem, I was upset with myself for taking so long to think of it! LOL
I simply store my canned goods upside down! I wipe them off (since many times they are dusty from the grocery store), then just turn them upside down when I put them in the cabinet. Now all I have to do is pull a can out and open it right away. No more dusting before opening! Since I open from the top of the can, I don't worry about the bottom of it being dusty.
Especially in summer, every second saved in a hot kitchen means a lot to me!
By Cricket from Parkton, NC
June 24, 2011
0

found this helpful
I always wash the tops of cans before opening. When I use my can opener some of the juice from the food gets on the top of the cans. Who knows what little beasties have walked on it in the store.
June 25, 2011
0

found this helpful
Same here, I run a soapy sponge over the top of the can before I open it. Not just because of the "beasties", but even more so because of all the hands that touched it before mine & probably most of them not washed! Glad to know I'm not the only one worried about germs,sometimes I feel paranoid!
But turning them upside down does keep the dust down, mine seem to be dusty every time I get them out of the pantry too. I've als heard, & discovered that turning them upside down really helps with things like beans & food that sticks to the bottom, turn them upside down & they stick to the lid instead.
June 27, 2011
0

found this helpful
My can opener is relatively new, but it cuts a tiny bit of the paper label causing it to leave tiny pieces of the label which can fall into the food. For that reason, I've started removing the label and just washing the whole can.
I was rather surprised to find that some labels have glue that has darkened next to the can. This might be just a particular type of glue, but it didn't look very clean. We've always wiped the tops of cans before opening them, but now, I feel better just washing the whole can. It only takes a minute and it
gives me a little peace of mind.
The way things are these days, we don't know where half of what we're using is coming from, or how or what it was made of to begin with. I take every precaution I know, and am always looking for other tips about doing more.
Thanks for mentioning this. We all have to be more careful now about ways to protect our families including our pets.
Suziq9
I enjoy organizing and my most helpful tip I use in the kitchen. When I buy canned goods, I store them in the pantry in alphabetical order. All of the canned beans go first followed usually by the corn and then the greens etc.

When it's time to repurchase cans I only have to look at the section that is low to know what I need to replace. When I reach for a can of beans, I never have to sort through the pantry I just go to the first section on the shelf and there they are. Same with my spices, they too are in ABC order. It works great!

By Connie A. from Tennessee
By guest (Guest Post)
March 7, 2006
0

found this helpful
Hi Connie! We have been married 40 years also. Yes, we shopped at the commissary and lived off base, too! I always remember that we bought groceries, filled the car with gas and made sure to have ten cents for a telephone call so my husband was never UA, IF the car broke down. We smile fondly when we look at a dime and remember we were "rich"enough to have ten cents left over until the next payday!
March 7, 2006
0

found this helpful
Hi, I have my spices in abc order too. Makes it much easier to find. Good tip!
Donita