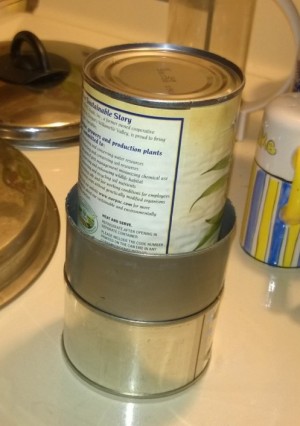 I recently found a cool little product in a catalog that helped your "unstackable" can fit inside a "topsy turvy" can stacker. They weren't much but when you are watching every penny even $6.00 plus S+H is something to avoid especially when you can make them yourself.
I tried to find some plastic peanut butter or mayo lids but they were the same size as the cans. Then I remembered some cans I have been saving and found two that were a bit bigger than I wanted them to be, but still worked.
I want to make them with the shrimp cans as they are a bit smaller, but for our post here, I used albacore tuna. They work good and when I get another can of shrimp from my friend, I will make another set.
Simply use E-6000 glue and insert one can into the base of the other, making sure you have a set like the nice nesting ones you can get. Mine are in a cupboard that is pretty tight but yours might be taller. I am pretty short so it's an issue.
When the glue dries you can use these to keep your cans from falling over.
N-JOY!