Here is a great way to keep all your cleaners organized under the sink. Buy a short shower curtain rod and install it under your sink, make sure it is in there tight. Then, place all of your cleaners that use a spray nozzle on to rod.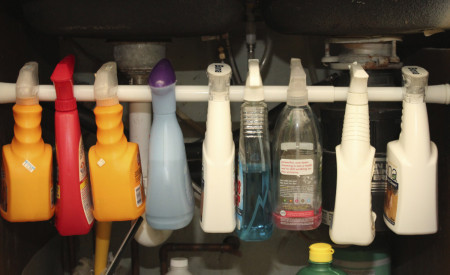 This rod keeps all the cleaners up off the bottom of the cupboard, leaving room to for other things. I have a cleaner caddy under there that I have all of my cleaning tools in, such as sponges, brushes, and steel wool.
Note: I haven't had any trouble with the rod slipping down, but I thought that if I did start to have that problem I could fix it by buying the cups that hold the closet bar in place and use those to also hold the shower curtain rod in place.