Saving Recipes from Food Packaging
Solutions: Saving Recipes from Food Packaging
Read and rate the best solutions below by giving them a "thumbs up".
I prefer to store many of my foods in plastic containers. It is easier to organize my cabinets this way, since they stack so nicely. When I put my chocolate chips into a container I decided to cut off the recipes from the bag and tape them to the outside of the container. This way I don't have to search the internet every time I want to make chocolate chip cookies. :)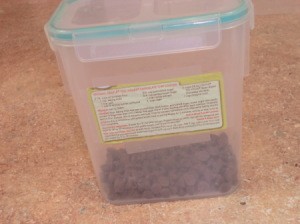 By Laurel from Port Orchard, WA
Quite simply, I have a big cookie tin from one of those scrumptious Danish cookie sets and have it sitting next to my microwave oven. Every time I find a dessert recipe I want to keep (whether in the newspaper or in the back of a food item), I quickly cut it out and stick it in the tin. When I'm feeling particularly industrious (or procrastinatory!), I take them out and organize them by group separated by envelopes or paper clips; it's a quick, no-brainer way to ensure I save recipes I want to try out someday.
By ahorrasi from Marshall, NC
Here is a special tip for "clipping" the recipes on packages. It does require that you have a flat-screen scanner. Just put your box or envelope on the screen, recipe side down, scan it in, and label it appropriately to go into your recipe file. Round cans are a little trickier. You usually will have to remove the label and lay it flat on the scanner screen. Storing my recipes this way saves me hours of scanning through clippings, notebooks, recipe files, or whatever I used in the past.
By Jayni from Richmond, TX
Share Your Feedback:
Once you try any of the above solutions, be sure to come back and give a "thumbs up" to the solution that worked the best for you. Do you have a better solution? Click "Share a Solution" above!
Questions
Do you have a question related to this page?
Related Guides
Related Posts