Organizing Magazines
Magazines are a great source of information and entertainment. Some of them we want to, keep to reference later, but they can quickly add to the clutter in our home. This is a guide about organizing magazines.
Filter

: All Articles
Sort

: Relevance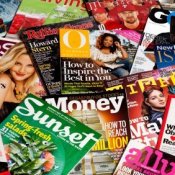 Do you have tons of magazines that you want to keep but don't know what to do with? Are your magazines taking over your living room, dining room, kitchen, bedroom, and other areas of the house that you didn't particularly want them in in the first place? The good news is that there are ways of organizing your magazines and keeping them orderly-it just takes a little effort.
The following is a short list of how to manage your magazine collection so that they don't threaten to take over your space and you can still find what you want when you need it.
Magazine holders
For a few dollars, you can pick up magazine holders at stores such as Ikea. You can generally get several magazines into one holder so this is a great way of keeping them all in one place while still placing them on a shelf.
Scrapbooking
If you don't want to save the entire magazine and are just interested in certain columns, advice pages, articles, or even recipes then a scrapbook is a good way of holding onto that important information. Just cut out what you need, paste it into the scrapbook page, and toss the rest of the magazine. (Recycling is best!)
Seasonal
Perhaps you don't want to keep every issue of every magazine, but you are interested in the Christmas issues, Halloween issues, etc. If this is the case then organize your magazines by season. Keep all of the Christmas ones in a decorative box, for instance, and all of the Thanksgiving ones in another box, and so forth. That way, you're not keeping every issue and you're still able to access the ones that you want.
Binders
If you want to combine the scrapbooking with the magazine holder idea then simply tear out the pages that you want, slip them into clear sheet protectors, and place them in a binder.
Scanning
If you simply lack the space to store much of anything then you can always scan the articles that you want to keep and organize the images on your computer. Recycle the magazine itself, or pass it on to your local library or doctor's office.
Of course, you can also organize your magazines on shelves in a conventional method. Some organize chronologically, especially if they collect the same magazine. Others organize alphabetically while still others do it by season.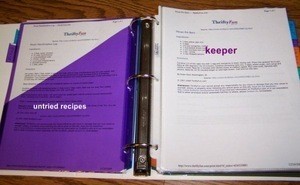 For those magazines you just can't throw away, now is the time to downsize them.
Go through them and honestly remove only the pages you need (not want), put them into an empty photo album, so you can see what each page offers. Organize them into categories, crafts, gardening, etc.
If you are like me, I gather recipes for some day and print out many ThriftyFun recipes, those all go in the front pocket folder, when I try them the ones I want to keep get their own pocket or out they go. If I really like the recipe I copy it onto a recipe card that fits my card box and pass the printed version on.
Now comes the fun and hard part; trade the rest of the magazine with a friend for her magazines by different companies. Only one needs to buy the magazine and both get the articles. Copy the ones you both want or need!
By Ann/latrtatr from Loup City, NE
I've always enjoyed home and garden magazines. So much so that they quickly began to pile up. Soon I realized I couldn't keep each and every magazine because my house just doesnt have that kind of space. Keeping every magazine wasn't doing me any good anyway; I couldn't find specific information when I wanted it.

So what I decided to do was to keep only the articles, pictures, recipes or other information that I was interested in. Each time I read through a magazine, I'd clip anything that I thought I might like to look at later.

Information I kept was pictures of decorated rooms, craft instructions, garden designs, information about specific plants and more. Sometimes I would make a note right on the clipping what I liked about the information so later when I looked at it I would know why I clipped it. For example, on a picture of a decorated room, I'd make a note that it was the color combination I liked about it. If it was an article, I'd highlight the information that interested me and so on.

So what do I do with my clippings? First of all, I set them in a wicker sewing basket until I get time to work on them later. Then when I am in the mood, I get the sewing basket, scotch tape, scissors, pen, highlighter and my cheap notebooks (the spiral bound 70 page notebooks that you can find on sale from ..19 cents to .99 cents depending on how good the sale is). I started out with about 10 of them. Once I have all my items together on a nice big work surface like the kitchen table, I begin. First thing I do is sort the clipped information into related piles. All the bedroom decorating information in one pile, the craft patterns in another and so on. You can sort yours any way you like. You may want to break down a category such as crafts if you have a lot of clippings.

After sorting, you can see what categories you'll need. At this point, you can label each one of your notebooks with one of the categories.

Next comes the fun part -- putting your scrapbooks together. Trim any rough edges and tape the clipping to one of the pages in your notebook. Simple as that, and fun to see the items grouping together knowing you'll have the information at your fingertips. Now I'm sure you could use different materials for this such as scrapbooking materials, but this is a cheap and easy way. My mom makes her own binded construction paper books and her categories are different than mine. She loves pictures of horses and angels so has books for those. The possibilities for this are endless and only limited to your imagination.

It is so handy to have these books when it comes time to start a project. If you've been collecting information for quite a while then start a project on that category, that information becomes very valuable. They are also fun to take a look at every now and then.

By Monica Resinger
I recycle my magazines by donating them to local gyms, offices, and salons. I just remove my name and personal information and drop them off. This way I'm not only preserving trees, but I'm also sharing with others information that I have received.
Some magazines have wonderful information in them and are worth saving. How do you organize and store magazines?
By guest (Guest Post)
Flag
July 21, 2005
0

found this helpful
I HAD A FEW YEARS OF SUBSCRIPTIONS AT ONE TIME AND I SPENT 8 HOURS SORTING THROUGH EACH PAGE W/ A RUBBER FINGER TO QUICKLY TURN THE PAGES AND THEN I RIPPED OUT ANYTHING THAT CAUGHT MY EYE. I THEN PUT THEM IN CLEAR SHEET PROTECTORS AND IN A HUGE 3 OR 4" BINDER FROM STAPLES. I HAVE 2 OF THESE ALREADY AND USE THEM FOR REFERENCE (IDEAS) ALL THE TIME. OTHERWISE, YOU'RE NOT GOING TO GET USE OUT OF THEM WHEN THESE PAGES YOU WANT ARE IN THE MIDDLE OF AN ENTIRE MAGAZINE.....
By guest (Guest Post)
Flag
February 19, 2007
0

found this helpful
I employ a similiar method to the binder users, except that instead of cutting out the articles that I like, I carefully pull out the pages of advertisements (comprising nearly 1/2 of the magazine it seems...) and then leave only the articles of interest in them. This lightens the load and the stack. I like the archival quality of keeping the magazine volume, date and other information in tact. This way if I ever have a question about something, I can refer to it in my letter to the editor or post it online.
Read More Answers...
To avoid magazine build up I follow this rule. I have until the last day of the month the magazine is dated to keep it.
I love getting magazines with recipes and craft ideas. They can soon add up when you want to keep them for their ideas. If space is limited, it becomes a clutter problem.
I collect craft magazines and I have to organize them carefully, because I also sell them and have to be able to find them quickly. I have two ways to organize them for sale after entering them on Amazon.com.
This video gives great detailed instructions on how to make stylish and functional magazine organizer.
Save only the pages that you find relevant and store in a notebook. After using a system to identify those pages, donate those that may be of interest to libraries, senior centers, etc.
A frugal way to organize magazines and papers. Ask at your local library for the holders that magazines come in. They are usually free for the asking.
There can be a lot of magazine clutter in a bathroom, to make it look tidy but accessible buy a square wicker basket and set by the toliet, or better yet, buy a cheap wine rack and many magazines can be rolled and stored in it...
My hubby and I like to read magazine articles about saving money, investing, etc. Hubby does not have the time, like I do, to read the magazines that contain articles such as these.
I have an old antique crock that I store magazines in. To keep it from getting out of hand and too full, as soon as I receive the newest version, I replace it and give the older one to my daughter or a friend!
Related