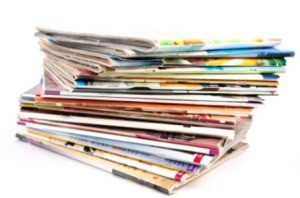 Since I have children, I often get magazines that have lots of ideas ranging from craft ideas to party and food ideas. I had accumulated so many because I wanted to keep the useful ideas that I came across. I was becoming overwhelmed with magazines. So then I got the idea of my filing cabinet.
I bought some file folders and labeled the folders for craft ideas, food ideas, etc. I went though each of my magazines and tore out the ideas I loved, and put them in the appropriate folder.
Once I did that I took the rest of the magazine I didn't need and took them to the recycling bin. Now I have those ideas at hand away in organized folders in my filing cabinet. And I don't have the clutter of magazines any more.
By Chris from OH
Read More

Comments

Don't tear pages out of magazines! Make copies of the ideas, projects, recipes or whatever, file them as usual, then pass the intact magazines along to someone else. Your project might be the first page of someone else's pattern.
Read More...

I find so many articles with great ideas in magazines. I clip out the articles and just have them in piles on my desk with no organization. Any ideas as to how I can organize these to where I can refer back to them when needed?
Thanks!
Cindy from Valparaiso, IN
Answers
By Lisa Schmidt (Guest Post)
April 7, 2008
0

found this helpful
Best Answer
I also use the 3 ring binder idea for all my scrap articles. I am a teacher and outdoor enthusiast and have a "library" of books, magazines and my binders of magazine articles on animals, plants and the outdoors in general.
Magazines can be as informative as books, yet cheaper, so I make my own books. Instead of scanning small clippings as suggested above, you could also glue the clippings to scrap paper and hole punch that. It saves on paper.

April 9, 2008
0

found this helpful
Best Answer
I use a binder for recipes, etc. Sometimes you can find the plastic sleeve page protectors in the dollar store and those are great for saving recipes, articles, etc. The photo album idea sounds good too and sometimes you can find them on sale or in the dollar store for a lot less money.
By Darlene (Guest Post)
April 9, 2008
0

found this helpful
Best Answer
I do the same thing. So what I found out was by accident and it does the trick, just buy folders with pockets in. I also buy at the cheapest store around little albums where I can put a picture and recipe into the pocket. If you wish and the recipe is on one side buy some fancy paper sturdier scrapbook paper would do the trick. Glue the recipe on the paper that you will have to cut down to size and glue. Now if there are 2 parts put one one front and one on back, so you will have the recipe on one piece of paper. Do the same with the rest and soon you will have a small cookbook and will not have to go looking for these recipes and of course not finding them. I am working on one now and it is really turning out nice. Now I mean the small books that are a few bucks and they say you can carry these in your purse. That is one of the funniest jokes I have heard about purses in a long time. I am always being teased about the sizes of my purses, which are on the LARGE size.
I carried large purses in Junior High, Oh excuse me it is now middle school at any rate it will not nor ever fit in my purse even if it is great for photos and now recipes. Good luck believe me this works well as I have found out. Also you can make extra copies of the recipes and in another book put the recipes and goofy sayings for a nice shower gift. If it is to someone close they will be thrilled. Because it will be recipes from someone special to them. You will be even more thrilled if they have a kitchen shower . For babies that may take a while. gathering the evidence (pictures) give it to the child at Graduation! They will love you dearly & forever for this cherished reminder of the past and how strange we are as we grow and hit those fun filled teen age years. . Well I hope this has helped you. Have a lot of fun with this. Darlene
Answer

this Question

I am a self taught jewelry maker. I have magazines from Art Jewelry magazine and Lapidary Journal. Lapidary Journal is still in print and I still receive it. Art Jewelry is out of print. These magazines are incredible resources and an inspiration and I prefer to keep the magazines intact.
What I'm trying to figure out is a system to compile these articles in a way that I can search by materials, genre, artist, technique, etc. and find the correct magazine and page. Any ideas are welcome.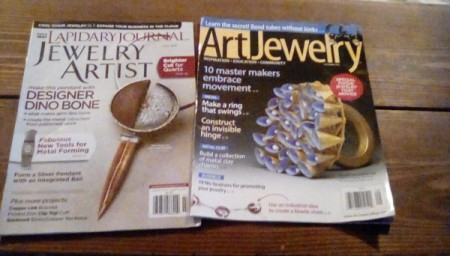 Answers

Judy
Gold Post Medal for All Time! 677 Posts
July 17, 2017
0

found this helpful
I would make an excel spreadsheet

July 17, 2017
0

found this helpful
A work sheet is a good idea but would require a lot of writing of information.
I do not have the profession you have but I do find recipes that I like in magazines that do not belong to me (doctor's office/any waiting room) and I take photos with my cell phone and download them to my computer later. I have set up folders - magazine, food type, cooking type (crock pot, oven, microwave, casserole, pressure cooker, etc.) and even one for tried it/liked it or favorites.
Then I just copy the photo to these folders and I have my easy to find records - no extra writing!
Sounds like you have a fun hobby or job(?).

July 19, 2017
0

found this helpful
You can take pictures of the articles you love and add them each in a sub page in a notebook using Microsoft One Note or if you are more of a mobile user, you can take pictures and add them to Evernote. That way sorting and searching is easy. Hope my answer helped you..
Answer

this Question