Having a rose, or other flowering plant, suddenly covered in aphids can be a a depressing sight. Fortunately, there are many ways to get rid of them and you may not have to use chemicals. This is a guide about getting rid of aphids.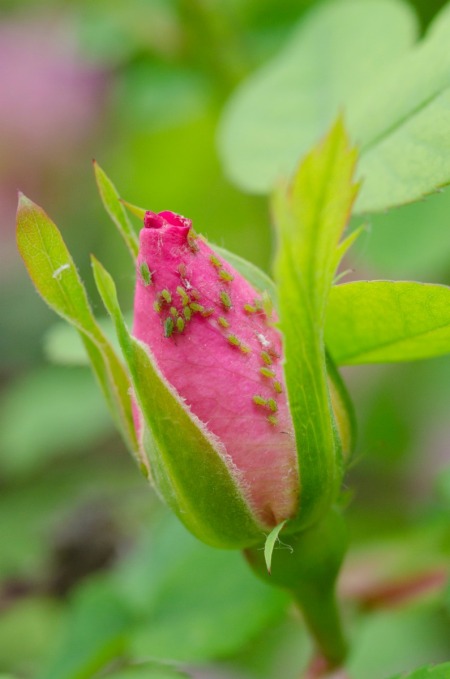 Imagine my chagrin this year when for the first time ever I decided to try growing dill and woke up one morning wondering why the upper most tender portions of the plants, which were ready for harvest, were drooping heavily sideways. Upon closer inspection those portions were covered with aphids. Well, I certainly didn't want to use anything as a remedy that would be toxic so went to several internet sites to find a workable natural solution.
By the way, you will also want to check plants, both edible and ornamental, near the infested ones. I found those little buggers were also beginning to munch on my pepper plants! This is the solution that worked for me in just a couple of days by adjusting assorted homemade recipe ingredients that I came across on the web. First, in the case of my dill, I cut off the upper portions, which were most likely no longer fit to consume anyway, rinsed the remaining portions of the plants with a heavy stream of water and then heavily sprayed the plants and the surrounding soil with a water bottle using the following recipe:
Ingredients:
1/2 cup vegetable oil
1/2 tbsp liquid dish washing soap
Directions:
Mix ingredients well in a lidded glass jar.
Add 1 1/2 teaspoons of the solution per each cup of water in the spray bottle and store remaining solution in the jar in the refrigerator.
Soak spray the infested plants and surrounding soil.
Repeat the rinsing and spraying for two more days and then use the solution thereafter once a week.
Do not spray when direct sun is on the plants because the combination of the sun rays and solution will burn the leaves.
Note: On the third and fourth days I did find a couple of renegade aphids on the stems and gave them a quick spray. When I checked each morning thereafter, those same little guys were brown and dead. I have absolutely no clue how or why but it gave me great satisfaction. ;-)
By Deeli from Richland, WA
By Judie 1
How do I get rid of aphids on my strawberries without using anything that would be harmful to our grandson and our Yorkie?
Hardiness Zone: 8b
By Chemoangeljudie from Apple Valley, CA
---
Most Recent Answer
April 20, 2009
Another idea is planting garlic or green onions in the area. I have little green onions which put up their own seed "heads" (multiplier bulbs), so there's always more to plant and replace those picked for salads, etc. This is also good anti-thrip on the rosebush protection.
---
How do I kill infestations of aphids on my euonymus vine? They have manifested thickly on the stems as well.
Hardiness Zone: 6a
By Rebecca from Boston, MA
---
Most Recent Answer
April 2, 2010
Try Safer-soap, a non toxic mild soapy spray. Can also be applied by wiping down the plant with a sponge, but when finished, throw the sponge away so you don't infect other plants.
---
By Phyllis 3
I read the answer re: milkweed for butterflies. I have a much harder time trying to grow them, from seed-starting, to trying to keep the sucking aphids off every day. Your other grower stated he had grown "tons" of milkweed in Spring Hill, FL.
I spray regularly with soapy water, but that's not getting rid of enough in my butterfly garden. I have sandy soil, water, open sun exposure. What am I doing wrong? Thanks so much.
Hardiness Zone: 9a
By Phyllis from Clermont, FL
---
Most Recent Answer
March 26, 2010
Phyllis: I forgot to mention that the only reason I grow tropical milkweed is that they are a host plant for the monarch butterflies. The caterpillars are going to totally strip off every leaf from the plant so I don't care about the aphids. After all of the leaves are gone and the caterpillars have climbed my wooden fence and are tucked snug in their chrysalis I cut the plant down to about 8 inches off the ground and they start to grow all over again. You can do the same thing since you are only about 2 hours from me. The monarch butterflies like my zinnias, verbena and vincas also but those are not host plants.
---
Is using soapy water on Hibiscus aphids as effective as purchasing a commercial product?
Hardiness Zone: 9b
By jpear from Riverside, CA
---
Most Recent Answer
thr755190 Flag
June 29, 2009
Yes, fertilize and you should get more and bigger blooms. Be sure you don't over-fertilize or you will get lots of lush green leaves and no blooms.
---
There are insecticidal soaps on the market, however, I normally just take a small spray bottle with tepid water and a few drops of a mild detergent soap. It is much less expensive and I particularly like the "green" detergent soaps.
Controlling aphids takes spraying the leaves (both top and bottom) and also I spray the top of the soil. I do this every day (sometimes twice a day if the infestation is severe) for at least 3 to 5 days. It is important to keep checking the plant every day or two, since there may be a new hatch of aphids.
For plants that are outdoors having lady beetles is one of the best solutions. The lady beetle larvae just love to munch on the aphids.
As a side note, if you notice ants on a plant that has aphids you will find that the ants are actually "herding" the aphids. They love the sweet nectar that the aphids produce and they keep and protect the aphids as we would do with cattle, sheep, or goats. I mentioned this to a friend at our office who had ants and aphids on a plant and at first he thought I had totally lost my mind when I said the ants were herding their aphids. After I explained the relationship between the two, he seemed to understand and didn't question my sanity.
By Lilly M from NW MI
I need a home recipe to get rid of aphids on my cabbage.
By Judy from Waverly, OH
---
Most Recent Answer
June 16, 2010
You need cabbage dust. Check garden supply shop, farm supply.
---
There was a post awhile back about making your own pest control out of soap and water. I need a pest control for aphids and whitefly. Can someone help me?
By mother3times from Interlachen, FL
---
Most Recent Answer
By christine M. Thayer 2 232 Flag
July 18, 2009
When I get either one of them, I use a nozzle on the hose that I can spray really hard.. The water smacks their soft bodies hard & kills them. Now spidermites is a whole different thing.
---
Aphids are invading my roses, anything organic that I can use? Tips from the ThriftyFun community.
Try washing them off with the garden hose first. A few high-pressure bursts of water will dislodge most of them. You can support the stems with your hand while spraying if you're worried about them breaking. You may need to spray them every other day for awhile to eliminate them. Otherwise, use a safe, commercial insecticidal soap or make your own with 1 tbsp liquid dish soap and two cups of water.
Strong smelling roots and spices such as garlic, onions, horseradish, ginger, rhubarb leaves, cayenne and other hot peppers, are all known to repel insects. To add any one (or all) of these to your spray, chop them finely and put them into a glass jar. Add 2 cups of boiling water, cover tightly and let everything stand over night. The next day, strain off the liquid and add your dish soap. Freeze any leftover mix to use the next time.
Good Luck!
Ellen
http://www.sustainable-media.com
Ladybugs
Ladybugs. I believe you can actually buy some, but they DO eat those aphids.
By smcarney
RE: Aphids on My Roses
This is the simplest one to fix. Mix soap, not detergent, with water and mix it up. Spay over roses and aphids are history. Dish soap is just fine. Spruce also get aphids. Any spruce needs a dose of soap and water to get rid of aphids. Don't go to the store and buy the commercial soap, it is the same thing.
By Bev
Pulling Aphids With Gloves
I have been pulling aphids (squishing) them with gloves every spring for years. I do use a soap solution to "drown" Japanese Beetles, which appear on roses (and other plants) later in the season. The beetles are weak in the mornings, and you can push them into a cup of soapy water.
By Kayla
Plant Onions Near Roses
My mother used to work as a secretary at Ohio State University in the botany department. She once heard that planting onions around roses keep aphids away. She had a miniature rose bush and placed a pot of chives (onion family) near it and the aphids left, never to return! The professors gave her a good-natured teasing about that one, but it sure worked!
By Margie
Try Rubbing Alcohol
I know of two methods that both work well. One is ladybugs, they eat aphids. The other is rubbing alcohol. Now if it's the entire plant you'll want to dilute it and put the mixture in a spray bottle but if it's for just a few leaves on a plant you can dab a cotton ball in the rubbing alcohol and swab the leaves.
---
Most Recent Answer
June 26, 2009
I've thought of the ladybugs, but have only seen them in groups of 1,500. Imagine that many bugs in your yard! Eeks. I might try the soap route next.
---
By Keri 1
Aphids are trying to take over my houseplants. Help!
Hardiness Zone: 8b
By Keri from southern NM
---
Most Recent Answer
thr755190 Flag
August 18, 2010
If you use any type of spray, even something like Safer Soap, on your plants, it will take them a couple of weeks to recover, so I use plain old water to get rid of aphids.
Place a plant in the kitchen sink, use the sprayer to spray the under-side of each leaf, washing off the aphids. If any fall into the soil, it's OK, the aphids won't climb back up.
By Ann 1
I have aphids on my roses and want to know the soap to water ratio for mix.
Hardiness Zone: 6a
By herblady2 from IN
---
Most Recent Answer
July 22, 2012
According to Colorado State University you want a 2% solution of dish soap to water, for example add 4 teaspoons of dish soap to a quart of water. See documentation at http://www.ext.colostate.edu/pubs/insect/05547.html/ for complete article and a chart of dilutions.
I have crepe myrtles and it's looks like the aphids are getting the best of them. Some are affected and some are not. The ones that are, are all in the same area. What should I use to get rid of them?
Also, everything is blooming, and some of the other crape myrtles are blooming, but not the the three in question. I also have grasshoppers that are in my yard. I bought some "Seven". I haven't used it yet, will it work on the aphids as well? I know to be careful, because we don't want to kill the good insects. Thank you.
Hardiness Zone: 9a
By Justdottie from Lincoln, CA
---
Most Recent Answer
By Harlean 142 427 Flag
May 8, 2009
Sometimes you can use the hose with a pretty forceful sprayer nozzle, and actually wash them awy. Or another thing to try that has worked for me for aphids on my tomatoes is to fill a sprayer bottle with water, add a couple spoons of dish detergent, and spray the plants. Be sure to spray both tops and bottoms of the leaves. It usually takes about 3 or 4 applications to get rid of them.
Harlean from Arkansas
Is it necessary to rinse soap from the tree after a certain time?
Thanks.
By Jack C. from Toronto, Ont. Canada
If buying ladybugs is not an option, I have been successful making a spray made from a boiled onion or garlic. Strain the juice and spray on the plants affected by aphids. This works for me. Tobacco juice is also effective.
By MJ from AK