Homemade Aphid Spray Recipes
Solutions
Share on ThriftyFunThis guide contains the following solutions. Have something to add? Please share your solution!
July 13, 2000
8

found this helpful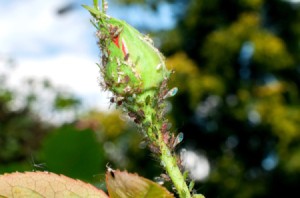 For aphid control on roses, here is what we use:
Supplies:
1 quart water
1 Tbsp. dish detergent
1 tsp. cooking oil (makes the solution stick to the roses)
1 cup distilled vinegar
Directions:
Put it all in a spray bottle, mix it up (foaminess is good), spray every day 'til the aphids kick the bucket!
Also, I use the high-powered spray from the hose to knock them off if the roses are still in bud stage.
Or, as a last resort, I put on my garden gloves, crush the little buggers with my fingers (yuk!), then top the roses off with the homemade spray.
By Ness
Carnation Nonfat Dry Milk: Mix Carnation Milk Mix with water according to instructions on the box. Fill a trigger spray bottle with the solution. The aphids get stuck in the milky residue as it dries on the plants
Real Lemon: Mix 4 tsp. Real Lemon Juice and two cups water in a trigger spray bottle. Spray the mixture on plant leaves being attacked by aphids. The lemonoids in the lemon oil kill the aphids.
Tang: Mix 4 tsp. Tang drink mix and two cups of water in a 16 oz. trigger spray bottle. Spray the mixture on the plant leaves being attacked by aphids. The lemonoids in the mix kill the aphids.
Tabasco Sauce: Mix two tsp. of Tabasco sauce, two tsp. garlic powder, one tsp. Ivory Liquid Dishwashing Soap and 2 cups water. Fill a 16 oz trigger spray bottle with mixture and coat the leaves of the plant with the solution. This will repel the aphids.
By Mythi from Silverdale WA
Comments
By guest (Guest Post)
June 23, 2007
0

found this helpful
Top Comment
I was picking coddling moths worms off my apple tree leaves and discovered a few aphids on the new growth tips. However just as I was getting finished and wondering about the aphids, I spied a healthy
red ladybug, which reminds me that Aphids is what they eat for their food. I don't have too much of a problem with aphids, since my whole yard is more in balance after years of being organic, so I'm hesitant to try to spray for the few aphids right where the ladybug is doing her harvesting and helping in my tree. I accidentally killed a whole bunch of ladybugs when I was talked into using "Systemic Pesticide" on my only rose bush, that has gone wild and will likely be cut down soon because it's no longer worth it to me. It's encouraging to see a ladybug return!
I'll save your suggestions should the aphids spread or become a problem, and perhaps spray only on OTHER plants just at the site of the infestation. I learned that aphids are different colors for different
plants. Isn't that wild? My rose used to attract them, but now i have a garden full of Echanaecea which is beneficial and attracts the endangered honey bees.
I haven't seen my black bumble-bee yet, since the Mexican Petunias aren't in bloom. They are being sold in the local garden centers here like mad, and
I was pulling them up like weeds last year for fear of too many black bumblebees. We live and learn!
God bless you. : )
April 27, 2004
1

found this helpful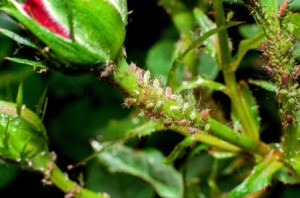 Question:
I am looking for a homemade aphid repellant recipe. I know I have used one before but the recipe has escaped me.
Thanks,
Stan.
Answer:
Stan,
Try this recipe for getting rid of aphids:
2 cloves garlic
1 small onion (finely chopped)
1 tablespoon of Ivory dish soap
2 cups of water
Combine these ingredients into a blender or food processor on high. Strain the pulp from the liquid using cheesecloth, a nylon stocking or a fine-meshed colander. Pour the remaining liquid into a spray bottle and spray it directly on flowers or plants to control aphids. Another easy method is to use a strong spray from a garden hose every few days until the aphids are no longer visible.
I spray infected plants with citric acid solution (1 teaspoon of citric acid dissolved in 0.5 L of water). I sometimes spray this solution on all plants as a protective method even if they're not affected, and repeat as needed, it works. But avoid spraying the plants in the morning, you can do it in the afternoon after the sunset to protect the leaves from getting burnt.
By Araz from Syria
Questions
Ask a QuestionHere are the questions asked by community members. Read on to see the answers provided by the ThriftyFun community or ask a new question.
June 30, 2013
0

found this helpful
I have seen posts that suggest using vinegar to get rid of aphids. Isn't vinegar harmful to growing things?
By Joan
Answers
July 8, 2013
1

found this helpful
Best Answer
Vinegar is a great HERBICIDE (weed killer). For aphids, I suggest a squirt of liquid dish soap in a pint or so of water, spray the leaves, contacting as many aphids as possible. After 20 minutes or so, you may want to rinse off the soapy water so you don't burn the leaves.
Answer

this Question

...
February 23, 2012
0

found this helpful
I am looking for a recipe for killing aphids with dish soap and water.
By Mary from Butler, PA
Answers
February 24, 2012
1

found this helpful
Best Answer
get a large spray bottle big enough to hold the followig ingredients:
1 cup vegetable oil or white mineral oil
2 cups water
2 teaspoons bleach free dish soap
Add all ingredients to spray bottle and shake well before each use because the oil separates from the soap mixture once it sits for a bit. When spraying your plants, bushes etc... be sure you spray under the leaves and on any new growth as that is where the aphids love to hide and eat. This works excellent for us and I hope it will do the same for you. Be sure not to add more soap than required as it can kill your plants.
Donna L. Watauga, TX
Answer

this Question

...
September 17, 2011
0

found this helpful
Will liquid a hand soap dissolved in water kill aphids?
By CH
Answers
September 19, 2011
0

found this helpful
Best Answer
CH
I used dish soap and water on my garden all last summer with great success. The inexpensive store brand worked the best. Start with a few drops per 32 oz spray bottle, every other day for a few days. Then keep increasing the soap ratio as the plants get used to it. The bugs and slugs hate it but the bees seem to still work around it. Make sure you get the soil too because that's where they lay their eggs. Dish soap acts like a fertilizer for the soil too. I sprayed before dark and it worked great. Good luck!
Answer

this Question

...
Archives
ThriftyFun is one of the longest running frugal living communities on the Internet. These are archives of older discussions.
March 16, 2009
3

found this helpful
Question:
I was told that mixing Dawn Dish Soap in water will kill aphids on your plants. Is this true?
Hardiness Zone: 6a

Edie from Spokane, WA
Answer
Edie,
It's true. When sprayed on aphids, a solution consisting of liquid dish soap and water will kill aphids and many other soft-bodied insects such as caterpillars, thrips, mealybugs, spidermites, leafhopper, lace bugs, and whiteflys. Most of these soaps are made from the potassium salts of fatty acids. When sprayed on soft-bodied insects, these fatty acids disrupt the structure and permeability of the insects' cells, causing the contents to leak out, which quickly kills them. Most any type of liquid dish soap will work, but DAWN is biodegradable and contains no phosphates, which is better for the environment.
Insecticidal soaps only work on contact and not as a preventative measure. In other words, the soap needs to completely cover the body of the pest you're trying to control. Dried soap residue on the plants will not harm the insects. The disadvantage to using insecticidal soaps is that it causes phytotoxicity (damage from chemicals) in some plants. Here are some tips for using insecticidal soaps effectively:
Apply insecticidal soaps in conditions that favor slow drying, such as early morning or early evening. Avoid applying during the warmest parts of the day and in temperatures over 90ºF.

Spot test plants 48 hours before full application to test chemical sensitivity. Signs of chemical damage include yellow or brown spotting on the leaves, burned tips or leaf scorch. Plants with waxy leaves are less likely to suffer damage than those with dull or hairy leaves.

Plants exhibiting chemical damage within a few hours after treatment should be rinsed thoroughly with water.

Always wait for new growth to harden off before treating.

Never spray fruit trees while in bloom.

Do not apply insecticidal soaps to young transplants or to plants under stress from heat or water.

Trees and herbaceous plants with known sensitivities to insecticidal soaps include horse chestnut, mountain ash, Japanese maple, sweet gum, jade plant, lantana, gardenia, bleeding heart, crops of thorns, and certain cultivars of azalea, poinsettia, begonia, impatiens, fuchsia, geranium, ferns, Easter lilies, palms and some succulents.

Soap mixed with hard water may be less effective and may leave a precipitate behind from the metal ions in the hard water.
September 10, 2006
1

found this helpful
We have aphids on some of our plants. I have heard that dish soap in water will control them. Does anyone know the amount of dish soap to use?

Thanks
bjgarcia
Answers:
Soap for Aphids - How Much to Use?
two tbls dishsoap (Dawn or good quality)
one tbl white vinegar
one tbl vegetable oil
one tbl baking soda
Mix into one gallon water...then put in spray bottle.
This is really great for roses...apply every seven days. (05/02/2005)

By lparker
Soap for Aphids - How Much to Use?
They seem to be early here this year. I took some my foaming soft soap dispenser out and squirted them and let the foam sit. It seemed to do the trick. This wouldn't be practical for anything but a small infestation.
Susan from ThriftyFun (05/03/2005)

By ThriftyFun
Soap for Aphids - How Much to Use?
Put enough Palmolive Green Liquid Soap in some tepid water to get good bubbles. Then pour it on the plant and be sure to pour bubbles and all on the dirt the plant is in. You want it sudsy enough to wash a butter-coated pan. (05/03/2005)

By Lucy330
Related Content