Aphids thrive in temperate regions and feast on plants. They are one of the most pesky and destructive pests that gardeners have to deal with. This page contains homemade aphid spray recipes.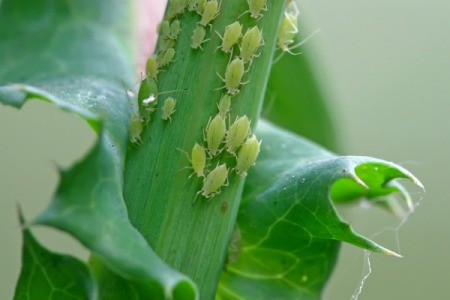 If you have bugs in your garden, here's an easy, organic and free way to get rid of them. If you're squeamish about this, put on rubber gloves, garden gloves, or latex gloves and pluck the bugs off the plants, one species at a time, and put them in a cupful of water. You'll get used to it enough to do it bare-handed later, which is much easier. It may sound icky, but it works.
Then take the water and pour it into your blender and blend until you can't see the actual critters any more. Put the water into a spray bottle and spray it on the the same plants you took the bugs from. This prompts a "danger, Will Robinson" response from that type of bug and keeps them away.
Just do one kind of bug at a time, be they beetles, aphids or whatever else you encounter. No pesticides, no traps to empty, just a lovely, bug-free garden. And don't worry about the blender. Wash it as usual and it'll be just fine.
Source: I think I read this in "Organic Gardening" magazine years ago.
By pollylev
Question:
I am looking for a homemade aphid repellant recipe. I know I have used one before but the recipe has escaped me.
Thanks,
Stan.
Answer:
Stan,
Try this recipe for getting rid of aphids:
2 cloves garlic
1 small onion (finely chopped)
1 tablespoon of Ivory dish soap
2 cups of water
Combine these ingredients into a blender or food processor on high. Strain the pulp from the liquid using cheesecloth, a nylon stocking or a fine-meshed colander. Pour the remaining liquid into a spray bottle and spray it directly on flowers or plants to control aphids. Another easy method is to use a strong spray from a garden hose every few days until the aphids are no longer visible.
For aphid control on roses, here is what we use:
Supplies:
1 quart water
1 Tbsp. dish detergent
1 tsp. cooking oil (makes the solution stick to the roses)
1 cup distilled vinegar
Directions:
Put it all in a spray bottle, mix it up (foaminess is good), spray every day 'til the aphids kick the bucket!
Also, I use the high-powered spray from the hose to knock them off if the roses are still in bud stage.
Or, as a last resort, I put on my garden gloves, crush the little buggers with my fingers (yuk!), then top the roses off with the homemade spray.
By Ness
By Araz 1
I spray infected plants with citric acid solution (1 teaspoon of citric acid dissolved in 0.5 L of water). I sometimes spray this solution on all plants as a protective method even if they're not affected, and repeat as needed, it works. But avoid spraying the plants in the morning, you can do it in the afternoon after the sunset to protect the leaves from getting burnt.
By Araz from Syria
Carnation Nonfat Dry Milk: Mix Carnation Milk Mix with water according to instructions on the box. Fill a trigger spray bottle with the solution. The aphids get stuck in the milky residue as it dries on the plants
Real Lemon: Mix 4 tsp. Real Lemon Juice and two cups water in a trigger spray bottle. Spray the mixture on plant leaves being attacked by aphids. The lemonoids in the lemon oil kill the aphids.
Tang: Mix 4 tsp. Tang drink mix and two cups of water in a 16 oz. trigger spray bottle. Spray the mixture on the plant leaves being attacked by aphids. The lemonoids in the mix kill the aphids.
Tabasco Sauce: Mix two tsp. of Tabasco sauce, two tsp. garlic powder, one tsp. Ivory Liquid Dishwashing Soap and 2 cups water. Fill a 16 oz trigger spray bottle with mixture and coat the leaves of the plant with the solution. This will repel the aphids.
By Mythi from Silverdale WA
I have seen posts that suggest using vinegar to get rid of aphids. Isn't vinegar harmful to growing things?
By Joan
---
Most Recent Answer
By Eileen M. 56 240 Flag
July 8, 2013
Vinegar is a great HERBICIDE (weed killer). For aphids, I suggest a squirt of liquid dish soap in a pint or so of water, spray the leaves, contacting as many aphids as possible. After 20 minutes or so, you may want to rinse off the soapy water so you don't burn the leaves.