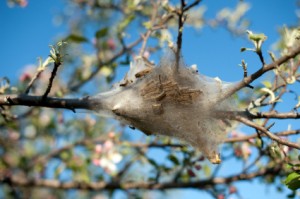 Caterpillars can be very destructive to your trees and garden. Here are tips to preventing this pest. This is a guide about getting rid of tent caterpillars.
One way to get rid of these caterpillars is to simply crush them. This method is outlined in this video. He's doing it with gloves on, which would be a little gross.
Solutions: Getting Rid of Tent Caterpillars
Read and rate the best solutions below by giving them a "thumbs up".
Question:
My crab apple tree has caterpillars in silk bags in the crotches of limbs. How do I rid the tree of these and prevent further issues?
Note: I sprayed Sevin on the trunk from the base to 2 ft high on 17 March, on 19 Mar I noticed the first silk bags forming. Most of the silk bags are 12-25 ft high.
Hardiness Zone: 7a
Scott from Hollywood, MD
Answer:
Scott,
Eastern Tent caterpillar larvae feed on the leaves of most deciduous trees and shrubs, but especially crab apples, aspens and wild cherry trees. In the past few years, caterpillar numbers have been high in your area. Thankfully, these population explosions are cyclical, and native parasites will eventually bring numbers back under control.
One idea for getting rid of the sacks high up in your tree is to wind them onto a broomstick with nails projecting from it. This is best done in the morning when the caterpillars are inside their tents. Where you can reach, you can also prune and burn the infested branches. Another, (microbial) method of control is spraying Bacillus thuringiensis var.kurstaki, also known as (BTK). This is a bacterial insecticide that caterpillars ingest as they feed. It poisons them over the course of a few days and they drop to the ground. BTK should be applied while caterpillar larvae are still small and easy to control. It is applied in the evening or early morning when the caterpillars are in the nests.
One way to prevent future infestations is by attracting native parasitic flies and wasps. This can be done by growing small, flowering herbs like Queen Anne's lace, catnip, and wildflowers around your garden and near the base of your tree.
Here's a great link for more information specific to your area.
Good luck!
Ellen
We live in southern Ontario, Canada, and tent caterpillars are a big problem. We always had them on our few fruit trees until I read somewhere of a cheap way to discourage them. Just wrap aluminum foil around the tree trunk before it starts to branch out and secure with string. Make sure you do it as soon as possible in the spring. I was skeptical but for two years now, we have been free of the pesky things.
By Marion
Give a "thumbs up" to the solution that worked the best! Do you have a better solution? Click here to share it!
Questions
Here are questions related to Getting Rid of Tent Caterpillars.
I am in Washington state and there are caterpillars everywhere right now. They are orange and black and about an inch long. You can see their nests all over my trees and when you look closely at the nests there are between 10 to hundreds of caterpillars in each one. These things are going to devour everything. Anyone know how to get rid of them? I believe these are called tent caterpillars.

Joy in WA
---
Best Answers

By frank (Guest Post)06/27/2004
Try diazanon or malathion, fixes that problem.
---
Best Answers

By Dan (Guest Post)06/14/2004
I'm not really sure of a fool proof method, but there are sprays you can get. They are tent caterpillars. They usually affect fruit trees, especially cherry and a few years ago Seattle did some heavy spraying trying to get rid of them. It helped for a couple years, but now they are back in full force. I had them in my apple tree at the beginning of spring, a little spray right on the nest and they died.