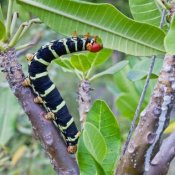 Folks, as I read the letters from people frustrated over caterpillars in their gardens and then scrolled down to other articles about butterflies I was reminded how shortsighted the 'death-to-all-caterpillars' attitude is.
Yes, they eat your plants, but very seldom do they kill them. The leaves will grow back once they've eaten what they need to turn into beautiful butterflies or moths. I put in specific plants as a food source for their larvae.
Think before you poison. We're killing ourselves by destroying so many pollinators. Think of the bees and colony collapse disorder. No pollinators equals no food for us.
Source: Master Gardener
By Carol from Evans, GA
Read More

Comments

I had a sweet broom in a ten gallon pot. There were little caterpillars on it. No big deal, right? I just picked them off.
Later in the month I noticed more, lots more. They took over the whole plant and killed it.
Read More...

Does anyone have a home remedy to get rid of caterpillars? I had several yesterday climbing up the sides of my house in the backyard. They're hairy, green striped with black heads, and reddish orange stripes underneath.
Our yard was mowed yesterday and I have flower gardens with roses, salvia greggi, victorian lace salvia, butterfly bushes and a pecan tree. I've never had trouble with caterpillars in the seven years we've lived here. Help!
Hardiness Zone: 8b
Answers

Cyinda
Bronze Post Medal for All Time! 213 Posts
August 8, 2008
0

found this helpful
There's this great non-toxic new bug spray that's safe to use around kids, pets & food. It's called "ORANGE GUARD". (because it's made from oranges)
HERE'S MORE INFO:
www.orangeguard.com/
* As far as caterpillars go, they seem to have a sort of "life cycle" because it seems every 7 or 11 years or so, here in Western Washington we have an infestation of caterpillars too... Then the state or county sometimes comes in with helicopters & sprays the trees... When the caterpillars invade, the leaves all have massive amounts of holes in them from the critters snacking. It looks cool with the moonlight beaming through the holes in the leaves, but it devastates the trees for years to come.
By Paula (Guest Post)
August 8, 2008
0

found this helpful
Some caterpillars turn to butterflies, are you sure what kind of caterpillar you have? I would hate to poison a caterpillar without knowing what it was going to turn into; do you have a college or an extension service that you could contact and ask if they know what kind of insect it it?

August 11, 2008
0

found this helpful
Seven Dust will kill them. We use it in the garden. When it rains or gets wet it must be reapplyed.

(Guest)
Gold Post Medal for All Time! 846 Posts
August 11, 2008
0

found this helpful
I too think you should find out what kind of caterpillars they are and also find out about their life cycles, advantages and disadvantages, before possibly poisoning them.
Every creature great and small deserves thoughtfulness and not just a quick easy fix for our comfort. In nature even a snake or a spider have their ecological purpose for our ultimate advantage even if we don't always like their ways.

August 11, 2008
0

found this helpful
www.whatsthiscaterpillar.co.uk/.../
Here is a site that might help you identify them. You have butterfly bushes which would attract all kinds of butterflies. Please do not kill them until you find out what they are. You may be killing all the butterflies you try to attract with your flowers. If you only saw several, not dozens and dozens it is more possible they are butterfly larvae.
If you know what kinds of butterflies you have in your garden, you can type them in at : www.butterfliesandmoths.org/search
and see if they have the caterpillar picture.
You could put a few in a large jar with holes in the lid and put a stick and various leaves until you know what they eat, and then see if they turn into a chrysalis or spin a cocoon. If the became chrysalis they are butterflies.
One final site: www.whatsthatbug.com/caterpillar.html They say if you tell them where you found it and send a photo they will try to identify it for you.
Harriet
By David (Guest Post)
February 24, 2009
0

found this helpful
Hi. We are beginning to see the first sign of the dreaded hairy caterpillar in Spain which is dangerous for our ground sniffing Yorkshire Terrier. Has anyone any ideas how we can get rid of these? We have destroyed two nests that were on our pine trees but we have been told not to tread on them as the spines fly off and are still dangerous. We need an urgent reply if at all possible please.
d_dutch at sky dot com (please remove spaces and change at to @ and dot to .)

August 15, 2016
0

found this helpful
Seven dust does not work. I have already tried that!
Answer

this Question
I am looking for a home remedy to keep caterpillars in the yard and off my back porch and house. There are hundreds of these yellowish brown caterpillars, (some are a light green color) covering my patio. With every step we take from our door to our car we step on several. They are beginning to climb up the door so that when we open it to step out they fall inside my house and have to be swept out.
I need something that really works and that is affordable. We do not have a vegetable garden or even very many flowers so I don't know where they are coming from. We have lived in this home for years and I have never seen this before. I am thinking there might be something we can spray as a barrier around our porch and house to keep them in the grass. I would love some ideas if anyone has one.
By Tisha
Answers

April 22, 2012
0

found this helpful
I had the same problem. I took a can of Wasp and Hornet killer, the kind that sprays up to 20 feet, and I sprayed every one of the nest. It killed tham and I haven't had the problem any more. I do keep a can handy just in case.

vicki hood
Bronze Feedback Medal for All Time! 102 Feedbacks
April 22, 2012
0

found this helpful
Please identify the caterpillars first. You may have treasures of butterfly young. That would be a sight to see if they emerge as pure beauty. Don't kill butterfly larvae please. They are great pollinators.
Possible someone in the neighborhood has an attractant like milkweed. If is an obnoxious larvae your extension office can not only identify them but advise on the best, safest way to eliminate them.
Some obnoxious infestations are even controlled by arranging with the extension office. In fact, your extension office needs to know of this phenomenon. You do not want to spread poison on your house and contaminate the air, land and water. You and your pets could be affected.

April 22, 2012
0

found this helpful
Buy a product called Dipel. It comes in a powder form and isn't harmful to people or pets. Sprinkle a line around your patio, so that when the caterpillars crawl onto your patio they will have to cross the Dipel barrier.

Louise B.
Silver Feedback Medal for All Time! 337 Feedbacks
April 23, 2012
0

found this helpful
If you have never had these before, it is likely some odd infestation like tent caterpillars. There is little or nothing short of spraying poison all over that will get rid of them. Anything that kills caterpillars is also poisonous to people, and to kill such vast numbers of them will require a lot.
Caterpillar infestations only last a few days, although if these are the kind that we had in this area for a few years, they can eat all of the leaves and grass in the area (and I am talking about several a hundred square miles of area, not just one yard).
The caterpillars move in a "flock" until they get to an area with trees that they like. Then they climb up the trees, eating as they go, until they are big enough to pupate. They spin their cocoons, develop over time into a moth (nothing attractive), all hatch at one time, and then fly off or blow off to another area to lay their eggs.
If an infestation is bad enough (as you describe) to be a nuisance, it is likely too large to really do anything about.
May 11, 2016
0

found this helpful
You main premise written now 4 years ago is not true. There are caterpillar insecticides that are absolutely harmless to people: these are the products that use a natural bacterium, BT abbreviated, that attacks only the gut of caterpillars and has no effect on human beings or other animals or birds whatsoever.

July 6, 2016
0

found this helpful
Hello. The. Past few days I've seen baby catepillers on the ceiling in bedroom and in bathroom. Can you tell me where there coming from i live in an apartment and never had before .can u tell me why now.???
Answer

this Question
Warm, humid weather has finally arrived. Today we found a bunch of caterpillars on our front porch crawling into a bucket and all over the floor. We removed the bucket, but now what? How do we keep them away? How do we rid of them? Is there any home remedy or safe way, as we have pets?
By Lilly P
Answers

June 1, 2011
0

found this helpful
Hi, This is probably just one group that hatched at the same time, and once you put them outside, you probably won't have anymore coming around. Carefully scoop up the ones you found on a piece of flat cardboard or a dustpan. Gently put them in the backyard on a plant leaf that is not one of your expensive plants. They should go about their business and in a few weeks will make a cocoon and form either moths or butterflies. Hope this helps.
Answer

this Question