How to Get Rid of Snakes!
The nice weather is here in NY and soon the snakes will be out. Yikes! Does anyone have info on how to lure snakes away from my flower garden without killing them? I freak out when I see them all coiled up laying there. I can't even take care of my flowers. Please Help!
Thanks
Amy
---
RE: How to Get Rid of Snakes!
They HATE the smell of moth balls. Igot one snake out of my attic by throwing the moth balls up there! (04/02/2005)
By guest
RE: How to Get Rid of Snakes!
You can also use moth crystals which can almost look decorative in the flower bed. (04/02/2005)
By cjgeo
RE: How to Get Rid of Snakes!
Get cats! You won't have snakes. (04/02/2005)
By Edie Leonard.
RE: How to Get Rid of Snakes!
Snakes will keep the populations of other small animals, rodents, etc. in check. I don't like to kill them, even though I am afraid of them, too. You must have something that is attracting them. One snake we had disappeared after we removed a pile of old wood. He liked to hunt under it and once his hunting spot was gone, he went elsewhere. If you have piles of debris around your flower garden, you may want to get rid of them. (04/02/2005)
By guest
RE: How to Get Rid of Snakes!
Snakes aren't slimy, and if they aren't poisonous are beneficial to your home/garden by taking care of mice problems. The ones in my area are very venomous so I must admit I kill them, but bear in mind that the majority of snake bites are caused by people interfering/trying to kill snakes. Stamping around in the general vicinity will get rid of them - most of them are shy, retiring, and deaf creatures so making a lot of movement/vibration in the area to make them move away. Regards Jo (04/02/2005)
By
RE: How to Get Rid of Snakes!
Powdered sulfur has always been said to work for snakes, but there is probably a reason why the snake is in the garden. If it has a food source it will be there. Without the snake you could have moles and mice. If it is not poisonous, let it be. They will move away when you get near. Just stomp your feet and they will feel you coming, and leave. They benefit your garden more than you know. Dee (04/03/2005)
By Diamondee
RE: How to Get Rid of Snakes!
I can't believe someone of you are actually referring to snakes as "varmints" and suggesting that they be exterminated. Snakes prey on rodents and other genuine varmints and the majority of them are non-venomous. First find out for sure that they are venomous, and THEN ask for advice from an animal control agent on what to do. (04/11/2005)
By Some Guy
RE: How to Get Rid of Snakes!
I heard using lots of lime helps. From what I remember it burns their skin. Lime should be used twice annually on your lawn or property. If you have snakes just load up the lime & throw down weekly not to heavy. (08/07/2005)
By Ron
RE: How to Get Rid of Snakes!
The best way to get rid of snakes is to lay gravel down. They hate it as they cut themselves on the gravel. (10/24/2005)
By rob
RE: How to Get Rid of Snakes!
I know there is an inherent fear of snakes in many mammals -- from primates to humans. However, they are an important part of our ecosystem and "chopping their heads off" and dowsing them with gasoline is abhorrent! The BEST WAY to control snakes is to control your own behavior by learning about them! I live in the mountains of Virginia and have black snakes, rat snakes, copperheads and the occasional rattle snake. They have NO INTEREST in humans and, in fact, benefit us a great deal by eating moles, mice, rats, etc. In fact, the king snake, which is in the area but I have not seen on my property, is immune to venom and eats copperheads. Control of snakes is simple: remove all habitat for their prey. That includes brush piles, wood piles, junk and keeping the area mowed regularly. I used to have a fear of snakes much greater than most after a childhood experience with one. However, through education and understanding I now respect them and even look forward to seeing one! If we were to get rid of all the snakes in the world we would be over run by rodents that are far more destructive and deadly (disease, etc) to humans than snakes are. You can learn about the snakes in your area by contacting your game and inlands fisheries our county. One person from North Carolina wrote that they have "moccasins". Well, if they were to contact a reliable source, they would learn that mocassins/cotton mouths do not live in the mountains of NC but only in the coastal areas and even then in a few isolated pockets near the dismal swamp in NE NC. They fear something that does not even exist where the live! (05/05/2006)
By Tab
RE: How to Get Rid of Snakes!
http://www.aaanimalcontrol.com/professional-trapper/nationwide-trappers.htm (07/15/2006)
By gman
RE: How to Get Rid of Snakes!
Try the electronic repellers from stopsnakes.com (07/19/2006)
By Bob
RE: How to Get Rid of Snakes!
I just have a warning about using moth balls or crystals to get rid of snakes. The vapor from them that is supposed to run off snakes is poisonous to humans, so don't fill the crawl spaces under your house with them. I have used them under my porches and it seems to work. Keep leaves raked up if you have copperheads- they don't like bare ground. I always rake leaves AFTER if freezes so I don't rake up a snake and have a heart attack. Keeping the grass short and weed eating helps too. I think the only real solution is to move to the city and worry about being mugged. The country is full of country critters. (09/26/2007)
By Mama Cook
RE: How to Get Rid of Snakes!
Poisonous and non-poisonous snakes do not usually co-habitate together and in my experience the more you have of one the less you have of the other. If you go around killing off the non-poisonous breeds you are actually increasing the survival rates of the poisonous breeds due to the increase in food supply and lack of competition among the different breeds. Most people would notice this statement to be rather common-sense but for those of you who do not, well, now you know. STOP killing off the garters, blacks, and king snakes that you find around your home. If one does happen to get in, it is usually because their food supply has also found a way in. Get rid of the food supply(mice, rats, large insects and lizards) and you get rid of the snakes. Call someone who has experience dealing with snakes to remove them from your home and place them in a safer location outside. And Yes, I also live in a heavily wooded area and have for all my life so you can take it or leave it, just don't say that I didn't tell you so. (04/23/2008)
By Not An Idiot
RE: How to Get Rid of Snakes!
I have camped in Mammoth, Ca. my whole life and there are no snakes in the area, odd for mountains! Well I was told that it's because the pumice rock on the ground they don't come around. It cuts there bellies. Maybe get some pumice if you can find it. (07/03/2008)
By Geoff
---
How to Get Rid of Snakes!
I have found a snake in my home. It was brown with lighter colored brown stripes. How can I be sure I will not be getting any unwanted guests anymore. I want to call someone, but don't know who to call.
Tracie from Central, Florida
---
RE: How to Get Rid of Snakes!
My Dad was just telling me his trick, his property is very hilly and wooded and snakes scare the bejeezees out of his wife. He sprays turpentine around the areas he doesn't want snakes. Hasn't seen one in years. (08/14/2008)
By msburny
RE: How to Get Rid of Snakes!
I have heard that anything with sulfur in it might actually draw snakes, the egg smell since they sometimes eat bird eggs. Down here we have a lot of what they call rat snakes, and they can clean out a chicken coup of eggs in a hurry. (08/14/2008)
By SusanLee
RE: How to Get Rid of Snakes!
There is a device that makes ultra sound noises to keep snakes at bay. You plug it in and make a screeching noise. Humans can't hear. It's sensitive to all sorts of animals including mice to keep away. You can buy it at your local source future shop, etc. (08/15/2008)
RE: How to Get Rid of Snakes!
Edie is right. Cats will take care of snakes. I lived in Louisiana for 20 years. I lived in dread of snakes coming in. I guess I would try to figure where they were getting in, maybe try a snake trap baited with eggs. I was always afraid to garden as you could reach in and get a "snake surprise". They especially liked to hang out in the strawberry patch. One time I cut the grass & somehow ran over a snake. I was so frightened, I left the lawn mower running & went into the house. The mower ran for an hour or so, until it ran out of gas. (08/16/2008)
By mulberry204
RE: How to Get Rid of Snakes!
Good suggestions. I don't want to kill snakes as I fully appreciate their value in nature. But the snakes in my yard are slithering up the brick steps (which are sunny and HOT several hours a day) and then living under the first-second clapboard of the house! This is perplexing me because the lowest clapboard is a minimum of 18"off the ground and the driveway touches the entire foundation on this side-there are no gardens, shrubs, etc. near the door. I don't want them in the cellar (found 2 last Fall)-don't want them damaging whatever is under the clapboards. Any suggestions? (09/22/2008)
By JB
RE: How to Get Rid of Snakes!
We just bought a house and are in the process of remolding, while doing some work there we found a baby copperhead in our basement hallway right inside the door. The next day we found another one dead about the size of a large worm. Does this mean there is a den and what should we do? (10/26/2008)
By Julie
---
How to Get Rid of Snakes!
I had two snakes on my porch and one on the side of my house. I'm afraid that I may have a nest under my deck. How do I get rid of them without getting hurt? I'm really afraid of them. I live in Florida and the snakes were tan and thin.
Alison from Tamarac, FL
---
RE: How to Get Rid of Snakes!
I hate snakes. I don't care if they are good ones or not. I've been in this house nearly 3 yrs. Last year though was the kicker. We had a rattlesnake weaving his itself down our gravel driveway. I bought a product called "Snake Away". It worked OK, but the smell was terrible. Just by luck and because we are re-landscaping our front yard, we needed cats to help get rid of gophers. The bonus? They killed a snake that was making it's way onto my front porch and they cornered 2 tarantulas. I don't know if the sex of the cat has anything to do with their hunting skills, but mine are all male. I'm suggesting on getting a couple cats. (12/18/2008)
By SweetCali40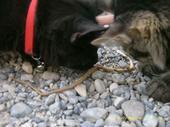 RE: How to Get Rid of Snakes!
Call your County Extension agent. He/she is your best source of information on good and bad critters and getting rid of them. These folks work for you and are always glad to help. (01/06/2009)
By Sewbead
---
How to Get Rid of Snakes
Can you tell me if there is something that will freeze a snake that is in my basement? It is on the foundation and I don't want it there. I thought I saw something in a spray can that would freeze them.
By Law49330 from MI
---
RE: How to Get Rid of Snakes!
I never heard of the product you are talking about. However, you may try a can of the computer duster stuff. Just hold it upside down and spray. It's very very cold and can give you frost bite if it gets on you too much, so be careful. (07/25/2009)
By Becca25
RE: How to Get Rid of Snakes
Could you call your town's animal control officer and ask him to get rid of the snake? They are usually accommodating. (08/03/2009)
By mulberry204
---
How to Get Rid of Snakes
How do I get rid of black snakes in the yard and keep them out?
By Barb from FL
---
RE: How to Get Rid of Snakes
Guinea hens and sulfur would do the trick. Keep the yard mowed. Also, I've heard of Snake Out. It's made from the same thing mothballs are made from. To get sulfur one would probably have to order off the web or go to a feed elevator in a farm town and ask. I face a rattlesnake problem. With sulfur one must get a big bag and circle the yard. Nothing can stop a snake from coming and going except to ultimately eliminate their food of rats, so keep out rat poison. (04/01/2010)
By Susan
RE: How to Get Rid of Snakes
If they are not poisonous, rescue an indoor-outdoor cat or a dog. My cat kills snakes all the time and has chased off all the moles in our yard, too. Plus you will be giving an animal a needed home. Terriers were bred to dig-out rats and snakes to keep the farmers crops free of pests.
Watch out though, my cat brought a live snake into our home last year and it got away before we could catch it. We never did find the nasty little bugger! (04/02/2010)
By Cyinda
RE: How to Get Rid of Snakes
Get several cats. You'll never see another snake. (04/02/2010)
By hbuttrill
RE: How to Get Rid of Snakes
I used to manage property in subtropical Florida that had a nice wet creek running through it and countless oaks with lots of leaves to hide in. It was SnakeFest USA and many poisonous snakes besides. After a few run-ins with coral snakes, we had a herpetologist come to help. They explained and it makes sense, that most venomous snakes are sluggish animals who move slowly. They go where there is the most prey. But, here's the catch about snakes, the non-venomous snakes are faster moving (that's why they call 'em racers).
If you kill the harmless snakes just because snakes scare you, "freak you out", etc., you are creating a better hunting/living-for-good environment for the slower snakes. You are inviting in the worst, venomous snakes, by removing the best. Garter snakes, king snakes, and whatever larger non-venomous snakes you have eat the same things the poisonous snakes do, and so by eating all the good stuff first, they "corral" the poisonous snakes into smaller territories. So, I have learned to recognize my local snakes and I never kill a "good" snake. They can have that shrub, that corner, those rocks so long as they keep the copperheads away, and with a preserve behind me, we have lots of snakes.
Around here (Virginia, where we have three kinds of venomous snakes), the suggestions from animal control are: 1-sulfur. But, it has to be spread around the perimeter in a thick and high line. Sulfur allegedly burns a snake's belly or some such, and because it will absorb into the earth, it's supposed to work for a long time. 2-the mothball suggestion and "Snake Away" both contain the same ingredient. My next door neighbor who is "freaked out" by snakes uses it every year. He sees more snakes than I ever have. 3-last suggestion is crushed seashells. Snakes don't like going over sharp things. I find that unlikely since I saw a gorgeous eastern Hognose come from sand dunes and cross hot asphalt last year, but I suppose if it was fine and sharp enough it might makes sense.
The absolute best thing you can do is: Keep wood piles, rocks, etc. away from the house/shed/etc. Don't make a home for rodents, grasshoppers, and frogs because their predators "will" follow and don't kill the animals who are working the hardest to compete with venomous snakes, non venomous ones! (04/03/2010)
By bigpaws12
---
How to Get Rid of Snakes
Do cats keep snakes away?